When Dianne Heidke was working in the unforgiving world of corporate law in New York, painting was her escape. After her long, grueling work days, she would come home from the office and throw herself into her art. It was not only a release, but a way of supplementing her income.
Ultimately, however, her sideline job as a semi-professional painter was not enough to mitigate the unhappiness she felt from both her law career and the climate. "After living in New York for 20 years, I decided I wanted to break away from the hideously limiting weather there," says Dianne.
In 2005, she moved to Panama after a chance meeting with Tom Bate, an American and former resident of the Central American country. The pair shared a love for art and design, and over long conversations decided to open a store in Chiriquí province. Called The Zapadora, for the Spanish term meaning "female pioneer," their business buys and sells an eclectic mix of antiques, exotic furnishings, light fixtures, and handicrafts.
"We started The Zapadora because Tom had a background in architectural salvage," says Dianne. "I didn't even know what that was. Two of the most unlikely people teamed up to open one of the most unlikely businesses, in the most unlikely of places…and here we are, years later."
When it came to launching the business, they quickly settled on the country and the region. But locating the right premises was a different matter.
"Finding the perfect place was an arduous task," says Dianne. "We spent months driving around Chiriquí. We kept driving by this old building in the community of Potrerillos, near the town of Boquete, and Tom suggested we have a look. The exterior was so bad. I told him that I was brave, but not that brave. However, once inside, it was love at first sight and I knew this was it."
The cavernous old building that so captivated Dianne was once a supermarket and gas station built by Citrico, a prominent orange growing and processing company in Potrerillos. However, it had fallen out of use and into disrepair. "When we took over, the property had been abandoned for 12 years," she says.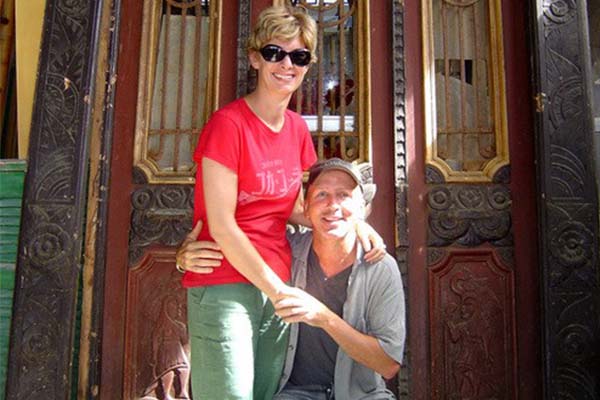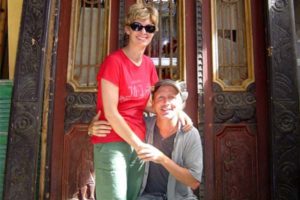 Now that they had their premises, they had to find products to fill it with. They went on scouting and purchasing trips to Egypt, Mexico, and India, utilizing Tom's expertise in the salvage business to build their inventory. Many of the items they sell are antique doors, shuttered windows, and iron window grills.
The windows and doors date from between the mid-1800s and 1920s. They range in style from French and Islamic to colonial and deco, with some of them measuring over 15 feet in height. Also on display are ceramic tiles from Mexico, clay pottery works, and a wide variety of furniture pieces.
Along the way Dianne met her life partner, Elizabeth Worley, and they have been living and working together ever since. She describes life in Panama as a joy, pointing to the weather, business opportunities, affordable cost of living, and many friends she has made. Her only negative is the difficulties importing her inventory.
Always one to keep an eye open for a new opportunity, Dianne recently cofounded another company with Elizabeth—Cloud Forest Botanicals. "We grow our own plants and make our own line of botanical remedies, creams, and tinctures. Our business is expanding rapidly."
At one point, Dianne managed the local Boquete community theater troupe, but simply ran out of hours in the day and had to step down. She has been a professional painter for 45 years, so tries to fit a bit of painting into her spare time. "But usually, 2 a.m. to 6 a.m. is the only slot I have left," she says. Dianne has found a full and productive life in Panama, and she wouldn't have it any other way.
Need a Way to Fund a New, Better Life?

Join our Savvy Retiree Daily e-letter today and you'll hear from us daily, telling you about ways you can gain the freedom to live where you want, travel when you like and create a life you love. We'll also send you a FREE Report Fund A New, Better Life With These 6 Portable Careers...
Related Articles
Panama Itinerary: How to Spend 7 Days in Panama
Most Popular Facts About Panama