Winters in Alberta can be brutal. So 17 years ago, Kim began her annual escape from the harsh conditions, exchanging them for the balmy tropical climate of Mexico's Riviera Maya.
"I own a lovely, multi-level condo in Playa del Carmen that's only a two-minute walk from the beach. I spend every winter there, arriving in November and returning to Canada in the summer. I've been doing it so long that I can't imagine my life in any other way."
In fact, Kim says she loves Playa (as the locals call it) so much that she sometimes returns for short visits during the summer months, just to breathe the warm, Caribbean air. She's not ready to retire just yet, but when she does, she has no plans to alter her seasonal routine.
"I like the way things are now, and with family and a new grandson in Canada, the snowbird lifestyle works great."
When not embracing family life to the full, Kim gets to savor the many joys Playa has to offer.
"I absolutely love Playa del Carmen," Kim says of her winter home. "The beaches are world-class and the water sports are unlimited, with snorkeling, scuba, fishing, paddle boarding, surfing, boating, swimming, and just floating in the gorgeous tropical waters."
And it's not only sun, sand, and sea that keep her coming back. It's also the friends she's built up over many winters here.
"I have a large group of friends in Playa. Some of the girls get together monthly. We call ourselves the 'Cheap Chicas' and our mission is to find the very best restaurants, for the least amount of money."
The "Cheap Chicas" eat at different places each month and rate them according to price and quality. "We aren't always successful in our efforts. Sometimes the food just doesn't measure up, but it's always a good time.
"My favorite restaurant is Cheester's. It's an Italian place and the food is wonderful, with great service, and the prices are very reasonable, ranging from about $7 to $15.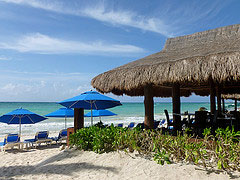 "Most months, there is a large, organized dinner. It's held at a different restaurant every month. It's not unusual for 50 or more expats to attend. Those are great events to meet new people."
Kim says her favorite beach is just south of Playa, in Akumal, a very special place where the swimmers share the crystal-clear waters with hundreds of gentle sea turtles.
"I never run out of things to do. In fact, it's easy to get wrapped up with too many activities. Sometimes I just enjoy a quiet evening playing cards or dominoes with a few friends."
Playa del Carmen is only about an hour south of much-larger Cancun, with its seven major hospitals and an international airport. Kim maintains a health insurance policy that costs about $1,000 a year and covers her while she is in Mexico.
Round trip airfare between Calgary and Cancun varies between about $350 and $900 and Kim estimates her monthly living expenses to be between $1,500 and $1,800 a month.
For Kim, Playa del Carmen was an easy choice. "Playa is not only beautiful, sitting right on the Caribbean coast, but it's also a very safe place. I can walk anywhere. They have great medical clinics and a hospital, modern infrastructure, more restaurants than I'll ever be able to enjoy, with plenty of shopping options."
©iStock.com/YanYing
Get Your Free Mexico Report Here:
Learn more about Mexico and other countries in our daily postcard e-letter. Simply enter your email address below and we'll send you a free special report – Why Millions of Americans Are Moving to Mexico.
This special guide covers real estate, retirement and more in Mexico and is yours free when you sign up for our postcards below.

Get Your Free Report Here