When I'm back visiting the U.S. and tell people I live in Costa Rica…I already know the picture they have in their mind. It's a shoreline. First, the brilliant blue water…a strip of sand unmarred by footprints…a fringe of palm trees…then a rain forest with towering trees and lush vegetation alive with toucans and capuchin monkeys…and finally jagged green-covered mountains looming behind it all.
That's Costa Rica's southern Pacific coast, known as the Southern Zone, in a nutshell. Once a somewhat remote and hard-to-get-to region, the completion of a coastal highway in 2010 has made it accessible—and only three hours from San José, Costa Rica's capital. That has brought increased—but still very limited development—in and around the main towns of Dominical, a beachside surfer hang out, Uvita, the commercial center, and Ojochal, a village in the jungle known for its expat-run gourmet restaurants.
Desirable homes have ocean views, but they're in the hills and ridges set back from the shore. They're often in the jungle, among the trees and wildlife, so that you can't even see your neighbor—perfect privacy. Plus, at that elevation you catch the ocean breeze. That's important where the climate can be hot and humid: it is the rain forest, after all.
Ocean-view homes are generally $200,000 and up; but those without views go for much less.
Many expats have also settled off the road inland to the regional capital of San Isidro de El General, around villages like Platanillo, where the mountain views are stunning and temperatures cooler. And you're still just 20 minutes' drive to the beach. A remodeled three-bedroom property here was recently listed at $179,000.
Platanillo is where retiree Michael Lilley, 65, lives. This Southern California native bought 22 acres of jungle next to a creek with mountain views nine years ago. A landscape designer and installer and horticulturist by trade, Michael was drawn to the Southern Zone by the surf. It's consistently good here.
"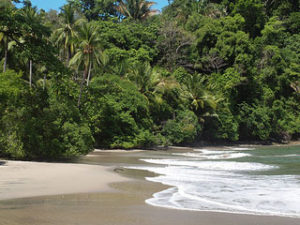 My life revolves around the ocean. I'm living the surfer's dream. It's pure pleasure," says Michael. "And there are a lot of us greybeards out there."
"My ornamental garden is just insane. And I've started pursuing landscaping and have a small nursery. I'm working part-time. It's been a really great pursuit. It's a creative thing; I don't need the money," says Michael.Michael has also taken up wildlife and nature photography (see his work at his website La Finca Amarillon). And, of course, as a horticulturist, he couldn't help but start a garden in tropical Costa Rica.
The natural beauty and unspoiled atmosphere that Michael and other area expats treasure about the Southern Zone isn't going anywhere. For one, Costa Rica's maritime law restricts beachfront development. Two, a national park stretching for much of this coast means no building at all near the water. And three, no buildings over three floors are allowed. That restriction has kept large resorts, hotels, and high-rise condos out. Instead you find small hotels and eco-lodges that cater to the small amount of tourists who come to this area.
The beaches are empty. Some days you can walk for miles on the sand and see just a few people—sometimes not a soul. Stretch a hammock between two palms and you're ready for a day of relaxation. And if you're a surfer—then, like Michael, you've found your paradise.
Free Costa Rica Report:
Learn more about Costa Rica and other countries in our daily postcard e-letter. Simply enter your email address below and we'll send you a FREE REPORT – Why Are Americans Still Flocking to Costa Rica. 
This special guide covers real estate, retirement and more in Costa Rica and is yours free when you sign up for our IL postcards below.
Get Your Free Report Here