"What are you doing tomorrow?" That's how the best weekends start in Panama. Last-minute invitations are never considered rude. And I've learned they should always be accepted…especially if you want to explore the country.
So the next thing I knew, I was piling into a pickup truck with two local friends and heading to the little mountain town of Cerro Azul.
Just a 40-minute drive from Panama City, this tiny hamlet is perfect for a spontaneous getaway. Located in the San Blas Cordillera, it's still something of a secret. Tourists are few, and even many Panamanians will tell you they've never been.
To get to Cerro Azul, we drove east from the Panama City center toward a commercial sector called 24 de Diciembre. Behind a slightly grubby department store we trundled onto a country lane, up into the mountains, and through a chicken farm.
Despite a bit of early morning fog (and almost missing the turn onto the mountain road), it was a quick and easy jaunt. And as we approached the top of the mountain—at an altitude of about 3,000 feet—we were met by gasp-worthy views.
Over mountain crests we could see down into the vast valleys below. Carpeted in the deep green of the tropics, their ridges were lined with spindly pines. The air felt 10 degrees cooler…and that's not all that was different. The homes began to change, too. Rather than typical Panamanian flat roofs in bright primary colors, there were chalets with front-facing gables…some papaya or peach, others a pale cream or banana yellow.
I enjoy checking out houses, but in Cerro Azul, some are hard to see. Not because of high fences, but because of the exuberant displays of flowers. Magenta bougainvillea, pink and orange Panama Queens, purple verbena, and orchids of every shape and size seem to just burst out of the moist soil.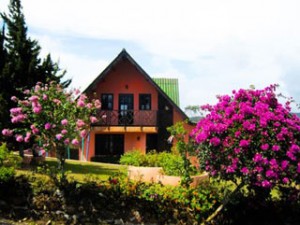 The best land and homes are at the highest altitudes, in the gated community of Altos del Cerro Azul. There is a small expat population living here, but most of the homes are weekend getaways for white-collar Panamanians.
Though Cerro Azul definitely qualifies as a sleepy little town, residents don't have to go without important services. High-speed Internet, cellular service, satellite television, power, and water are all reliable. Still, this isn't the type of place where you'll want to sit in front of a television or computer screen.
Hike to the topmost viewing platform and you can see both the Pacific and Atlantic oceans on a clear day…that is, most any morning. Days here tend to be sunny, with late afternoon or late night showers common during the "wet season" from May through November.
For those who enjoy the outdoors, this is a paradise filled with rivers and streams that cascade down into the Chagres National park. It's also home to some of the world's most beautiful birds and animals. There are so many jewel-bright hummingbirds that residents plant flowers and hang feeders for them. (After all, the birds enhance the scenery as much as the spectacular flora).
There isn't much else to the community, aside from a clubhouse with a pool, a small restaurant, and a small general store. But the beauty of being so close to "civilization" is that Cerro Azul feels like a suburb. With a good car, one can easily zip down the mountain and back up again after visiting supermarkets in 24 de Diciembre or theaters in downtown Panama City.
If you're a social butterfly, Cerro Azul may not be for you. But if low-cost living and mild mountain climes appeal to you, then its charm may suck you in. Not to mention, a couple could easily live here on less than $2,000 a month. That's including expenditures of up to $800 a month on rent.
The best thing about Cerro Azul? It has the best variety of inexpensive property I've seen this side of Panama. Resale homes here can go for as little as $100,000 to $150,000…that's for 1,000 to 1,500 square feet. Most homes are older, but they come with large, solidly built terraces made for enjoying cool breezes. And most homes perch on cliffs overlooking the valleys below, making for some truly million-dollar views. Add to that plenty of land—it's not uncommon to have a quarter- or half-acre (or more). Get your garden going and you'll see furry sloths, monkeys, agouti, toucans, butterflies, and more.
Free Panama Report:
Learn more about Panama and other countries in our daily postcard e-letter. Simply enter your email address below and we'll send you a FREE REPORT — Panama: First World Convenience at Third World Prices. 
This special guide covers insider advice on real estate, retirement and more in Panama. It's yours free when you sign up for our IL postcards below.
Get Your Free Report Here