Splashing my feet in the salty waves, I gaze out at the blue horizon. The late-afternoon air is pleasantly warm—in the low 80s F—and before me stretches the blue Caribbean ocean.
Behind me is the seaside bar where I've had a late lunch, the chatter of voices reaching me where I stand in the sand. But—unusual for my beach trips—the chatter is mostly in English.
I've explored a slew of beach destinations. Almost all of them have been in Latin America. But I was on home soil for this trip, back in the U.S.A. I was in Puerto Rico, our own home-grown Caribbean, traveling the length and breadth of the island and giving it the same scrutiny I give any offshore destination.
The U.S. is not really International Living's beat…and the Commonwealth of Puerto Rico is part of the U.S. (It's considered a territory; it uses U.S. law, and Puerto Ricans are U.S. citizens.) But with its attractive property prices (still down since their hammering by the 2008 economic crisis) and newly-legislated tax breaks for residents, Puerto Rico clamored for our attention. We wondered: Were we ignoring an English-speaking, tropical beach destination right on our doorstep—one where we didn't even need a passport?
So I went to check it out. And my verdict is now in.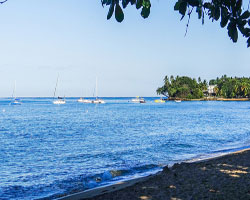 Bottom line: If you are seeking an exotic destination, Puerto Rico will not necessarily be your cup of tea. Despite its Latin beat, this is very much the U.S., and this familiarity may count against it.
But for others…those who need a convenient, easy-to-reach destination; who seek the security of settling and buying property in U.S. territory, under U.S. law, with no passport required; or who want to live and work in a low-tax jurisdiction that saves them money…all while also enjoying a tropical climate, Caribbean beaches, and a touch of Latin spice…then Puerto Rico is worth a look…
Free Report:
Learn more about Puerto Rico and other countries in our daily postcard e-letter.
Simply enter your email address below to sign up for our free daily postcards and we'll also send you a FREE report on The World's Top Ten Retirement Havens.
Get Your Free Report Here