So, what's happened to me in the past year since becoming a travel writer?
Well, I've received the services of a butler…enjoyed a helicopter thrill ride…and called a best-selling author "neighbor."
Before travel writing, I thought these things only happened to people in the movies.
Now, my dream-come-true is happening as we speak.
In the Caribbean, on the island of Anguilla, I stayed for free in a five-bedroom, oceanfront villa that included a butler. On the island of Nevis, I played free golf watched, from a mango tree, by a gallery of vervet monkeys.
Next month, I'm attending a press trip in Turks and Caicos. I'll be writing about a cabana bar restaurant located smack dab on Grace Bay, a 12-mile beach considered to be one of the most beautiful in the world…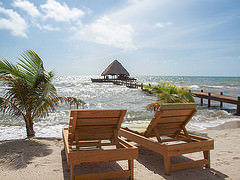 Over the past year, in addition to enjoying airfare, hotel, dining, spa, and excursion perks that are courtesy of having "travel writer" on my business card, my articles generated paydays ranging from $50 to $800. Travel writing may be the ultimate win-win profession.
Let me set the stage for my travel writer before and after. In 2011, before attending a travel writer workshop, I lived a rather normal existence as a recruiter in the fields of architecture and engineering. When I wasn't reviewing resumes and job descriptions, I played matchmaker between candidates and employers.
I live in Minneapolis, a city notorious for its not so tropical temperatures. My rush-hour commute in the winter could take up to an hour. These white-knuckle treks gave me time to daydream of warmer climates and ditching my snow boots for flip-flops.
The idea of taking on a second life involving talcum-powder beaches, rum punches, and snorkeling adventures seemed far-fetched…but since learning the travel writing tricks of the trade, my life has been rewarded in ways that I can only describe as "priceless."
All travel writers have a different vision of what living the travel writer life means. You may want to visit Europe and write about Italian vineyards…German beer festivals…and French cuisine.
Or you may be drawn towards adventure vacations, like hiking in the mountains, white-water rafting, or checking out African wildlife on safari.
For me, the mother lode is a Caribbean writing existence.
My goal is to write about oceanfront hotels with balcony views overlooking turquoise water. I envision interviewing people living the expat life surrounded by swaying palm trees. Then I'd like to cap my day by luxuriating at an al fresco restaurant with a wrap-around view of the Caribbean Sea.
And, believe it or not, I'm doing just that now…
Get Your Free Fund Your Life Overseas Report Here:
Sign up for IL's Fund Your Life Overseas e-letter today and we'll also send you a FREE report about ways to earn money abroad. Simply enter your email in the box below and we'll send you this free report: Fund Your New Life Overseas With These 6 Portable Careers.
Get Your Free Report Here