After enduring too many cold winters I decided it was time to move overseas. Shoveling snow just to get to work and more shoveling to get back into the garage at night was exhausting. It was adding more time to my work day, meaning less time for relaxing at home. Plus I hated how the cold dictated how and when I did everything. It would take twice as long to get anywhere.
And my cost of living was going up and up and my heat bills just kept rising. Then there was the worry about the wear and tear on the car due to the freezing temperatures, frozen pipes, downed power lines, and power outages.
I knew if I was ever going to enjoy retirement on my terms, with my budget, I would have to look for a place to live that had a lower cost of living. And I wanted to live somewhere warm…a place where I could have my windows open all day, where fresh cool mornings with gentle breezes would turn into sunny, warm afternoons.
I spent many years investigating places in Latin America and with its excellent infrastructure and healthcare system, no hail storms, tornadoes or hurricanes, and the low cost of living, Panama ticked all the right boxes.
I chose the city of David with its population of about 125,000. There are retail malls, housing developments, and new businesses opening all the time, it's a booming city. The downtown area around Cervantes Park is the main shopping area for the city and people gather in the park to people watch, take a break from shopping, or to grab a quick bite from street vendors.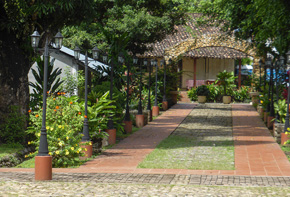 My budget for living here is about a quarter of what I spent in Denver. As a single woman, I spend around $1,000 a month. My electric bill is $30 a month, water/garbage $12 a month, auto insurance $50, internet runs me $35 and my cell phone costs about $5.
My most expensive monthly costs are rent, health insurance, and food. You can rent a nice small house here for between $300 and $500 unfurnished. Furnished will run usually about $200 more and apartments can cost even less.
I like to eat out in local places and lunch or dinner costs between $4 and $10…that is before using my jubilado discount (this retiree discount is available to women over 55 and men over the age of 60). David has lots of restaurants with great food along with bakeries, coffee shops and ice cream shops. And if you're missing food from home we also have KFC, TGIF, Dairy Queen, and Domino's Pizza.
There are two movie theaters here that show movies in English for $1.75 (with my jubilado discount) so I often go to matinees and find I am the only person in the theater.
I can't say enough about how good, and affordable, the healthcare is here. When I moved to Panama I decided to get a good insurance plan (it covers me internationally, too). My deductible is $5,000, but it's waived for any necessary hospitalization. So if I had a heart attack and had to be admitted to the hospital, I wouldn't have to pay a cent. My monthly cost for my health insurance is $266.
We have two private hospitals here in David with English-speaking doctors. I have visited several doctors and all were exceptional…they gave me their time, were genuinely interested in me, and their care was excellent. Doctor visits are not covered by my health insurance, but with my jubilado discount of 20%, I've never paid more than $60 for an office visit.
There's plenty to do here in David. I work part-time in Boquete, but on the days I don't work I have a leisurely cup of coffee on my front veranda where I have a view of Volcan Baru. Then I check online to see what friends are up to and set a time to get together for lunch or shopping.
David has its own groups where retirees can meet and have a good time. There is also a new Chiriqui Activity Club with activities like cooking classes, language exchanges, and day excursions. If you're more active, there's golf up in Boquete, tennis, bike riding, hiking, and fishing. For the avid readers, we have the only used bookstore with all books in English in Dolega, a 15-minute drive away.
I made the right decision choosing David. I have many friends, my days are full and productive, I live comfortably on my budget, and my life here is not affected by the weather. I am happy…it feels like home.
Get Your Free Panama Here:
Learn more about Panama and other countries in our daily postcard e-letter. Simply enter your email address below and we'll send you a FREE REPORT — Panama: First World Convenience at Third World Prices.
This special guide covers insider advice on real estate, retirement and more in Panama. It's yours free when you sign up for our IL postcards below.
Get Your Free Report Here