Join International Living's Syndication Program Today
International Living has been called the ultimate travel newsletter… It's that—and more. It's a newsletter for anyone who is interested in broadening his horizons, by considering opportunities to improve his quality of life…and lowering his cost of living…by looking beyond U.S. shores…
Here at International Living, our goal is to give you access to some of the best content available on the web for living, investing and retiring overseas.
We know from more than 30 years of experience that you can live better, for less, overseas. And seven days a week we publish a free e-letter called IL Postcards to give our readers the opportunity to "see the world" and take advantage of little-known opportunities for living better, investing for profit and retiring overseas that our on-the-ground overseas editors find.
As well as this, we publish a free e-letter: Fund Your Life Overseas. This free daily e-letter details how you can fund your life and travels overseas…from travel writing to teaching English in an exotic location. You can sign up here.
Every day, we also publish articles and videos from our editors around the world…and we broadcast our IL Podcasts.
And now we'd like to share this information with you, too.
Join IL's Syndication Program and you'll have access to all this free content on travel, real estate, investing, and retiring overseas. We invite you to republish all or part of these articles, videos or podcasts. And the best part is — it's Free to Join.
We do the Work: We provide the content, and you post it! All you have to do is place our content (with links which we provide) on your website and/or in your blog, e-zine or e-newsletter – once you have this up and running.
A Wealth of Content: We value our readers and expect that you value yours as well, so you can view all of our content and republish only what you believe resonates with your business mission and is a good fit for your readers' interest.
Here's How It'll Work: Once you qualify, you can pick up any of our free content on our website to use on your site…or we'll deliver to you all the articles you need from our International Living Postcards via RSS feed. IL's content is written by some of the most respected authorities in the areas of overseas living, retirement and investments. In addition to the timely and lively content, we'll also optimize these articles for search. All you have to do to update your readers is post our articles on your site and link back to the original article on the International Living website. Then just sit back and watch as the articles on your site get picked up by the search engines. You can also follow us on Twitter or Facebook to easily see our new content on a daily basis.
This will help you in two ways:
1.) You'll have more content to share with your readers, thereby solidifying your relationship with them as well as establishing your website as a "go to" source for information on living, retiring and investing overseas.
2.) Your website will gain more prominence with articles that are already optimized and easily read by Google and the other engines that rank pages.
FREE E-zine Content that Will Keep Your Readers Coming Back for More!
You don't have to look far for content for your e-zines and e-newsletters. When you sign up for International Living's RSS Feed Program, you'll get free access to thousands of articles by just following our simple syndication guidelines:
1.) Sign up to receive IL Postcards via RSS feed
2.) Link back to the original International Living article
Upcoming Conferences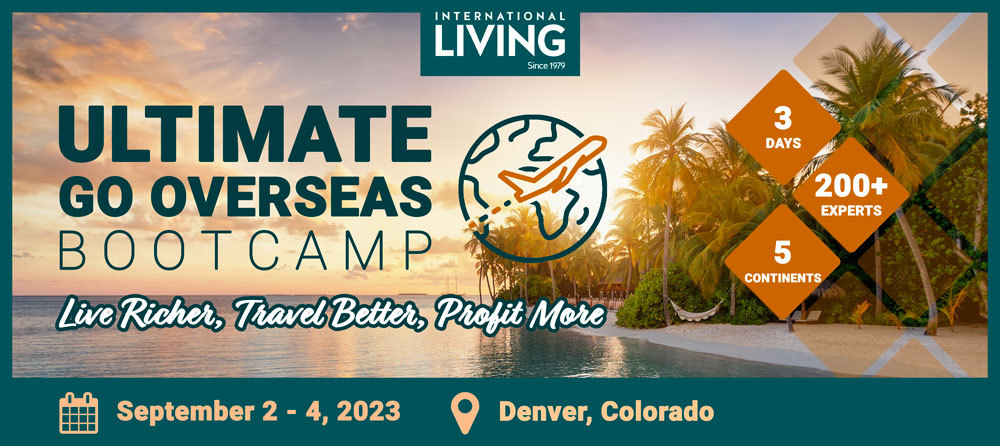 Most Popular Products