Island time, Penang time. It's very different from time anywhere else.
I have a smartphone but it works differently for me here in Malaysia. Before I moved here, it was a hip thing to have, and if I didn't answer emails a nanosecond after receiving them I would get a call asking me why. Here, my phone is a device that connects me to people. Likeminded people who moved to Malaysia for the same reasons I did. And it doesn't matter that I don't have the latest phone or that I answer emails a day or two after they are received.
The weather is warm all year round on the island, and the beaches in the north are generally deserted during the week. If you go fishing and it rains, there are hammocks strung around undercover, where other fishermen before you have relaxed and watched storms pass by.
Heng, a retired fisherman, has a 16-seater speed boat, which he uses to take eager expats to his secret fishing spots. Part of the service is a full seafood barbecue lunch, which includes crab, king prawns, and lobster, all for just $15 per person. He's also just as happy to wait for you if all you want to do is relax on the beach after lunch.
Tennis and golf are popular pastimes too. And there are some amazing facilities within George Town, and a very healthy club culture. The Penang Sports Club, established in 1947, is just one of three five-star facilities on the island. Set within 16 lush acres, and with more lawn tennis courts than any other club in Malaysia, it costs just $3,600 to join. A similar club in the States, with lawn tennis facilities, would cost tens of thousands of dollars. Most of the clubs in Penang also offer transferable membership, so if you choose to leave you can sell it on. There are also reciprocal rights to other clubs around the world.
Clubs and associations are an important part of the lifestyle here, and have been since the British colony was founded. The oldest club on the island is the Penang Club, founded in 1868, but there is also the Penang Swimming Club and, for those keen on racing, there's the Penang Turf Club.
And then there are the various expat associations, which show just how culturally diverse this area is. The Irish Association is extremely popular. It hosts a golf day once a month and throws the biggest ball of the year to celebrate St Patrick's Day. It's usually attended by about 1,000 people. The Malaysian-German Society is popular too, and this year's Oktoberfest beer festival has sold out. Alliance Francaise shows a free French movie once a week, and the International Women's Association opens its doors from Monday to Friday, with a different event daily for its members.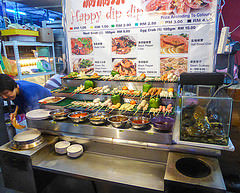 Some of the Penang Sports Club's members play tennis three to five times a week, and then dine in the various subsidized restaurants. It's all part of an amazing lifestyle change, which you accept with open arms when you move to the island. Neil and Jennifer Solomons have been here six years now and are socially more active than ever. They are members of the Sports Club, where monthly fees are $22. "I had no idea what to expect when we moved here," Jennifer says. "Staying in is the hard thing and if we manage it twice a week Neil is ecstatic."
Wolfgang and Barbara Stoltz, who live here part-time, rent a 3,990-square-foot house for $720 per month in Batu Ferringhi, a 25-minute drive away. They say the drive isn't something they think about, and when dinner for two in the club runs at $11, and a gin and tonic costs just $1.50, it's worth every minute spent in the car.
Renting is really affordable here. In Pulau Tikus in the Desa Melor complex, for $720 a month you can rent a three-bedroom, two-bathroom, 2,195-square-foot apartment, just a short walk from cafes, great shopping, and restaurants. You can find long-term beachside apartments for only $500 a month.
Jenny and Trevor Campbell rent at Miami Green. Their three-bedroom, two-bathroom, 1,195-square-foot apartment has fantastic sea views, and facilities include two swimming pools, a gym and tennis courts. Just five minutes' walk away is Miami Beach and an Indian cafe where they eat most nights of the week. Chicken curry, the cafe's specialty, costs just $1.50.
The suburbs of Pulau Tikus, Tanjung Bungah, Tanjung Tokong, and Batu Ferringhi have a friendly, small-town feel, yet have all the amenities you need. The island's biggest supermarkets are in these areas, where you can find many familiar brands. Eat local-style and your costs are lower. Fresh, locally reared chicken breast is only $1 a pound. A bag full to capacity of onions, potatoes, mangoes, bananas, and tomatoes costs just $6.
Penang has an unbeatable lifestyle and it's one of the best-kept secrets in Southeast Asia.
Get Your Free Southeast Asia Report Here:
Learn more about Malaysia and other countries in our daily postcard e-letter.
Simply enter your email address below to sign up for IL's free daily postcards and we'll also send you a Free Asia Report – The Best Islands, Beaches and Cities –
Southeast Asia's Top 6 Retirement & Vacation Destinations
Get Your Free Report Here