Slowly the walls rise above us, hemming us in as our vessel sinks into the depths. Barn-sized doors of riveted steel loom above us as valves open and siphon the water away. With a clank, the doors crack open, widening to reveal another chamber. We sail in, feeling as though we're in a gigantic bathtub…
This is the view from inside the Miraflores Locks on Panama's famous canal. Connecting the Atlantic and Pacific Oceans, the canal is both an historic landmark and a vital artery of today's international trade. Its allure stems partly from the epic story of its construction—France's grand vision fallen to ruin, thousands upon thousands of lives lost, and finally, a triumph over nature. The U.S. effort gave us a 50-mile waterway, featuring three sets of massive locks to raise ships 85 feet above sea level as they cross the Isthmus of Panama.
Lots of folks travel the canal on cruise ships several stories tall. But the best way to see it is at sea level, on a small vessel. Tiny ships transit the waterway as well as bigones, and they allow you to really get up close (in certain places, we were able to touch the lock walls).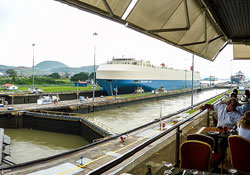 Partial transit tours depart from the Flamenco marina, in the Amador sector of Panama City. There, we boarded the 25-footwide Queen of Panama, which took us through the Miraflores Locks and on to the jungle-shrouded sector of Gamboa. The highlight of the transit was the impressive Gaillard cut, a man-made gorge, cut right through the continental divide.
Full transits are available, but you'll get the same experience in a partial one—just four to five hours as opposed to nine or more. We went with Panama Marine Adventures and the cost was $150 for adults, $95 for children, including soft drinks, lunch and a bilingual guide/narrator. Schedules vary and advance booking is required.
In Panama City for just a few hours? Take a 25-minute taxi ride out of Panama City to the Miraflores Visitor center (about $10). There's a four-level museum with informative displays, and you can peer down from viewing platforms as vessels up to 105 feet wide squeeze into one of the planet's most impressive feats of engineering.
Get Your Free Panama Report Here:
Learn more about Panama and other countries in our daily postcard e-letter. Simply enter your email address below and we'll send you a FREE REPORT — Panama: First World Convenience at Third World Prices. 
This special guide covers insider advice on real estate, retirement and more in Panama. It's yours free when you sign up for our IL postcards below.
Get Your Free Report Here