Paul Hastings and Marilyn Stevens landed in Grecia, a small town in Costa Rica's Central Valley region, in October 2013. After a group tour and taking some time to explore other areas of the country on their own, they decided they wanted to live in the mountainous interior of the country with its temperate year-round weather.
"It felt like small town in the U.S. in the 1950s," says Marilyn. "We liked the feel of it…the feria (weekly farmers' market), walking around town and being able to get anything you need in the shops. We were surprised to learn there were so many expats here. We've made some great connections."
They now live in the hills above town, with views of the surrounding coffee plantations and forested river valleys.
"We were one of those couples who were underwater on their mortgage. Our house was worth less than half what we paid. We had bought at the peak of the market," says Paul, "but life here is much more affordable than in Phoenix; much cheaper. We haven't spent one cent on air conditioning or heat since we've been here."
"The single biggest savings is on fresh-off-the-farm fruits and vegetables. Meat is about the same price, but the quality is so much better. It's fresh from the farms in Grecia. And the beef is grass-fed," says Marilyn, who adds they also get fresh chicken from one of their neighbors.
Right now, they're living rent-free as caretakers, with 60 days notice if the house they're living in is sold. Not that they're worried. There are plenty of low-cost rentals in the area, starting at $400 or $500 a month for a basic, unfurnished two- or three-bedroom home.
While cost of living and weather were big pluses, this little Central American country offers other advantages, including proximity to the U.S.. The five-hour flight time makes it easy for the couple to fly back to visit friends and family.
These days Paul and Marilyn are enjoying retirement to the fullest. Both are working on projects they've put off for years. Paul completed a novel (up for sale on Amazon) and is working on his second. He has also been crafting wood furniture for their home.
Marilyn is writing a memoir based on her time caring for her mother, as well as a novel and is doing equine therapy with local kids. Plus, she's indulging in her artistic tendencies working on glass mosaics.
There are also lots of get-togethers with friends, and dinners and parties with the active expat community in Grecia. And, of course, there's plenty of time for relaxing. They start each day enjoying Costa Rican coffee, which is grown in the hills surrounding their house.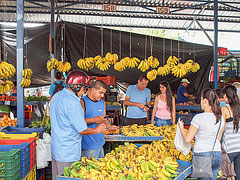 "Being retired is terrific. I take a nap in the afternoon…or if I stayed up late the night before, at 10 a.m. if I want to. On Fridays, we like to go to Isabel's—it's an expat favorite," says Paul, referring to a Mexican restaurant in a small hilltop village.
"I bake bread several times a week. I make yogurt…these are things we didn't have time for before," says Marilyn. "For the first time in our lives we have a cleaning lady, and it's really great. Plus, she's teaching me Spanish."
The couple, who had worked as ESL (English as a Second Language) teachers for eight years prior to retiring to Costa Rica, also volunteer as English tutors in Grecia with locals interested in beefing up their language skills.
"It's really fulfilling. It's a way to connect with this country in a meaningful way," says Paul.
They're students themselves, learning the Spanish language as they go. "We can now ask for things en Espanol," says Marilyn. "And we can understand the answer…we think."
All in all, the experience of moving to Costa Rica has been life-changing.
"If you're open to it, this place can transform you," says Paul. "You live a richer kind of life. You learn to be more patient and not to be on a schedule. We have less stress. We're eating better. And we're living for today. That's pura vida."
Related Articles
The Truth About the Cost of Living in the Orosi Valley, Costa Rica
3 Unique Towns for Beachside Living on Costa Rica's Pacific Coast
Keeping Fit and Making Friends in Costa Rica's Southern Zone