Canadian Andrea Pellegrino, 38, came home from work one winter night to find her partner Julio Carta, 35, bursting with excitement over an ad on Craigslist.
"You have to check this out," he said. "We can run a brick oven bakery in Nicaragua."
The couple had been looking for an opportunity to move to Central America with their children Isabella, 8, and Santana, 3, and set up a business. Julio had stumbled upon a franchise opportunity which seemed to offer just what they were looking for.
A month later, Andrea was meeting with franchisor Eric Slater, who had set up the bakery—Pan de Vida—in 2009 in San Juan del Sur. Such was its success that he decided to franchise the concept. He had already franchised an outlet in Ostional, Nicaragua.
When Andrea met with him, Eric had identified a second location in San Juan del Sur as a potential outlet for the next franchise but after visiting Granada, Andrea decided that was where she wanted to live and work.
She quickly found the perfect location to lease for the bakery in Granada. So, she talked with Julio, and they both felt like it was the right place for them. That was January 2013, and they moved down the following April.
Before opening, Andrea and Julio were fully trained in preparing breads in the Pan de Vida way.
"We did some training in San Juan del Sur to learn the recipes and shaping the bread and how to use their style of oven," explains Andrea. "Working with the crew there was awesome. You could tell there was a lot of love in this company."
Eric Slater pieced the brick oven together for them and supplied them with branding and marketing materials and uniforms.
Andrea and Julio found it very affordable to purchase the franchise. "For under $50,000, we did everything…the franchise fee…the training…the on-going support from the founders of Pan de Vida…all the start-up costs," she says. "We send our children to an international private school, and we live comfortably. The bakery opened seven months ago, and we think we'll see a return on our investment in the next six to eight months.
"People love the bakery, and we truly enjoy our customers. I watch the backpackers come in…all suited up for adventures." Backpackers make for hungry customers, but Andrea and Julio also have a good base of loyal, local clients.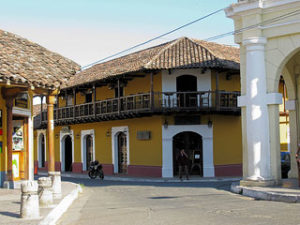 "Starting a business with the support of a franchisor is easier because you begin with brand name recognition, and you've got a way to navigate through the legal necessities of running and operating a business in a new country," says Andrea.
"We were coming to Nicaragua regardless, but I knew the perks and opportunities of going with a franchise, and we saw the ad for Pan de Vida at the right time. If you come down here with $50,000 and want to set up your own business, you can do it…you can open a business, rent a home, and provide for a family of four for less."
Free Report:
Sign up for IL's Fund Your Life Overseas e-letter today and we'll also send you a FREE report about ways to earn money abroad. Simply enter your email in the box below and we'll send you this free report: Fund Your New Life Overseas With These 6 Portable Careers.
Get Your Free Report Here