Last weekend my wife, Suzan, and I celebrated our 17th wedding anniversary in one of the most unique spots we've ever visited.
We left our home in Cotacachi before noon and drove north, deeper into the Ecuador province of Imbabura. Our driver had asked if we wanted to take the "scenic route" instead of taking the Pan American Highway, and we happily agreed. We always take Jose's advice about routes…a former over-the-road truck driver, he knows most of Ecuador like the back of his hand.
Our route skirted the foothills of Volcan Cotacachi, taking us north through sweeping valleys and around breathtaking river gorges, passing through a succession of small farming villages and giving the provincial capital of Ibarra a miss. Through mountains and valleys, we were driving gradually lower in altitude and in about an hour we were at an elevation where sugar cane and other more tropical produce grow.
With every turn in the road came a vista of another magnificent finca…farmsteads nestled in huge flats between distant ridge walls and steep cuts with rushing rivers far below. The air was so clear and the distances so immense that it was hard to maintain a sense of scale. A herd of cows could have been a mile or five miles away… In the middle of their pasture was nothing but grass and more cows by which to judge size and distance. For a Nebraska boy, it was like a farmland dream.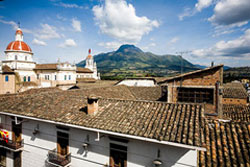 Thirty minutes later we passed through the spotlessly clean little village of Tumbabiro. On a sunny Friday afternoon people sat in the main square watching a group of men playing paddleball on the street in front of the main church. A half mile farther on, we turned into the gates of Hostería Pantavi.
Friends of ours had stayed here and recommended this as a great place to relax, and it was. But it was also so much more. Owned by Ecuador artist Camilo Andrade, the converted hacienda is essentially a huge work of art—an immense gallery where the buildings themselves are sculpted and painted in Andrade's unique style. I'm not a visual artist, so I have no idea how to describe this style. Suffice to say that there was something interesting, colorful, and thought-provoking in every room, along every walk way, and around every corner.
While not an artist, I am, however, a fan of good food, and the kitchen at Hostería Pantavi turned out delicious versions of the local fare: trout, corvina, lomo fino (prime beef steak), and some of the best locro we've ever tasted. (Locro is an Andean staple…a rich cream-based soup often mixed with country cheese, avocado slices, and tostado…roasted corn kernels. It's the chicken soup of the Andes and will cure almost anything that ails you. And if nothing ails you, it will just make you feel even better.)
Our anniversary getaway was perfect on all counts. But that's not really what I want to get across here. What Suzan and I both found remarkable during this weekend was that, in our experience, Ecuador is chock full of places like this.
From one end of the country to another, people have rehabbed old Spanish haciendas and colonial homesteads into extraordinary places to experience the Ecuadorian land, culture, food, and arts. While there is no place exactly like Hosteria Pantavi, there is also no place exactly like Hacienda Zuleta or Hacienda Cusin or Hacienda Pinsaqui or any of the other extraordinary hosterías and haciendas throughout the country. Each one is a work of art…a creation that expresses each owner's backgrounds, interests, loves, and experiences.
Many Latin American countries have boutique hotels, haciendas, and hosterías of course. But for us there is something truly unique about the Ecuadorian versions. Maybe it's the friendliness of the people. Maybe it's the creativity of the owners and the way they bend and blend local customs and culture into their own distinctive brand of hospitality. Maybe it's Ecuador's location on the equator and the fact that the country's mountains and valleys are almost universally gorgeous and temperate.
For all I know, it could be the locro.
But whatever it is, it makes Ecuador one of the most interesting and relaxing places we've ever lived.
Free Ecuador Report:
Learn more about Ecuador and other countries in our daily postcard e-letter.
Simply enter your email address below and we'll send you a FREE REPORT – Ecuador: Live Like Royalty on Your Social Security.
This special guide covers real estate, retirement and more in Ecuador and is yours free when you sign up for our postcards below.
Get Your Free Report Here