There are plenty of reasons to retire to Panama, and several reasons I love being a retiree in Chiriqui Province. What are they? Well, there's the weather and the natural surroundings, the variety of fun things to do, and to top it all off, the low cost of living.
In the city of David, where I live, a couple can live very comfortably on just $1,500 a month—including rent. The quality of life you get for that amount is hard to beat.
It's naturally a more outdoorsy life. Panama's warm, tropical climate encourages my husband, Al, and me to be outdoors all year round. We have no wintertime worries like freezing pipes and blustery snowstorms, and no hurricanes or tornadoes. I often go for an early morning walk in my neighborhood, to breathe deeply the fresh air and to get my daily dose of vitamin D. Whether you're a kayaker, rock climber, gardener, or bird-watcher in Chiriqui you can get out and do it all any time you want.
We often get together with friends for holidays and special occasions. Last December one couple organized a daytime outing to a lovely place called Rio Encantado, or Enchanted River. It's a small B&B with cabins tucked into the jungle alongside the gurgling Caldera River in Chiriqui. It was a gorgeous day—sunny and warm, not a cloud in sight. Four couples loaded up picnic baskets full of food, cold drinks, and swimsuits and we all headed out for a relaxed, tropical Christmas party—swimming pool included! Each couple spent about $12 on food and drinks, we paid $10 each to the B&B, and it was worth every penny. We had a fabulous time and it could easily become our Christmas habit.
I never tire of the scenery in the Chiriqui countryside, with wide open cattle pastures, tall palms swaying in the breeze, and stands of pine trees in the highlands. From the peaks of Baru Volcano and Cerro Punta to the shoreline of the Gulf of Chiriqui, and everything in between, the landscape is lush and green, with bright flowers attracting colorful birds and butterflies.
About once a month my friends and I plan a girls' day—a get together or excursion for just us gals. Recently, three of us went to a private estate near Boquete called El Jardin Encantado, or The Enchanted Garden (yes, another enchanted place!). At one time it was an animal refuge, and the current owners still care for a few monkeys, birds, and a sleek ocelot. Paved pathways wind through the shrubs and trees on the landscaped grounds, past streams and ponds with fountains. We had a guided tour and afterward went for lunch at a family-owned eatery in town. The total cost for each of us: about $8.
One of the joys of retirement is the flexibility to do what I want, when I want. When you're not obligated to punch a time clock or to sit at a desk on someone else's schedule, your time is your own. And when your budget doesn't include huge heating bills and commuting expenses—neither of which I have in Chiriqui—you can spend your money on things you really enjoy.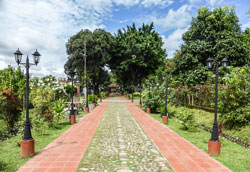 And I've found so many free or low-cost and fun things to do here in Chiriqui Province. In Volcan, the owner of the fascinating archeological site, Sitio Barriles, charges $5 for a guided tour. Farther along the road you can visit Finca Dracula, an orchid farm, and give them a donation of $3. Stop for lunch while you're out at Restaurant Mana for a delicious soup, huge burger or wrap, and a cold beer for around $10.
In David, where I live, there are two multi-screen cinemas that show first run movies. Tickets cost $2.20, thanks to my pensioner's discount (something awarded to all qualifying retirees in Panama). With popcorn and a cold drink, that regular night out for two, in air-conditioned comfort, runs about $12.
I also like to go to the Flea Market each month in Dolega, about 10 minutes away. It costs nothing to go, and bargains are easy to find. I recommend the homemade German bratwurst sandwiches for $2.50 each. The Boquete Market takes place every Tuesday and is a great place to meet up with friends and see what's new. My friend Deborah sells her handmade, organic chocolate bars for $3.50, and I love Eric's delicious buttermilk biscuits or blueberry and lemon scones for $1 each…yum!
Get Your Free Panama Report Here:
Learn more about Panama and other countries in our daily postcard e-letter. Simply enter your email address below and we'll send you a FREE REPORT — Panama: First World Convenience at Third World Prices. 
This special guide covers insider advice on real estate, retirement and more in Panama. It's yours free when you sign up for our IL postcards below.
Get Your Free Report Here