On a narrow back street in Palermo's Capo district, a deal is about to go down. I say the magic word, "frittola," and the vendor dips his hand into a large wicker basket. A cloth keeps the contents hidden from sight, but it's too late to walk away.
The vendor roots around inside the basket until his fist emerges clutching lumps of greasy meat. He smiles as he hands it to me on a paper plate. What I'm looking at is calf carcass remains, boiled and then fried to a crisp.
To eat frittola like a local, I'm not supposed to use a fork, or even my fingers, but dunk my face directly into the plate so as not to get the grease on my hands.
Like everything in Sicily's capital, the street food here is a bit mysterious, steeped in tradition and full of surprises.
The hodgepodge of flavors you'll find in Palermo's many markets speaks to the many cultures that have occupied the city over the millennia…Phoenicians traders, the Carthaginians, the Greeks, the Romans, the Arabs, the Normans, the Swabians, the French, and the Aragonese, to name a few.
Yet, despite all these influences, you're definitely in Italy. You'll see Vespas and old Fiats whizzing down cobbled streets, nuns walking in pairs, young lovers embracing beneath piazza fountains, and old women conversing across their liberty style balconies, two stories above. As the great Italian journalists and commentators, Luigi Barzini, said, Sicily is Italy for beginners, "with every Italian quality and defect magnified… and brightly colored."
Palermo was heavily bombed during the Second World War and you'll see remnants of the destruction to this day. It's common to see architectural styles from different periods pieced together on the same building, like a topographic map of the city's history.
But Palermo's sometimes rough surface isn't to be taken at face value. Often, out of sight, behind modest exteriors, you'll find the most grandiose and ornate palaces. Many are still occupied by the city's old aristocracy. Some have become hotels, some are attractions. Visit the Palazzo Conte Federico and you'll be given a private tour by the countess and her family. Stand in any piazza and you'll likely be in the shadow of a former royal residence. Palermo is truly the city of palaces.
For visitors, there are plenty of gems to be found. There is Palermo Cathedral, which takes pride of place at the heart of the city. The Norman Palace, with its stunning Arab-Noman styled Cappella Palatina. My favorite was the Capuchin Catacombs, where embalmed bodies, from as recent as the 1920s, hang from the walls in full formal wear. Another highlight was catching an evening opera at Teatro Massimo, which you might remember from the climax of The Godfather III.
A 40-minute train ride east brings you to the picturesque seaside village of Cefalù. Squeezed between the sea and looming hills, it's one of the most popular vacation destinations on the island—more expensive than Palermo, but still very reasonably priced.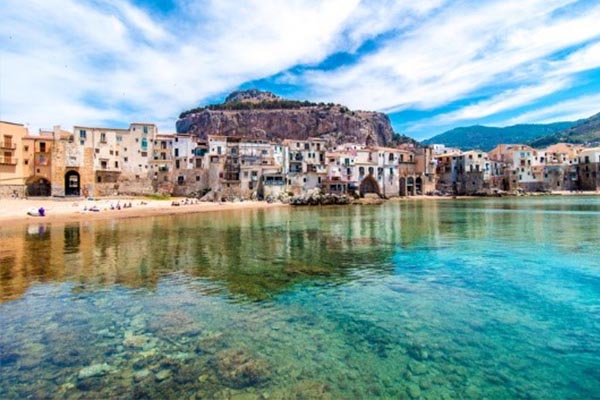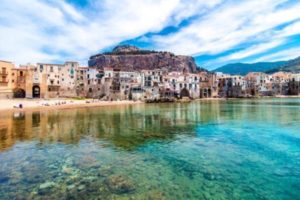 Yet, Sicily's northwestern coast doesn't get the level of tourist traffic found elsewhere in Italy. And it doesn't take long to learn why. It's the same reason Michael Corleone met his downfall here in The Godfather III. Palermo has been the seat of the Sicilian Mafia for decades and its effect on the region has been devastating.
As happens when a criminal organization has a stranglehold of a city, it takes its toll. Business stays away, so do tourists. City planning—also controlled by the Mafia—becomes a vehicle for crooked deals. City life disintegrates.
You can see the physical manifestation of this in many of the shoddy apartment blocks that rim the historical center. A construction boom led by Mafia-affiliated developers from the 1950s through to the mid-80s devised the destruction of city parks and Art Deco palaces—a period now known as the "Sack of Palermo."
Throughout that period, the Mafia were at their peak. Bodies were showing up on the streets every day as rival families vied for control.
But things turned around…and fast. The 1992 murder of anti-Mafia magistrate Giovanni Falcone and, less than two months later, of his colleague Paolo Borsellino, shocked Italy into action. Within a week of the murders, 5,000 military personnel were dispatched to Sicily to fight a war against the Mafia. It turned out to be the beginning of the end.
Since then, police have arrested more than 4,000 Mafiosi, including all the high-ranking bosses. Now special laws with harsh penalties, along with new police technology, are making it difficult for them to operate.
The result is a city in transformation. There are signs everywhere that the Mafia have lost the authority they once had. "No Mafia" murals are found all over. Cafés display "Addiopizzo" stickers on their doors to show they refuse to pay extortion money.
In the streets of Palermo, the Mafia wars of the 1990s are light-years away. More than 60% of the city's historic buildings have been restored within the last 25 years. Homeowners have once again started renovating their properties. And some of the seized Mafia assets, worth an estimated $33 billion, are being used to build new social, environmental, and cultural spaces in the city.
In terms of real estate, the transformation of the city is worth watching. As the Mafia influence fades into the past, business looks likely to return, along with tourists.
Signs of gentrification are all over the center of the city. While there are still plenty of rundown buildings, you'll see many stylish new restaurants, Belle Epoque cafés, and trendy bars. The Mak Mixology cocktail bar located along the main Via Maqueda is a great example of what this gentrification looks like. Located in an abandoned shopping gallery built during Fascist Italy, it features ornate Art Deco and a giant Instagram-friendly neon sign, while frescoes of some of Italy's World War "victories" still adorn the walls.
Walk down any narrow street and you'll find multiple craft shops selling handmade ceramics and Sicilian papyrus. Small galleries and specialty museums are just as common—including the "No Mafia" memorial museum, which opened just last year.
The sweet spot for a real estate hunter is Palermo's historic center. Much of this area is being trialed for pedestrianization, making it more walkable. Many of the piazzas, previously used as illegal parking lots by the Mafia, are now delightful squares ringed by cafés and restaurants.
One property caught my attention right beside the Ballarò Market, near Via Maqueda—one of the two main streets that intersect the historical center. It's a two-bedroom, 1,400-square-foot apartment going for €120,000 ($133,306). That's about $95 per square foot.
If you want a place to experience your own slice of authentic Italy, this is an ideal location. Fresh Italian cuisine is only steps from your door. The Palermo Cathedral is just an eight-minute walk away and the famed Quattro Canti square just six.
Or you could use it as a short-term rental. At the moment, similar Airbnbs in this area rent for about $70 per night in the summer.
With the increase in tourism, this holds some promise…
Last year, tourism in Palermo grew substantially, performing better than regional and national tourism increases. There was a 15.1% growth in foreign tourists visiting the city and a 4.4% growth in domestic visitors.
Millennials, in particular, are driving the growth in cities like Palermo, as they seek to spend more of their time in off-the-beaten-path, authentic, and less-crowded corners of the country.
Italy is also seeing a large increase in Chinese tourists. In 2018, it jumped by 200%, year on year. In Sicily, this number is set to increase further following a recent partnership between the island and Ctrip—a Chinese travel service provider with over 300 million users.
Chinese interest in the region doesn't end there. Earlier this year, Chinese president Xi Jinping visited Palermo following Italy's deal to become part of the "Belt and Road Initiative," which will see Chinese investment in four Italian ports—including Palermo.
While still rough around the edges, Palermo shows a lot of potential. You won't find the hordes of tourists that take over Venice each summer but that's not necessarily a bad thing. Sicily's capital offers something altogether different. It's a city where Italian life, in all its flavor, color, passion, and imperfection, still flourishes.
Get Your Free Real Estate Report Now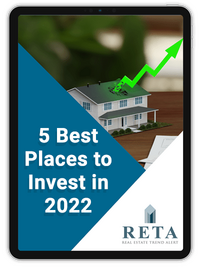 Sign up for our free daily Postcard e-letter and get a valuable free report on the The 5 Best Places to Buy Real Estate In 2022.
Related Articles
10 Things To Do In Italy…for that Uniquely Italian Experience
Italy Itinerary: A Journey Through Southern Italy
Upcoming Conferences
Live Better, Spend Less, Retire Sooner
IL's Retire Overseas Bootcamp
October 21-23, 2022 in Atlanta, GA

In safe, warm, welcoming communities abroad, as little as $1,700 a month can bankroll a good life... this fall, our experts will show you where—and how.
Early Bird DISCOUNT—Save $200 When You Register by Sep. 29
Details Here IL's Retire Overseas Bootcamp
---
Registration Now Open for the Best of Europe Private Screening

In the Right Spots in Europe, You Can Retire in Style—in an Historic, Sun-Drenched Locale—for as Little as $2,300 a Month or Less—Especially Now With the Dollar and Euro at Parity for the First Time in Two Decades.
And We'll Show You How, October 1-2, During the Special All-Online Best of Europe Private Screening.
---
The Income Revolution Forum
What if You Had the Freedom to Enjoy the Good Life Anywhere in the World You Wanted to Be...and Get Paid While You're There?
We'll show you how—with hands-on guidance—you could beat inflation...secure your retirement...ditch your commute...and turn a skill you already have into a portable side income of $300, $600, even $3,000 or more a month.