I'm sending my full report on an amazing new deal to members of my Real Estate Trend Alert. (If you are a member, you can read it right now.)
Our RETA-only price is the most outrageous I've ever negotiated for a deal this good…
RETA members can buy from just $137,000….and that's fully furnished, totally turn-key. Plus, the first five members to reserve get a $5,000 discount…
It's in a unique and stunning beachfront community…the nicest, closest beach to Panama City. And it's thanks to the great bailout…
The Panamanian government is effectively footing the bill for a vast chunk of the construction. They want more tourists to come to Panama. They want places for them to stay. And nowhere is better than the unique beachfront community RETA members can buy .
These spacious condos are in a lushly landscaped setting complete with high-end amenities: gym, pool, spa…
Walk the 50 yards through your private clubhouse and you're right on the beach. Go the other direction through the verdant gardens and you're in the brand-new commercial area of this stunning master-planned community.
The great bailout is designed to help hoteliers and developers, especially in the wake of the crisis. Very few people know about it.
Well, not only did we find out about it at RETA, but we're getting our cut because of our group's buying power and my insider connections.
That's on top of the exclusivity we command. No one else is getting even a sniff at this deal. If they did, they would be paying a whole lot more…
I especially recommend the two-bed condos with a lock-off option at $164,000…I figure these will be worth $300,000 five years after delivery.
Panama is often described as a "baby Singapore." Both counties have capitalized on their strategic locations…and Panama is now following Singapore's path to wealth…
Like Singapore, one strand of Panama's economic success is offshore banking. Panama is home to 78 or so banks. They're regulated by the Superintendent of Banks in Panama (SBP). Any bank wanting to operate in Panama needs the approval of the SBP to do so.
And now the world's largest bank has just been approved…
The Beijing-based Industrial & Commercial Bank of China (ICBC) is not only the world's largest bank, but holds the top spot on the Forbes Global 2000 list of the world's biggest public companies, with a market value of $242.3 billion.
Its decision to open in Panama shows huge confidence in the Panamanian financial system, even in this moment of global crisis.
Its approval by the SBP means that it can operate and do business both inside and from Panama. Their focus will be commercial activities. The SBP reckons the bank will be an important player in major infrastructure projects, for example.
It's Panama's growth as a major global hub and the enormous infrastructure improvements that are driving our real estate opportunities there.
I'm talking new roads, wider roads, more roads, bigger roads…a completely new bridge over the Panama Canal, new metro lines…and on top of all this a massive expansion of Tocumen International Airport close to Panama City—already a major global hub, it handled over 16 million passengers last year.
All this development is driving a major Path of Progress on Panama's Pacific coast. The stretch of coast that runs west of Panama City from Chame to Farallon, now called the Riviera Pacifica, is about 50 miles or so of Pacific beaches.
And it's here where Real Estate Trend Alert members have our latest opportunity…set to become the number one destination on this coast.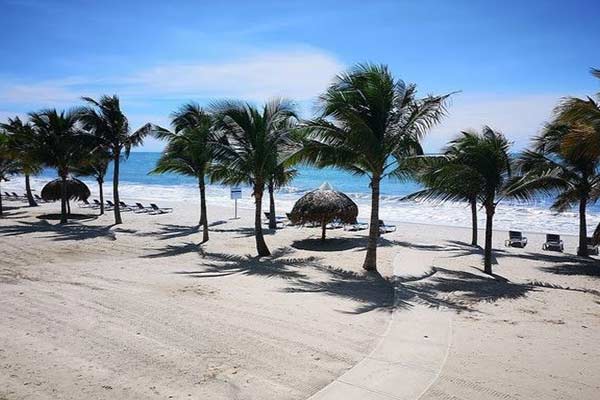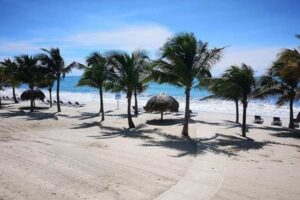 I figure on potential gains of $136,000 five years after delivery with the premium condos from our latest deal here, on the nicest,
closest beach to Panama City.
In the coming week I'll be sharing more of the details…so stay tuned.
A Deluge of Deals…
The deals are coming thick and fast…as I predicted…and I'm feeding them all through to members of RETA as part of Project Prosper, my ongoing mission to help you retire rich regardless of economic shocks. Create a life of ease, travel, fun, and adventure for yourself…insulate yourself from the ups-and-downs of the stock market…enjoy more financial and personal freedom.
These deals are coming faster than any other time in our 12-year history. And with discounts that only a true crisis moment can produce.
In the latest issue of RETA, I shared a cracking deal for a four-bedroom home with stunning ocean views in San Juan Del Sur, Nicaragua.
It originally listed for $579,000. It's now down to $199,000…
At that price, it's an absolute steal for the right person. Set on the hill above Playa Coco the Pacific Ocean views are stunning, and you're just a short way from a quiet beach. The 10,764-square-foot lot comes with a pool, patio, and garden. The open-plan living area opens out to the front, allowing cool ocean breezes to flow throughout the home.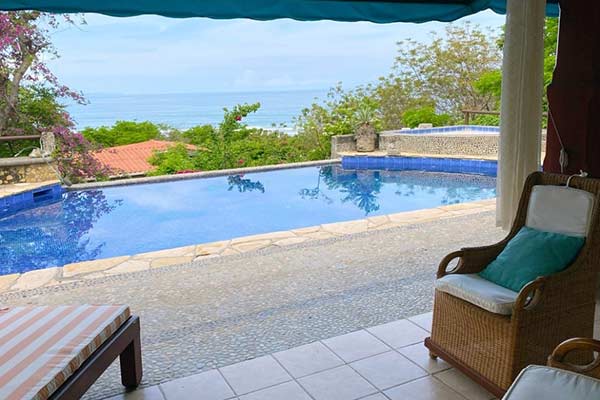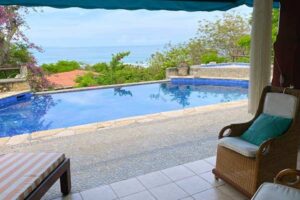 In February, I spent a day driving around the hills of San Juan del Sur with broker Zach Lunin. It's an incredible part of the world. Towering cliffs, rocky coves, flat sandy beaches. It's a dramatic and indented coastline. Surfers tell me there's a rare phenomenon of winds off the ocean and off Lake Nicaragua that makes for day-long surfing.
The idea that you can lock down a four-bedroom ocean-view home here for sub $200K is insane to me. To put that in perspective, you're talking about buying for well below the cost of construction.
But as I've said before, crisis deals in Nicaragua are only for you if you have the stomach for all the uncertainty that brings.
To put it briefly, the country has a long way to go before it can begin to recover from its long-running political crisis.
In 2018, protests about pension reforms were violently crushed by President Daniel Ortega's administration. This sparked major nationwide protests that led to hundreds of deaths and thousands injured.
Ever since, the country has remained in a kind of limbo as we wait to see what comes next. Ortega is still clinging to power, but with elections slated for 2021 it's difficult to predict what might happen.
When I visited in February, things seemed normal. I was surprised by how vibrant San Juan del Sur felt. New roads were being built around the beach town. A new hospital, new police station, and a new fire department.
If you can shoulder the risk, you can find incredible deals here…
Like I say, in this latest deal we're seeing a discount of $380,000.
The owners are a couple from New York. But due to family circumstances they want to move back there to help out and spend more time with their grandkids.
In 2017, the house was listed for $579,000. Now, the price has dropped to just $199,000. I'd offer $180,000 for a quick sale. But, to be honest, at $199,000 it's a killer deal and I expect it will sell fast…if it hasn't already.
I haven't visited this property in person, nor have I done any due diligence, but if I was down on the ground in Nicaragua today, this is exactly the kind of real estate I'd be looking at.
Last week in Portugal's Algarve, my contact on the ground was on site at a new project rapid-firing me photos and videos.
I was impressed. The homes were on a vineyard close to the beach town of Carvoeiro. Really high-spec, with lots of amenities—two pools, a restaurant, volleyball court…
Then he told me the price and I was blown away…
They are starting from €133,000 ($149,336). Amazing value for this part of the Algarve.
The German developer has another development elsewhere that he's anxious to start on, so he wants to make some quick sales.
Pair that price with Portugal's incredible mortgage rates and you're paying a little over €300 a month. North Americans can borrow up to 75% loan-to-value on these homes at rates of less than 2%.
This looks like a great deal. It puts you at the heart of the wider region, but with the space and privacy of a quiet country setting. I'm told the owner of the vineyard will even teach owners how to make wine, with tours and regular open days.
This is the kind of quiet-but-connected place that will attract remote workers looking for a medium- to long-term rental. Like I've said, Portugal's Algave is perfectly positioned to do well as this crisis accelerates the big trends we follow here.
Nearby Carvoeiro is easily one of Portugal's pretty resort towns, a place with a long history and a booming tourist trade…not to mention some stunning golden-sand beaches, semi-secret coves, cliffs, sea stacks, and bluffs.
Thirty minutes' drive and you're in Lagos, arguably the most historic town on the Algarve. It's a pretty and happening place, compact, low-rise and walkable.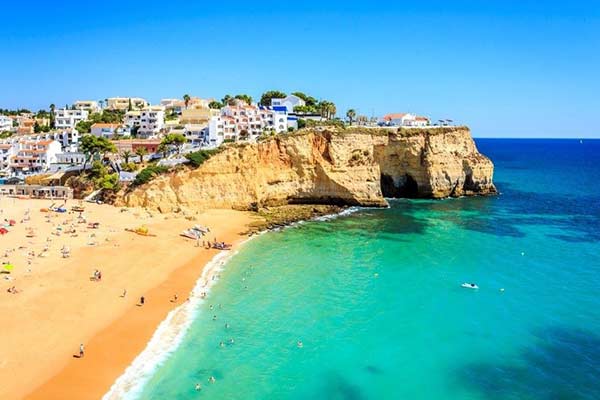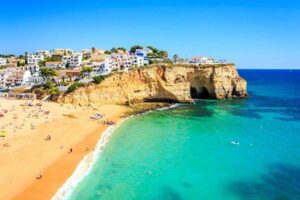 As soon as travel resumes, I'm expecting the rental market in the Algarve to bounce back strongly. The short-term rental market in the Algarve is anchored by a red-hot, 10-week peak season. You can add the two weeks at Easter and schools' (in northern Europe) spring and fall breaks. (The Algarve is very popular as a family destination.) May and September are good months to rent to golfers, young couples, and retirees. Figure, all told, on 10 weeks of peak rentals and then 10 weeks scattered through the rest of the year at an off-season rate. And the season is getting longer as Portugal's tourism sector booms. Plus, Scandinavians are coming in increasing numbers in the off-season to escape their winter.
And now I expect more options to target longer-term renters as the Work from Home (WFH) trend morphs into work from anywhere…
I figure you could rent these homes by the month for eight months for the year for $800 a month, then hit the short-term Airbnb market in the summer bringing in $900 a week.
RETA members can watch a video that my contact on the ground shot from the site of this opportunity in this month's issue.
We can also play a price anomaly in Thailand…
Last June, I told RETA members about a pricing anomaly in Chiang Mai—a brilliant way to own something rare, undervalued and in high demand.
Now, this crisis moment has turned this great opportunity into a no-brainer…but my contact on the ground tells me the deals are going at lightning speed.
If you're new to the Chiang Mai beat…
This Northern Thai city has reestablished itself as a strategic crossroads in Asia. Foreign investment has poured in and thousands of expats from all over the world call Chiang Mai home.
They were there for the good weather…the low costs…delicious food…and all the little luxuries the lower cost of living allows. There's a rich art scene, great healthcare, loads of social activities, and an international airport on the doorstep.
This influx of rental-seeking foreigners has driven profits for savvy investors. When I first visited in 2013, I found opportunities to make gross rental yields in the region of 10% to 15% per year.
As I predicted, prices have risen in since then. For new, top-end pre-construction condos in Nimman—Chiang Mai's premium neighborhood—you'll now pay around $300 per square foot.
But I've found a way to own a spacious condo for as little as $100 per square foot or less…
New-build condos are typically around 40 square meters. In the past though, developers built condos from around 80 square meters right up to 200 square meters—just over 2,150 square feet.
Chinese and Thai buyers mostly go for the shiny new condos. There are cultural reasons for this, and they typically just aren't as interested in rental returns. Real estate is more of a store of wealth for them.
Yet, these larger units—which are very rare in Nimman—are highly sought-after by the growing expat community. Young digital nomads like to share, splitting rent, with their friends. Older couples want that extra space and feel cramped in a typical local sized.
Supply for these bigger condos doesn't meet demand.
I recently got word of a 1,399-square-foot condo in an awesome location priced at around $136,524. (That's less than $100 per square foot.)
The two-bed property is in the heart of Nimman, just metres off Nimmanhaemin Road, and within easy access of Chiang Mai University, shops, cafés, restaurants, hospital, and the Old City. The nearby Maya Mall has a movie theatre and a good food court. And you can find everything from motorcycles to major fashion brands.
The condo's main living area looks directly out toward Doi Suthep where a renowned mountain temple gleams golden in the sun. This is the kind of property that would have incredible appeal for a mobile worker looking for a base in Southeast Asia.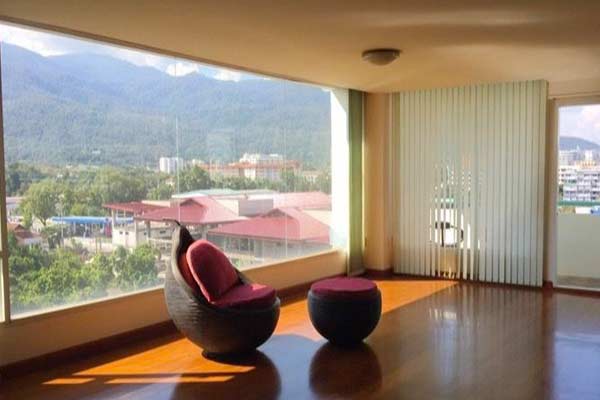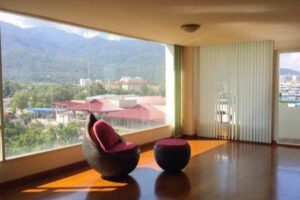 Following a brief lockdown period, Chiang Mai has already begun opening up and getting back to normal. When the rental market bounces back to 2019 levels, I figure a property like this could easily rent long-term for $1,200 a month. That's a gross yield of 10.55%.
But deals like this move fast…
Soon after I left the call with my contact, it was gone. It wasn't even enough time to fire you an alert.
But we'll see more coming down the track…and when we do I'll send them to RETA members.
The word is that a lot of money is on the move. Folks who bought in Chiang Mai 10 years ago are now moving funds elsewhere. They're willing to sell at deep discounts because they've already locked in profits by getting in super-early. We could see as low as $65 per square foot. And the condo's they're selling are perfect for the for the kind of play we want to act on…
I've given RETA members instructions for getting in touch with my Chiang Mai contact in the latest RETA issue.
It's a chance to own a spacious condo in a killer location. There's a very limited supply of larger condos—and no one is building anymore. Plus, the macro case for Chiang Mai and its re-emergence as a major Asian hub is as strong as ever.
The property I'm showing you here is a perfect example of what you should be looking for.
It's in the city's premier neighborhood—a solid earner. And ideal if you want to spend time in Chiang Mai…or use it as a base for exploring Southeast Asia.
But as I say…these opportunities get snapped up fast. To be in with a chance of catching one of these killer deals, you need to be a RETA member.
All of these Flash Deals are made possible because of Project Prosper…
Like I say, Project Prosper is my ongoing mission to help you retire rich regardless of economic shocks. Create a life of ease, travel, fun, and adventure for yourself…insulate yourself from the ups-and-downs of the stock market…enjoy more financial and personal freedom.
If you're a RETA member, go check out the most recent resources I've added to our Project Prosper web portal. This is the single best way to prepare yourself to act on these life-changing deals that are now rolling across my desk faster than ever.
Connect with Ronan on Instagram  or Facebook
Get Your Free Real Estate Report Now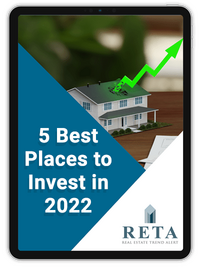 Sign up for our free daily Postcard e-letter and get a valuable free report on the The 5 Best Places to Buy Real Estate In 2022.
Related Articles
The 10 Best Places to Invest in Real Estate
REVEALED: What Happens on a MOST…
Are Your Eligible for an Extra $6,000 a Year?