It's all hands on deck for me and my team…
Our virtual office is buzzing 24 hours a day, thanks to long days spread out over multiple time zones. It has been like this since March 15th. That's the day I jumped on a plane back to Cabo after canceling a trip to Puerto Vallarta to meet colleagues and developers. That's the day my travel was put on hold for 11 weeks…the day I realized we were potentially entering the most economically destructive event of our lifetime…and the day I knew our readers would need us most.
Because in the midst of economic crisis, lies great opportunity for those who know how to find it…
It was on that strange day in mid-March that I resolved to create Project Prosper and devote 100% of my time and resources to achieving its goal.
To remind you, Project Prosper is my ongoing mission to help you retire rich regardless of economic shocks. Create a life of ease, travel, fun, and adventure for yourself…insulate yourself from the ups-and-downs of the stock market…enjoy more financial and personal freedom.
This week, I sent Real Estate Trend Alert members a raft of brand-new resources and special focused reports designed to take them one step closer to reaching that target.
You'll discover where to find pocket-money bolt holes for under $99,000…how to use other people's money to buy your overseas dream home…my number one strategy for getting rich with real estate…and a whole lot more.
If you're a member, you can access them right here.
With Project Prosper you'll be ready to strike when the perfect deal crosses your path…
And, boy have the opportunities been coming…
From Panama to Medellín, and from the Riviera Maya to Nicaragua and Portugal…the deals have been coming thick and fast. And we're only getting started…
I'm just finalizing our latest Panama opportunity, and it's shaping up to be a beauty… A short stroll from the nicest, closest beach to Panama City…it will come fully furnished with an all-in price of less than $150,000.
That's mind-blowing. It's hard to believe you could even build in Panama for that price. But we're getting this deal thanks to a unique opportunity.
The resort and development industry in Panama is being handed a huge tax break, and because of RETA's group buying power, we're getting a big piece of the pie.
I'll be bringing RETA members the details soon…
Back in Ireland
Right now, I'm in quarantine in Ireland. I arrived here last weekend after taking my first flights in 11 weeks.
Things are moving slower here. Restrictions are slowly being lifted or ignored. Friends and family have been visiting, bringing their own refreshments and sitting in the back garden while my wife, Sayuri, and I stay inside.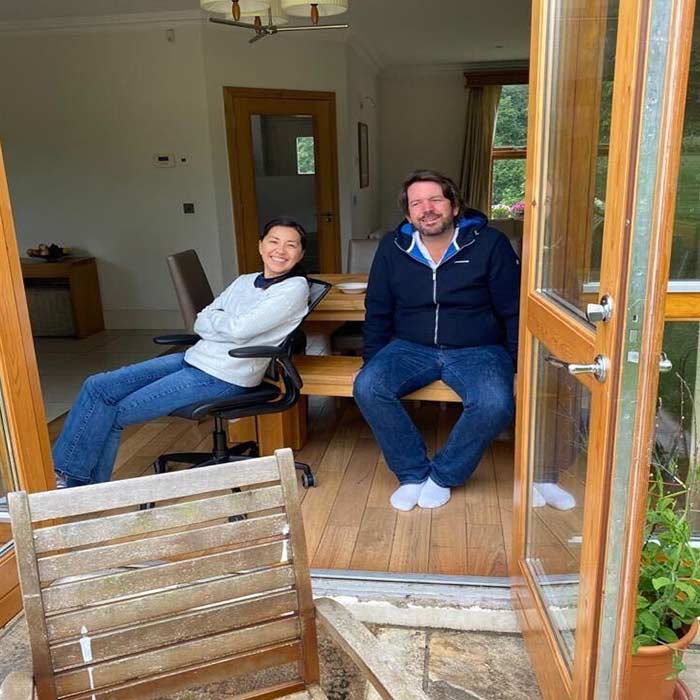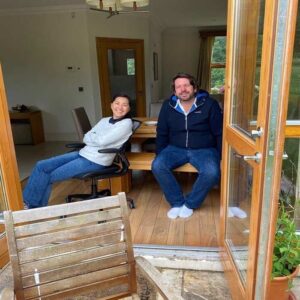 Welcome to my quarantine zone: not exactly hazmats and rubber gloves but we make do.
Despite the long shutdown, the mood in Ireland is optimistic. Across the major cities, such as Dublin and Cork, the multinational sector is on a tear. The streets are still quiet, but business is booming. Facebook, Google, Intel, and all the big players in pharma and medical devices continue to hire.
These are highly uncertain times, but Ireland is positioned well to recover, maybe even thrive…
I'm already seeing anecdotal shifts in the demand for housing here. "We are looking in Kinsale now," a friend piped up. "We pulled out of the purchase in the middle of Cork City when lockdown came. Now John [who works for a major multinational tech company] thinks he will be able to work from home at least three days a week post-COVID. So, we are no longer tied to our original location."
For others, the lockdown has stirred concerns that are even more fundamental. Expensive house…two expensive cars…keeping up with the Joneses…the folly of it all…
One friend (a high-powered professional) openly mused about moving to Portugal, working remotely, cutting his workload, and using Portugal's non-habitual resident (NHR) tax regime to reduce his outgoings.
He doesn't want to go back to the old way of doing things—working long hours just to pay taxes and maintain a consumer-driven lifestyle that holds little value to him.
Working just one day a week from Portugal would fund a great life for him and his family. Portugal is just a two-hour flight and in the same time zone as Ireland—the equivalent of the Riviera Maya to much of the U.S.
Things are changing, my fellow real estate scouts…
And it's all playing into our hands. The real estate trends we've been following for years are starting to accelerate and we're positioned to be out front.
We have two opportunities on the table right now. One is to make money and the other is to save it. With our RETA deals, we're setting ourselves up to double our money within five years. On the other side of the equation, we can save money by relocating to places with extremely inexpensive real estate and a low living costs.
As part of Project Prosper, I've sent RETA members my full report on destinations where we can lock in homes for as little as €29,000. Turnkey homes in medieval European towns…fixer-uppers in stunning sun-kissed landscapes…and polished modern condos in Latin American beach towns. (Members can access the report right here)
A member of my team, with a penchant for Italian renovation projects, recently found this…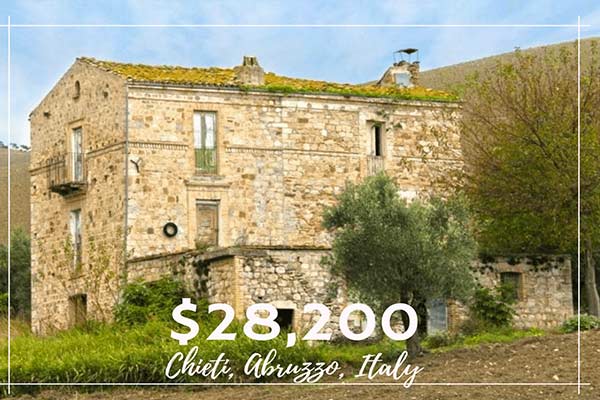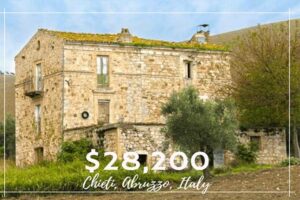 Set in the hills of Abruzzo, the large three-bedroom country home has a price tag of just $28,200. The property sits on a 1.5-acre lot, giving you enough space to grow some olive trees or grape vines—the garden is already planted with plum, fig, and pear trees. The Adriatic Coast is just 18 miles away and you're only eight miles from a ski resort.
It needs a lot of work, but the skeleton of this house is stunning. If you're looking for a project, this is an interesting opportunity.
But even in this insanely low price range, in the right place you can find turnkey homes.
This 100-year-old three-bedroom home in Volos, Greece is in good condition and is going for only €29,000 (about $32,500). It would need just a little cosmetic work to turn it into a beautiful home in the Greek sun.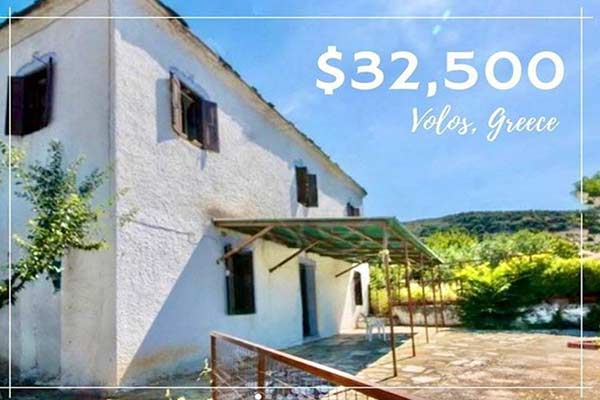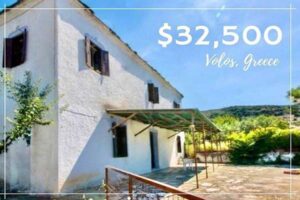 Volvos is a mainland city that sits on the Pagasetic Gulf. Like much of Greece, it's shrouded in history and legend. In Greek mythology, it was where Jason boarded the Argo on a quest for the Golden Fleece. Archeological sites abound. Tucked between the sea and Mount Pelion, it's surrounded by a dreamlike landscape, dotted in beautiful villages. And the coast has some excellent beaches.
I haven't visited either of these homes in person, nor have I done any due diligence.
However, once my quarantine period comes to an end I'll be back on the road scouting and taking the measure of cheap dream properties in person.
First stop will be West Cork in Ireland's southwest, where I'll be checking out cheap homes that scream potential…
Are Your Eligible for an Extra $6,000 a Year?
The shift in real estate demand isn't just driven by individual aspiration. The explosive acceleration of the remote working trend is the decisive factor.
Work from home "forever" is the new mantra of the tech industry. Twitter, Facebook, Square, Shopify, Coinbase, and many other tech companies are now leading the change and allowing employees to work from anywhere indefinitely.
As this trend siphons out to other industries, we'll see a growing wave of people reevaluating their lifestyle…abandoning commuter belts…and choosing a different way of living.
For many, this will mean big savings…
Some estimates put the average savings of remote working at $6,000 per year. That's accounting for the extra cost you incur by being tied to an office—running a car or paying for public transport, lunches and coffees, extra clothing—plus the saving you can make on tax breaks by working from home.
That number actually sounds low to me. Just $23 per working day. It doesn't take into account days when you work overtime in the office and need to get dinner out…or hire a baby or dog sitter…pay for car parking…or the income you could be making if you weren't stuck in traffic each day.
It adds up. And there's another factor that isn't accounted for either. As a remote worker, you're not just free to work from home…you're free to work from anywhere. In a location with a lower cost of living, you can easily double your savings…
Even the $6,000 a year figure goes a long way towards covering the monthly payments on your dream overseas home. Take our recent Edena deal. For just $799 a month, you can own a spacious two-bedroom home in Tulum…one of the most desirable beach destinations in the world.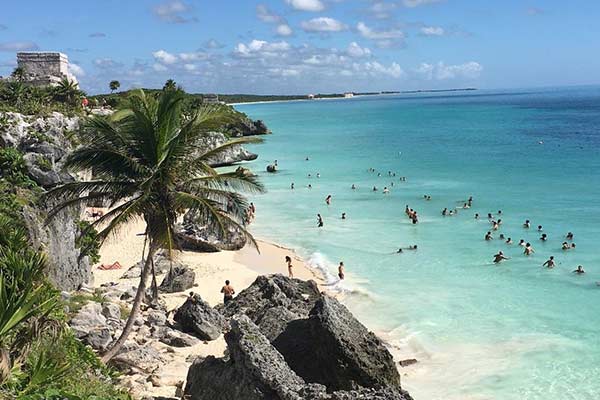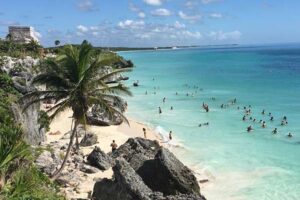 Almost for the amount you can save by switching to remote working,
you can buy your own dream home in Tulum.
And when you're not spending time in it yourself, it's your own personal cash cow. A place with extraordinary appeal for both remote workers and the millions of vacationers who visit the Riviera Maya each year. I figure you could charge $2,500 a month in high season and $1,500 in low season. That's a gross yield of around 13%. (RETA members can read my full report on the deal here.)
Like I say, the opportunity at our fingertips is vast. Now is our time…
Connect with Ronan on Instagram  or Facebook
Get Your Free Real Estate Report Now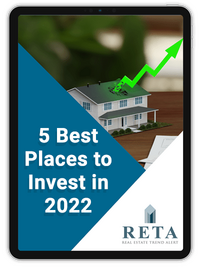 Sign up for our free daily Postcard e-letter and get a valuable free report on the The 5 Best Places to Buy Real Estate In 2022.
Related Articles
The 10 Best Places to Invest in Real Estate
Financing Your European Dream Home