As the sun drops low, the cool evening breeze carries the rich sounds of a brass band from across the broad, historic square. Small, hand-pushed food carts begin appearing alongside the magnificent, centuries-old colonial buildings. Lines of hungry customers form to purchase offerings of steamed tamales (wrapped in banana leaves) and a kind of local Mexican "pizza" called tlayudas. They're delicious and cost about $1.
From restaurants about to open comes the scent of simmering mole and chicken tinga, mixed with the ever-present fragrance of the area's famous chocolate. The streets are filled with those drawn to the ancient cultural atmosphere, the stunning architecture, and the smell of great food. Hearing unfamiliar dialects reminds you that you are in an old city. The descendants of the original inhabitants still speak their original, ancient tongue.
Outstanding food is a highlight of Oaxaca (Wah-Hah-Kah), in southeastern Mexico, but its legendary cuisine is far from the only reason to visit. Majestic, Spanish-colonial buildings line the narrow streets, the cracked patina of their multi-layered plaster and stonework revealing the passage of centuries. Tiny, indigenous Zapotec women draped in colorful, embroidered attire walk along stone-slabbed lanes, carrying their necessities in sturdy cloth bags. Every view creates images suitable for a glossy magazine cover.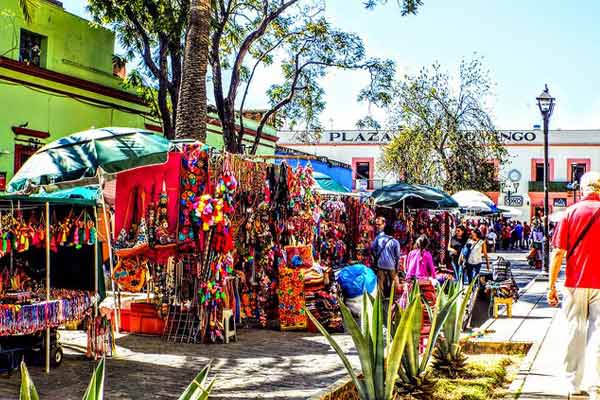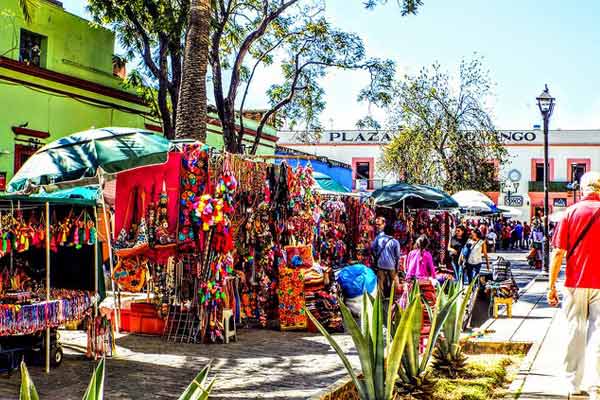 The weather, for me, is perfect. I enjoyed a week of crystal-clear, balmy days when I visited in early winter. Nary a cloud in the sky, and temperatures about 77 F for the whole stay. Throughout the year, most days average in the mid-70s F, dropping comfortably into the 60s F at night. Summer days are much warmer, with temperatures sometimes climbing into the 90s F. And it does rain in Oaxaca.
This artsy colonial gem is a city unlike any other in Mexico. You'll find a strong and visible indigenous culture, a rich and vibrant arts and culinary scene, plenty of day-trip adventures, and low, low costs. Every expat I met mentioned Oaxaca's affordability; some of them live well on as a little as $900 a month. That's not the cost of their rental, by the way; that's what they spend in a month. All-in. Tempted yet?
Oaxaca's expat population is active and centers around the Oaxaca Lending Library. Here English-speaking expats find social connections and an exhaustive number of organized activities to keep them healthy and stimulated. Hiking, bicycle excursions, tours, and volunteering all provide social interaction.
Sixty-three-year-old expat Brian Parks says he hadn't planned on retiring early, but Oaxaca changed his mind.
"Some friends suggested I come for a visit. I did, and I loved it. I saw how cheaply I could live here, so I moved my retirement up and made the move permanently in 2014. I figured I'd have to wait until I was 65. Then I realized I had more than enough to live well here. Of course, it helped that I met a woman while I was visiting that first month," he says, with a grin.
"My rent is about $400," he says. "My electricity is about $5 to $6 a month, gas for my car is less than $10, and I pay about $30 for high-speed internet. I eat out whenever I want, but we mostly eat at home. I like to cook," he explains.
When rentals can go for as little as a few hundred dollars a month, eating out is a small-change affair, and yet you can still get big-city amenities and healthcare on the new side of town, it's no wonder that many expats have chosen to make this historic, vibrant city their home…or that they're keen to keep it under the radar.
Related Articles
Maps of Mexico: Best Beachside and Mountain Towns
Retire in San Miguel de Allende