Peter Roberts and his wife, Sally, were never really intending to move to Panama. They had even less inkling that they would buy a property—specifically a working farm. Two bird enthusiasts, Peter and Sally visited the mountain region of Boquete to take a bird-watching tour.
Located on the Caldera River and overlooked by the Baru volcano, Boquete has been drawing expats for decades from North America, Latin America, and Europe.There's a lot to be enamored of in Boquete—pretty surroundings, a lively local cultural and arts scene, and a temperate climate.
No wonder, then, that Peter and Sally couldn't resist its charms: they fell in love and decided to stay.
They met an 80-year-old farmer who wanted to sell his property—but only to the right buyer. He didn't want to sell it to anyone who wasn't interested in preserving it—making Peter and Sally the perfect candidates. As biologists, they were only too happy to purchase the fruit and coffee farm and to cultivate it. The farm is about 20 acres and home to 1,000 orange and lime trees and approximately 70 avocado trees.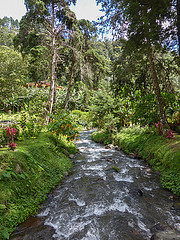 They won't say how much they paid for the farm—only that they are embarrassed at how little the property cost. But if you're interested in following in their footsteps, you can do it affordably. Recently, a 3-acre farm in the Boquete area was on sale for $32,000.
Peter and Sally reside away from the expensive areas and live where chickens roam free as do kids and dogs. Their surroundings are spectacular—there are panoramic views of the local countryside. On a clear day, you can see all the way to the Pacific Ocean.
While it costs less for them to live here, Peter says those savings allow him to give back to the community that has welcomed him.
"We've really been moved by the culture and the people," he said. "It's what happens when you live here for a while."
They employ a local agricultural worker, called Mariano, to help manage the farm. With him, they are able to harvest coffee, oranges, and avocados.
Sally's other focus besides the farm has been her genealogy project of local families. She produces charts and graphs of her neighbors from her genealogy research, another project that allows her to get more involved in the community. She placed all the charts in the local school so that parents and relatives of the children who attend can visit the school to check on their family tree.
For two people who never intended to move to Panama, they fit right in in Boquete.
Related Content
Panama Real Estate: Double the Luxury for Half the Price
By Moving to Panama You Can Move to Paradise