Several years ago, my partner, Gary, and I gave up our business and took an early retirement. Basing ourselves in the beach town of Salinas, we started traveling throughout Ecuador and documenting our journey along the way. We created a website, YouTube channel, Instagram and Twitter accounts, and used Facebook to share with family and friends. We called our website Travel on Dudes, and it was to be a way for us to share our story and help cover some of the cost of our great adventure.
The more we traveled, the more we discovered of the incredible diversity and beauty of Ecuador. But of all the places we visited it was the Baños De Agua Santa, a small town on the eastern slopes of the Andes mountains, that kept drawing us back. We were there any chance we could get. Finally, Gary suggested that we just move there. This meant leaving the coast and moving into the mountains.
"Well, why not?" he said.
I still remember our first visit to Baños. We took an overnight bus from the coast and were greeted in Bonas by the most glorious crisp-clear air I have ever had the pleasure to breathe in. And as my eyes adjusted in the predawn light, I could see the majestic Andes mountains all around me. It was like everything became technicolor; the vibrancy of the green in the golden early-morning sun was just breathtaking.
Ever since that first impression, Baños has lived up to its title of "Gateway to the Amazon;" tranquil, wild, ancient, full of adventure, and everything in between. And we have yet to encounter an idle afternoon there.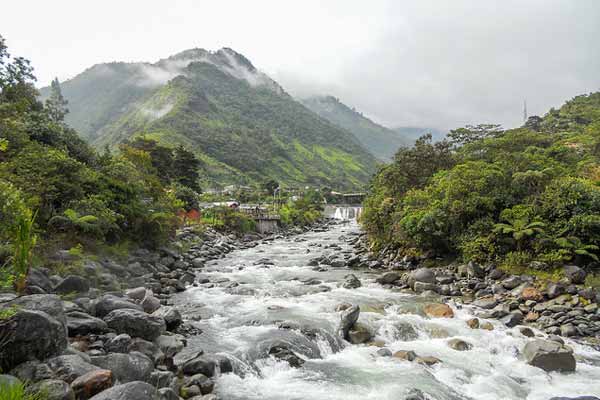 We've visited the thermal baths nestled at the foot of the waterfall that graces the city. We've been to the famed basilica, Nuestra Señora Del Rosario De Agua Santa, in the heart of the city which was built out of the volcanic rock. We've rode horseback across the base of Tungurahua volcano. We've gone whitewater rafting on the Pastaza River on class-four rapids. We've gone thrill seeking on the longest zip line in Ecuador. We've rode mountain bikes down the famous route of the waterfalls, with more than 10 impressive thunderous falls to stop and take selfies. We've rented an ATV and gone off-roading. We've stopped and enjoyed the cable baskets crossing the impressive gorges over the Pastaza River. And we've swung off the end of the world, where National Geographic's award-winning photo of the swing at La Casa De Arbol (Tree House) was taken.
But we never let all that adrenaline get in the way of seeing the softer side of this thriving tourist town. The local artisan shops are impressive with their displays of handicrafts, souvenirs, jewelry, and woven and leather goods. There are also plenty of quaint sidewalk coffee shops to choose from. The aroma of coffee is undeniable and with coffee comes chocolate, ice cream, donuts, pastry, empanadas, and melcocha (a sugar cane taffy that you can watch being made in front of your eyes). There are such wonderful choices of local to international cuisine restaurants and hotels for every budget; not to mention, the variety of spas and natural healing services.
"Why not indeed," I replied.
The move to Baños has opened my eyes to the splendor of nature, through the wonderful sights I've witnessed, the exciting energy of living just four miles from a stratospheric volcano, the sound of birds singing and the river rushing over rocks, and the smell of that incredible fresh air, which has stayed with me ever since I first set foot off the bus.
We are now coming up on a year in Baños, the place we now call home. And we are still making new discoveries. From finding our favorite trout restaurants, to visiting the sport fishing pools of Rio Negro and touring the nearby valley of Patate, where literally anything grows in the rich volcanic soil.
Baños is centrally located within Ecuador, making it a perfect jumping off spot for us. All points north, south, east, and west within a three-hour radius have such diverse landscapes, including the majestic Mount Chimborazo, which is the closest point to the sun as measured from the earth's center.
Our passion for travel is now paying off through our video blog. Travel on Dudes has become a way for us to share our adventure in this beautiful country, meet incredible people, experience diverse cultures, and raise awareness for great causes. Of course, the best part is we get to eat, sleep, and visit some incredible places for free due to the growing popularity of our videos. It's a win-win for us.
Who says retirement must be slow paced?
Need a Way to Fund a New, Better Life?

Join our Savvy Retiree Daily e-letter today and you'll hear from us daily, telling you about ways you can gain the freedom to live where you want, travel when you like and create a life you love. We'll also send you a FREE Report Fund A New, Better Life With These 6 Portable Careers...
Related Articles
Move to Ecuador for Its Wealth of Charms
An Overview of Traditions and Culture in Ecuador
---
You know more Spanish words than you think you do! And we guarantee you can be carrying on conversations...in Spanish...in just 20 Minutes. Special summit 'Speak Spanish in 20 Minutes' is now live!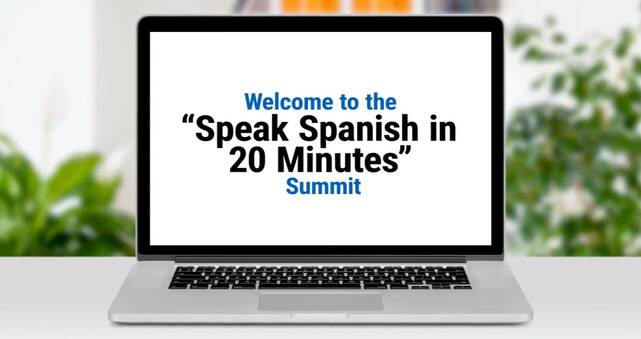 ---