Eighteen years ago Penny Sue Leonard visited Belize for the first time, on an assignment to teach nursing practices at hospitals.
She was so impressed that a year later she left Orlando, Florida, and permanently moved to Punta Gorda in the south of Belize.
"Something drew me in. The fact that it is so far off the beaten path. I fell for this part of Belize. I already loved the whole country, but Punta Gorda just pulled at me."
While she was initially attracted by Belize's beauty and the warm waters of the Caribbean, another big draw for Penny was that English is the primary language. And the lifestyle in Punta Gorda is affordable. "It is so much less expensive to live here than in the U.S.," she says.
Penny bought an old 20-acre farm on the river with a glorious swimming hole in the creek.
"When I first moved, I wandered around and 'ooed' and 'awed' all day long. I kept cool swimming in the spring-fed creek. The property came with fruit trees and lots of food plants. The parrots, toucans, and other wonderful birds made a bird watcher out of me right away. Everyone becomes a bird watcher in Belize. My journals from that time reflect how happy I was…every day was wonderful."
Having grown up in Florida, Penny remembers that it was once a wild, wonderful place. She witnessed the development and eventual ruin of much of Florida's natural wonders. "I love it here because Belize is still natural, unspoiled, and wild. I figured it would not be ruined in my lifetime. I was right about that."
Penny and her partner built Tranquility Lodge on her property. It was one of the first lodges in the Toledo District. "It was a fascinating life at the lodge. Many of our guests were scientists who were studying bugs, birds, and all sorts of things. For many years I stayed busy being an inn keeper."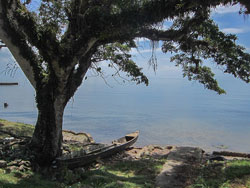 After Penny's partner passed away, she sold the lodge. These days she lives in the comfortable house that she designed and built. From her home she enjoys an expansive view of the nearby Caribbean waters of the Bay of Honduras. Her two pet Chihuahuas are her constant companions as she keeps busy baking bread, catering, and socializing with her many friends, both expat and Belizean.
"I find my life to be very fulfilling. I know everyone and everyone knows me. We hold a lot of dinners…going back and forth to each other's homes. We celebrate all types of occasions. My social calendar stays as full as I wish it to be. But this is not a party spot. It's a quiet place where nature's wonders are everywhere around us, to see and enjoy."
At 69, Penny is no longer interested in running a demanding full-time business. But she is quite content baking healthy artisan breads to sell to her many friends in the Toledo District.
As the fragrant aroma of baking sourdough bread wafts from Penny's kitchen, she can sit on her deck and relax…take in the tranquil sea view… and watch the parrots, toucans, and other birds that come to visit…
Get Your Free Belize Report Here:
Learn more about Belize and other countries in our daily postcard e-letter.
Simply enter your email address below and we'll send you a FREE report – Belize: The Top English-Speaking Retirement Haven in the Caribbean.
This special guide covers real estate, retirement and more in Belize and is yours free when you sign up for our postcards below.
Get Your Free Report Here