If you're looking for a beach home and you're on a tight budget, one country should top your shortlist: Ecuador.
You see, Ecuador's coast is a sleeping giant. For years foreign buyers ignored it as a second-home destination. When it came to buying a place in the sun, they focused on better-known (and more expensive) beach destinations.
That lack of foreign buyers is why beach homes in Ecuador remain affordable.
In fact, you'll probably pay 50% less for your beach home in Ecuador today than in comparable regions in the area.
But this sleeping giant is slowly waking up. A growing number of retirees and second-home buyers are realizing the good value on this coast.
So you need to act fast if you want to snap up a beach home at today's low prices—before they're consigned to the history books.
Take a look at these property picks on Ecuador's coast.
Pick #1. A Coast That's on the Up – and Condos for $87,740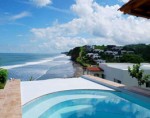 Jama, on the north coast, was really tough to get to. But a new road opened in 2011 and it's a game-changer that's pushing this location forward. It's now attracting more tourists—and a wave of second home buyers.
In the best-in-class community in the area you can buy a brand-new condo for as little as $87,740. That gets you an open-plan layout and ocean views. Best of all, you're only a few minutes' stroll to an unspoiled sandy beach.
Pick #2. Boardwalk Condo in a Fun Resort Town for $90,000
Salinas is an established beach resort that's popular with both locals and foreigners. You'll find good shopping in this city and a vibrant nightlife scene. Plus, it's world-famous for sport fishing and sailing.
One 1,500-square-foot condo I know of, is in a prime location on the boardwalk. It's close to everything—shopping, nightlife, cafes, restaurants, and the beach. You'll probably spend most of your time on the condo's spacious terrace, enjoying the views of the beach and ocean. This unit is move-in ready but needs some cosmetic work. It's just come on the market with an asking price of $90,000.
Pick #3. Laid-back Beach Living for $105,000
Olon is a tiny beach town. It isn't a tourist hot spot. It's under the radar—and the few expats who live here prefer it to stay that way.
It's a laid-back, peaceful haven with eight miles of beach. You can swim, surf, or relax with friends at one of the beach bars over chilled beers and a bowl of grilled shrimp.
New, 1,400-square-foot houses here have a second-floor deck where you can watch the gorgeous Pacific coast sunsets. Only 200 feet from the beach, the homes are priced at $105,000.
Editor's note: Learn more about Ecuador and other countries in IL's daily postcard e-letter. Sign up here for these free daily postcards and we'll send you a FREE REPORT – Ecuador: Live Like Royalty on Half Your Social Security.
P.S. Margaret Summerfield comes to us from Pathfinder, IL's preferred real estate advertiser.