On the western end of the pristine, laidback Caribbean island of Roatán, there's a growing community of contented, beach-loving expats. The beach here is perfectly protected from the island's prevailing southeastern breezes. This leaves the turquoise waters calm and still, perfect for a refreshing swim or snorkel. For many residents, a people-watching stroll on the white sands with a cold beer in hand is a daily routine.
The beach here is often voted one of the best beaches in the Caribbean. Snorkeling from shore is easy, and the coral reef around this island is among the most beautiful in the world. The reef's proximity to shore, the amazing visibility in the crystal-clear waters, and the versatility of healthy coral reef and vibrantly colored fish make for the easiest and most awe-inspiring diving. There are many dive shops on the beach here, all offering affordable dive packages for lessons or fun diving—at dive sites all within a few minutes from shore.
The arrival of increasing numbers of expats to Roatán has led to more development in recent years. You'll find single- and multi-family homes in neighborhoods built up into the hills. Studio condos for sale right on the beach go from $209,000. New neighborhoods with prices in the region of $300,000 offer residential privacy while remaining close to all the amenities nearby.
Finding affordable rental options is easy. Couples renting long-term can expect to live on $2,000 a month, while those who own a home could do it for less. A mid-range dinner for two typically costs about $50 with drinks, while lunch could easily stay below $30 for two. Local beer at most bars will cost you $3, while cocktails are typically around $6.
Your largest expenses will likely be electricity (around $300 a month) and groceries (around $500 a month), as those are always high costs on an island. But—of course—the beach is always free! And there are many fun gatherings and events throughout the week as well, including movie nights, live music, and fire dance shows, all of which are free to attend.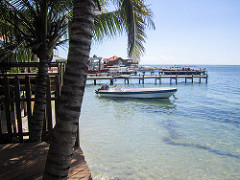 Scuba diving, snorkeling, deep-sea fishing, and boat trips to neighboring islands are all very popular daily activities in Roatán. Sundays are spent enjoying the beach with friends, listening to live music, and drinking cold beer, all while soaking in the sunshine and admiring the best sunset views on the island; the colors painted across the sky never cease to amaze.
Small beach bars fill in the gaps between small local resorts. The resorts also open their own restaurants and bars to the general public. Enjoy a Monkey Lala—a refreshing local cocktail made of Baileys, vodka, coconut cream, and chocolate sauce—anywhere with an available seat in the sand. Most bars along this stretch of beach offer bar and food service out to the lounge chairs or even into the water.
Take advantage and get comfortable for a gorgeous ocean view from anywhere. Even if you're not the type who enjoys lounging in the sand all day, this beach community offers many activities. Frequent gatherings for social groups and fundraising events bring expats and locals together to enjoy the beautiful natural scenery in this very inclusive neighborhood.
Get Your Free Honduras Report Here:
Learn more about Honduras and other countries in our daily postcard e-letter.
Simply enter your email address below and we'll send you a FREE HONDURAS REPORT: Island-living at an Affordable Price in Honduras
This special guide covers real estate, retirement and more in Honduras and is yours free when you sign up for our postcards below.
Get Your Free Report Here