There's barely been a better time to look at the beachside real estate market in beautiful Belize. Prices have been dropping for the past year or two, making more homes affordable no matter what your budget, whether you intend to rent or buy. And while many prefer to rent (at least at first), another great benefit of Belize is that it allows foreigners to own land and property outright—even beachfront.
So, what kind of property can you expect to get, and what can you expect to pay? Here are some examples of homes both for sale and for rent…
Example 1 – Placencia
Placencia is a laidback settlement on the Caribbean coast in Southern Belize. It's got brightly painted wooden homes, little stores, bars right on the sand, water sports, beach walks, and a rich expat social life.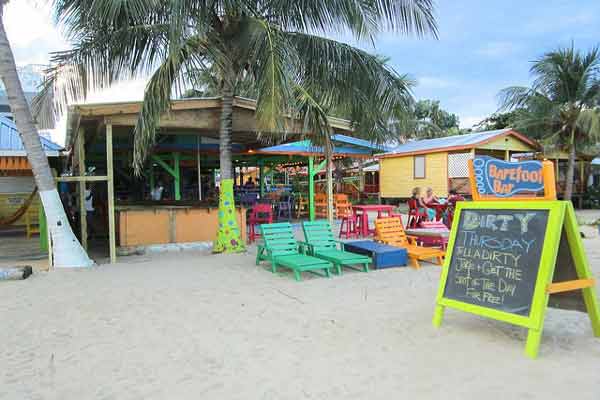 Barefoot Bar, one of the many beach bars Placencia has to offer.
One "for sale" listing right now is for a pair of two-bedroom, Caribbean plantation-style homes with huge front porches, on a lot of 4,630 square feet. You could live in one and rent out the other, and there are many management companies who can look after the rental. The whole thing is on the market for $299,000.
If you prefer to rent in Placencia, prices have come down too. Not so long ago, you couldn't have found anything (even a one-bedroom apartment) for less than $900 a month. Now you'll have a whole choice of even two-bedroom places for the same amount.
A good way to check out rentals is to join the Facebook group Placencia Long Term Rentals. You'll see everything from wooden cottages to luxury homes. Keep in mind that staying a block or more from the beach, rather than being right by the water, can save you a lot of money.
One property listed right now is a North American-style home on Placencia's main street. It could be yours for $700 a month.
Example 2 – Ambergris Caye
The island of Ambergris Caye is a more upscale area of Belize, that caters to a more demanding market. There are many million-dollar mansions by the beaches—but there are also many affordable condo ownership opportunities, if you look around.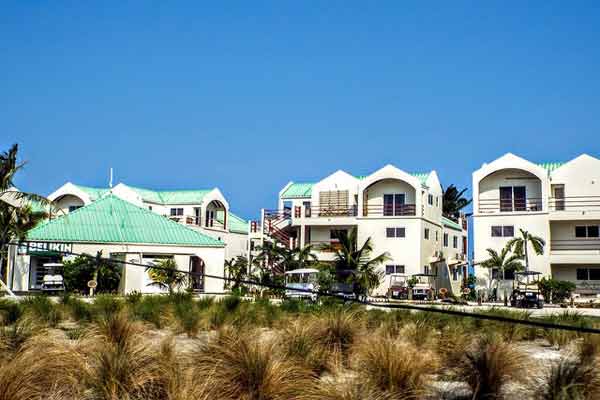 Condos in San Pedro, Ambergris Caye.
One listing is in Ambergris Lake Villas. It's an 850- square-foot, two-bedroom, two-bathroom condo with an asking price of $199,000 (down from $209,000). The area is popular with expats, with everything you need close by.
Another listing is the Mara Laguna complex, a mile north of San Pedro town. The development is built around a lagoon, with swaying palms, calm water, and excellent diving, fishing, and snorkeling.
Here, you can buy a two-bedroom, two-bathroom, fully furnished condo with two verandahs, ocean views, landscaped grounds, and a community bar and pool, for $161,000. That price is down from the $188,000 it was originally listed at—an indication of how prices are dropping in Belize.
If you prefer to rent here, current listings show a one-bedroom, one-bathroom second floor condo for $875 a month. There's also a two-bedroom, two-bathroom condo with its own sea view, for $1,100 per month.
Remember these are on Ambergris Caye—Belize's most upscale location—so those prices are bargains worth grabbing.
Life in Belize
The expats who are happy in Belize are most often those who embrace the natural, slow way of living. They are comfortable with not having big box stores to shop in, they enjoy riding a bike or golf cart to the store to buy natural whole foods, and they're happy cooking from scratch (or enjoying wonderful, cheap local foods). It's a place for heading out for an evening barefoot, sitting at an open-air bar, and listening to local live music.
If that sounds good to you, and those real estate prices seem good to you too, then life by the beach in Belize is worth considering.
Get Your Free Your Overseas Dream Home Report Now

Sign up for the FREE Your Overseas Dream Home e-letter and get a valuable report (free for a limited time) on the The Global Real Estate Boom of 2021: 15 Places Where You Can Profit.
Related Articles
Where to Find the Best Beaches in Belize
The 13 Best Places to Visit in Belize
5 Best Caribbean Islands to Live On… and 2 to Avoid