I moved to Quepos, Costa Rica, in September 2008 for retirement. I had visited Costa Rica eight times in the previous five years, always spending some time on the Pacific Central Coast and, in particular, the Quepos-Manuel Antonio area. I felt comfortable on the central Pacific coast every time I came here.
After 50 years working in various businesses, including my own, my first question was "What do I do now with all this free time?" My second question was "Where's a good place to eat?" As it turned out I was able to answer both questions at the same time.
I started out by writing long emails once a month copying my kids and friends back in Florida where I had lived for the previous 10 years. Both my kids and friends encouraged me to keep writing the emails about my experience living here as an expat. It seemed people were enjoying my tales. Eventually I hit on a structured format, a monthly newsletter, and I named it The Golden Gringo Chronicles. It's golden because I was lucky to have found this area and also because I was in my "golden years."  This past month the Chronicles reached its 122nd edition.
Shortly after the Chronicles developed into a newsletter a couple of other retiring expats moved here and we quickly became friends and beach buddies. Of course, we ended up dining out together once or twice a week. It was quickly apparent that we had no shortage of places to try as the area has some five or six dozen food emporia, including a number of simple sodas (small family run restaurants) serving tipico food like a casado—a simple plate consisting of a piece of fish or meat, vegetables, and the requisite rice and beans. Sodas are simple, inexpensive, and serve nutritious fare.
Inevitably we began making comparisons, and one of the three gents suggested a name for our group: The R.O.M.E.O.s. The acronym stands for Retired Old Men Eating Out. "Right on!" I said. Then I added a section to the Chronicles called the ROMEO Corner where we review one restaurant each month. For ambiance, food quality and service we give them a 1 to 5 sloth rating, five being best. We also rate cost from $1 to $5, the latter being most expensive. Then I have to calculate the Value Index by dividing the sloth rating by the cost rating (sorry, I can't get rid of the engineer in me).
As time passed we quickly altered the nature of the ROMEO Group by inviting women, and now we regularly have mixed company. We didn't change the name though because we've yet to come up with an appropriate acronym better than ROMEO. We now routinely have six to eight people during the slow period and over 20 during the high season (January to May).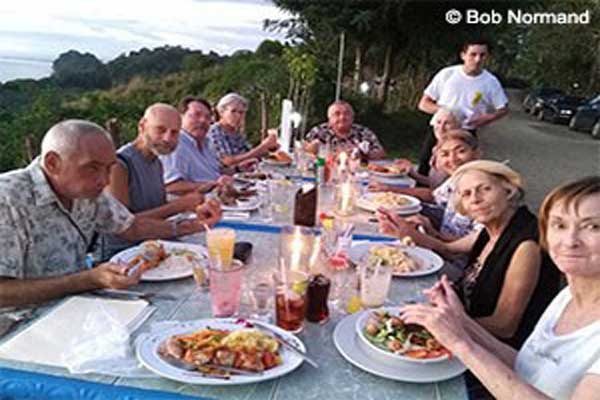 We also discovered a number of upscale to gourmet level restaurants specializing in an eclectic variety of international cuisines as well as many options between soda and gourmet. The list we visited grew steadily, L'Angolo (Italian), Emilio's (Venezuelan—his desserts are amazing), El Avion (American and Costa Rican specialties inside a jet plane overlooking the Pacific), Puerto Escondido (ever try a beef filet with a combination chocolate and raspberry sauce?—it's not what you think, it's outstanding)…and on, and on, and on. In the last three or four years the new Quepos Marina has come on strong, now boasting six restaurants including the Runaway Grill (American and local), "Z" (creative seafood), Gabriella's (gourmet), and Mercato del Porto (Italian).
The ROMEO Group has become something we look forward to each month, a fun celebration of living in a very pleasant area. Perhaps, one day, you'll join us.

Related Articles
Best Places to Live in Costa Rica: Five Top Expat Havens