Belize is a small country situated on the Caribbean Sea, best known for the World Heritage Barrier Reef that parallels its 240 mile coastline. Several areas of Belize's coastline, and many of its cayes, have lovely sandy beaches that co-exist with mangrove forests that protect its coastline.
Below are the top three beach communities that offer both inviting beaches and a desirable Caribbean coastal lifestyle. If you're a beach buff, these are the hot spots to check out if you're dreaming of moving to a beach community in Belize.
1. Placencia: 17 miles of Diverse Beaches and Caribbean Charm
Ask a local where to find Belize's best beaches and most will point you to Placencia. The Placencia Peninsula has extensive beaches along its 17-mile coastline. Some are in villages, near hip cafes, beach bars and resorts where you can lounge in a hammock with a pina colada, then take a quick dip… Others feel private and off the beaten track. But in Belize the Caribbean beachfront belongs to the public… So explore to your heart's content.
The peninsula is so narrow it feels like an island. In some areas you can actually see the Caribbean Sea to the east, and the tranquil lagoon to the west, from the only road. Beyond the lagoon is a stunning silhouette of the Maya Mountains. You can reach many mainland eco-activities within an hour or two by car.
Some Placencia beaches are wide and open, with course golden sand. Others are narrow, with lush vegetation along the shore, and soft white sand. Coconut palms grow everywhere, it seems. But the coastline's also peppered with attractive palmettos, fruit-bearing sea grape, cocoplum, and craboo trees.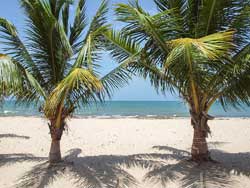 You can walk for miles along the natural sand beach. Just kick off your flip-flops and stroll from one beach bar or resort to another… Expats Lynn Ann Snellman and Tony DiPiazzo live near Maya Beach, in the beach house that they designed and built. They love to walk the beach with their dogs for an hour or more each day… On other days they might swim, snorkel or kayak right from their own beach.
You'll find three villages on the peninsula: Placencia Village, Seine Bight, and Maya Beach. The peninsula has less than 3,500 residents. And more European expats seem to live on the peninsula than in other regions. Most own and operate their own businesses. Of course, there are a good number of Americans and Canadians as well.
You'll have your choice of hip restaurants and trendy bars and cafes there. These days residents can find fresh seafood, fruits, veggies and gourmet items locally. New businesses open regularly, as expats flock to the area. In the last few years yoga studios, beauty spas, massage studios, and even a bowling alley have opened.
Growth on the peninsula is strong. But with less than 3,500 residents, there's room for expansion, with a number of deals on the lagoon side.
A couple can live on $1,800 a month on the Peninsula, although it's easier to spend more if you enjoy eating out.
2. Ambergris Caye: A Lively Island with Amenities Galore
Ambergris Caye vastly differs from Placencia. This island is 25 miles long, completely surrounded by the Caribbean Sea. There are some lovely beaches on the island, but far fewer than on Placencia's Peninsula. And Ambergris Caye is more developed, with nearly 20,000 residents during the high season.
On Ambergris you'll need to seek out the best beaches. They exist on both the east and west sides of the island. But some are hidden, off the beatan path…
Although the water around Ambergris is shallow, the spectacular Mesoamerican Barrier Reef, with its vibrant marine life, is only  half a mile from shore. So the stunning view of waves perennially breaking on the reef provides dramatic scenery for the east coast beaches. And the best beaches are on north Ambergris Caye, miles from town.
At times San Pedro Town is lively that's verging on frenetic, especially during the tourist season. This colorful, active town is the hottest tourist spot in Belize. You'll find most anything you need there: restaurants, bars, stores, nightclubs, churches, and much more… For a more tranquil setting head a few miles north or south of town.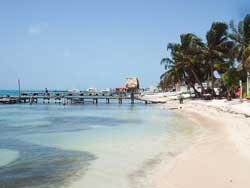 The most popular beaches in town are at Ramon's and Banyan Bay. But locals enjoy the beaches on north Ambergris Caye. They take a water taxi and head to X'Tan Ha, seven miles north of town, or Secret Beach nine miles of town, on the lagoon side. A particularly unique beach is at the Tranquility Resort Beach, 16 miles north of town, where the reef meets the shore.
Expats who settle on Ambergris Caye find a comfortable lifestyle with a surprising number of amenities. You'll find more products and options on this island than anywhere in Belize… Quality fresh fish…chicken and meat…fresh greens…fine wines…robust coffee beans…and specialty gourmet items. The island even has three wine tasting bars!
In addition to the many options for outdoor water sports, there are several yoga studios, gyms, a Pilates studio, massage spas, sailing clubs, live music at local beach bars, karaoke competitions, and regular festivals… You'll also find a good mix of churches and volunteer opportunities on the island.
The majority of expats live in established condo communities on the island. That makes it easy for them to lock and leave when they want to travel.
Prices for imported goods and specialty items are high due to the transport cost out to the island. But a couple can get by on $2,000 a month–or you can live comfortably for $3,000 a month.
3. Hopkins Bay: A Traditional Garifuna Village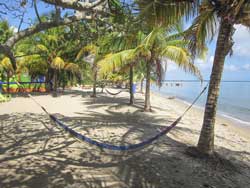 Hopkins sits on a pretty, crescent-shaped bay that frames five miles of walkable sandy beaches. This tiny Garifuna village has a laidback small-town feel. Walking along the beach you'll find inviting, pastel-colored guest houses scattered along the bay, inter-mixed with swanky high-end resorts. For such a small village, Hopkins has a surprising number of acclaimed gourmet restaurants, including Chef Rob's and the Barracuda Bar & Grill, located practically next door to one another on the beach.
Hopkins's beachfront vegetation is similar to that of Placencia. But you'll also see rustic but functional fishing boats scattered along the beach, especially in the village, adding an element of character. This is, after all, a genuine fishing village.
Walking on the beach, or through the village, you'll experience a simple, authentic cultural side of Belize. Hopkins is a traditional Garifuna cultural center where a high percentage of the residents are Garinagu. There are far fewer full-time expats living in Hopkins than in Placencia or Ambergris Caye.
The cost of living in Hopkins is similar to that of Placencia.
Get Your Free Belize Report Here
Learn more about Belize and other countries in our daily postcard e-letter.
Simply enter your email address below and we'll send you a FREE report – Belize: The Top English-Speaking Retirement Haven in the Caribbean.
This special guide covers real estate, retirement and more in Belize and is yours free when you sign up for our postcards below.
Get Your Free Report Here