There is no better way to celebrate island life than to step aboard a boat and cruise away from shore for stunning views and extraordinary experiences. Whether it's in a luxury yacht, a spacious catamaran, a quaint sailboat, or a personal kayak…
The Caribbean island of Roatán, off the northern coast of Honduras, is surrounded by clear turquoise water. The second largest barrier reef in the world is located just offshore, allowing you easy access to view an astoundingly colorful and vibrant coral reef. Roatán is the largest and most developed of the Bay Islands. Because of this close proximity to so many other smaller islands, you'll have plenty to explore.
Whether you're headed to Roatán on vacation or you've moved there to enjoy the amazing expat life in paradise, these are our suggestions for the best boat tours in Roatán, Honduras.
1. Ruthless Roatán Charters to Cayos Cochinos:
A trip to Roatán is not complete without a day on Ruthless. Ruthless Roatán Charters offers the island's premier option for a trip to Cayos Cochinos (the Hog Islands). Located between Roatán and the mainland, Cayos Cochinos are sparsely inhabited and offer pristine snorkeling and SCUBA diving. A day trip with Ruthless starts in West End at Half Moon Bay with breakfast on-board. Upon reaching Cayos, guests can snorkel and enjoy a locally prepared lunch on the beach before heading back toward Roatán, fishing along the way to enjoy some fresh tuna sashimi. Ruthless Roatán Charters is the boat trip to take in Roatán. The price for the charter is $700 which includes an experienced licensed captain, crewman and all the gear it takes to get you to the fish for six people.
2. Glassbottom boat family tour:
The whole family will enjoy a slow, smooth glass-bottom boat ride around the coral reef outside of West End and West Bay. Popular with cruise ship guests as well, these tours are best booked on days there are no ships in port for better flexibility and less crowded boats. Several companies offer these tours, so it's best to ask where you're staying for a reservation. Glassbottom boat tours are perfect for anyone who feels uncomfortable snorkeling as they allow you to enjoy the stunning underwater views without even having to don a swimsuit! Adults $35 and kids $20.
3. Lady Julia to Utila: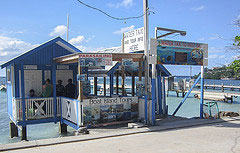 Captain Dillard lives in Utila and regularly offers charters between the two major Bay Islands with a minimum of four passengers. While in Roatán, book your spot at The Beach House concierge office in West End. The trip takes about four hours across open ocean, offering plenty of sunshine with the chance of spotting some larger marine life along the way. Keep an eye out for the majestic whale sharks that gracefully migrate through this area regularly. Spotting one of these gentle giants is the experience of a lifetime! A one way trip on this boat will cost you $55.
4. Stray Cat Sunset and Live Music Cruise:
The Stray Cat sunset cruises have added live music from local bands occasionally. Book this one in advance and ask specifically about the live music option—it makes the whole experience wonderfully memorable! The catamaran cruises between West End and West Bay, allowing for a smooth ride, free-flowing beverages, and entertainment to get everyone dancing.
5. Spirit of Free Radical East End tour:
The married duo of Ed and Julie offer half-day and full-day trips filled with snorkeling and intriguing historical information about the pirate days of the East End of Roatán. You'll cruise around Old Port Royal for some amazing views and stop to snorkel at the famous Cow and Calf, two rocky little islets offering stunning views of pristine coral reef below. While on board, sit back and enjoy a few libations while you dream of buried treasure. A full-day tour will cost you $140 and a half-day tour will cost $110.
6. Mangrove tours:
The eastern coastline of Roatán is filled with mangroves, which filter the water and also provide a protective environment for marine life. Touring through the mangrove tunnels cut out by Paya Indians centuries ago offers you a glimpse into local history and a mesmerizing experience as you kayak, paddleboard, or take a small motorboat through this intricate natural area. Some mangrove tours are included in full island tours, others can be arranged from the town of Oak Ridge. This is a unique experience that shouldn't be missed! A provider of mangrove and kayak tours can be found here. A four-and-a-half hour tour will cost you $45.
Whichever boat tour you take in Roatán, you are guaranteed to enjoy stunning views, enjoyable entertainment, and maybe even some cultural and historical education as well. Take advantage of as many boat tours you would like! You can never spend too much time on the gorgeous Caribbean Sea around the island of Roatán.
Get Your Free Honduras Report Here:
Learn more about Honduras and other countries in our daily postcard e-letter.
Simply enter your email address below and we'll send you a FREE HONDURAS REPORT: Island-living at an Affordable Price in Honduras
This special guide covers real estate, retirement and more in Honduras and is yours free when you sign up for our postcards below.
Get Your Free Report Here