---
You look out from your terrace over a vast tropical garden. You're surrounded by heliconias and bromeliads in shades of vivid red, bright yellow, orange, and combinations in between, along with orchid blooms. Banana and mango trees are heavy with fruit. It provides the perfect backdrop to a life lived outdoors, thanks to a year-round temperate climate—mid-70s F during the day, cooling off into the 60s F at night.
Rich volcanic soil and healthy rainfall throughout the year have drawn Costa Rican farmers to the country's Orosi Valley—just 45 minutes from the capital, San José—for centuries. There they mostly grow coffee, chayote, sugar cane, and other crops. And small numbers of in-the-know expats have joined them in recent years. Most tend to be back-to-the-land, pioneering types. They relish the traditional Costa Rican farming communities and the small-town feel that goes with them.
The weather is ideal, with temperatures moderate year-round. Some days you even have to wear a light sweater in daylight hours—even in tropical Costa Rica. The elevation, starting at 3,500 feet in much of the valley, is the reason. This is also one of the rainiest parts of the country. Daily afternoon downpours during the rainy season, from May to November, are the norm, and it can even rain during the dry season. But most expats don't mind. In fact, many come to welcome the rain, as it keeps everything lush and green year-round and makes for ideal growing conditions.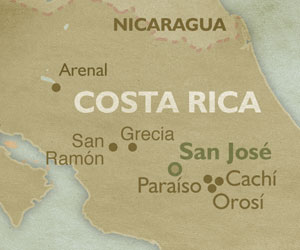 Here it's still possible to buy acreage and have a homestead at bargain prices for your homegrown tropical garden or hobby farm. Two, three, five, 10 acres or more in one of Costa Rica's most pristine and undiscovered locations—for low prices. You can buy land with a turnkey home on site…or pick up raw land. With prices starting at under $150,000 for a home with acreage and under $100,000 for acres of farmland. Combined with Costa Rica's extremely low property taxes—just 0.25% of the assessed value (that works out to a $500 annual tax payment for a $200,000 home)—and property becomes even more appealing.
And now is the time to get in. This region has not been discovered by the mainstream expat crowd or the real estate industry—in fact, it can be difficult to find an agent active in the area. You'll do a lot of legwork yourself. But you're rewarded with lower prices for land than elsewhere in the country, even other parts of the Central Valley, such as the popular expat hub of Grecia.
Many homes here are Tico-style. They're clean and comfortable but tend to have smaller rooms and hot water only in the shower. The refrigerator will be smaller…and usually there's no dishwasher. A remodel will probably be in your future to bring it up to North American standards.
The good news is that, while most construction materials tend to be about the same price as in North America, the cost of labor is much lower. For hand-crafted items like wooden doors or iron gates, the costs are also low. Tropical hardwoods—suited to the tropics—are popular. Construction costs work out to about $90 per square foot.
A Homesteader's Dream
Lying in the Cartago Province of central Costa Rica, the Orosi Valley is one of the country's prime homesteading regions. Although rural and unspoiled, it's still an easy commute to outer suburbs of San José and all the big-city conveniences there, such as shopping, hospitals, and an international airport. But then you can retreat back to your country refuge in the Orosi Valley, where life is lived much as it has been for generations. So you can have the best of both worlds. The big city…and rural life. In the U.S., living on land in the country that is close to the city will easily cost you double or more of what you'd pay in Orosi.
Steep mountains mark the borders of the valley. Rivers and streams, including the Reventazón, which provides 25% of San José's drinking water, run through the valley floor. Some rivers start life as springs high in the mountains, cascading down as waterfalls at some point in their journey. The hills are verdant, covered in trees that alternate with coffee plants and pasture for cattle. You wouldn't believe how steep some of the farmland is—it's been terraced to give livestock and people footing when necessary.
If you want to get away from it all, you can go to a higher elevation, up the hillsides lining the valley. These homes are accessed via rough dirt roads where four-wheel drive is often a necessity, especially when it's been raining.
There is plenty of raw land, with access to utilities, suitable for building your dream home. For example, on sale now is a three-acre coffee farm, with banana plants, avocado, citrus, and other fruit trees, in the heart of the valley. It's set on a mountain river. The price: $60,000.
A mountain farm near Lake Cachí (the man-made lake at the heart of the valley), with 10 acres of coffee, fruit trees, and an herb garden, is listed at $155,000. The elevation of 3,700 feet keeps it cool. And there is a freshwater spring on the property. There is a two-bedroom home, and the current owner has dug a pond for fish but hasn't stocked it yet. By contrast, a 7.4-acre farm without a home near Grecia would set you back over $300,000.
Another farm, this one 4.8 acres, is currently planted with sugar cane. But it can easily be converted to other fruits or cleared for pasture. There is easy access just off a paved road and several potential building sites with mountain views. The list price is $78,000.
The valley floor is given over to more farms, which are more easily accessible on good roads. Three main towns are on the valley floor, as well. Orosi and Cachí (near the lake of the same name) are a small town and small village, respectively. Twenty minutes' drive from Orosi, a two-bedroom home surrounded by five acres of tropical gardens, with forest beyond the gardens, is private and quiet. There is a spring-fed swimming pool (the spring also provides water for the house). It's available for $225,000.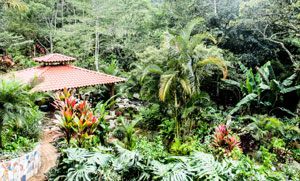 Paraíso is a larger town, with more services and shops, on the edges of the valley. An off-grid, one-bedroom, 1,600-square-foot home (powered by solar) near Paraíso, on three-quarters of an acre, has plenty of room for a large kitchen garden. And it features panoramic views of the countryside. It's available for $140,000. The home also has a greenhouse.
You won't see billboards advertising development projects or real estate agents. It's an indication of how far this region is off the mainstream radar. You can find a few listings online. But the best way to get a deal and find your ideal property is to get boots on the ground. Drive around looking for se vende (for sale) signs and connect with local folks who might be selling land or know somebody who is. Small, former coffee plantations are up for grabs, especially since a drop in coffee prices has meant that only the bigger producers can make the business profitable.
Another bonus…prices are very negotiable. The list price is a suggestion. For this reason, it pays to be patient. Visit for an extended period. Get to know people…explore. Sellers aren't expecting big paydays the way they are in some other, better-known areas of Costa Rica that have more expats or more tourism. And property buyers benefit from that.
Many expats here maximize their outdoor space because the climate is so comfortable—covered, of course, to protect against rain. No air-conditioning or heat needed. They have large porches or terraces overlooking their views of the surrounding farm fields, forests, and mountains.
The perfect place to enjoy a cup of coffee or glass of wine as you look out over your homestead.
Editor's Note: This article was taken from a past issue of International Living's monthly magazine. Delivered straight to your door each month, we delve into the details you need to take action. We share our contacts. We lay out the pluses and minuses. And we keep you up-to-date on the latest developments with the best havens abroad, including…7 Great Retirement Towns You've Never Heard of…
In 7 Great Retirement Towns You've Never Heard of Where You Can Live Better for Less we'll pull back the curtain and introduce you to communities where you can embrace the retirement of your dreams…and do it for less than it would cost you to stay home.
Subscribe to International Living today and you'll save 35% and receive this report for FREE.