Though we moved to picturesque colonial city of Cuenca, Ecuador in 2010, we left again two years ago. That's right…we left our retirement paradise to try out life on the Central Coast of California in San Luis Obispo where we spent our honeymoon 40 years ago.
We were 20 minutes from the Pacific Ocean with its spectacular fireball sunsets and enjoyed some of California's best beaches, including Pismo, Morro Bay, and Avila.
It was our good fortune to find a 1,200-square-foot apartment on Craigslist—fully furnished—for $895 a month (with utilities and internet it came to $960). It was a bargain.
Our slice of heaven was over a three-car garage on a private estate and part of a 5,322-square-foot "mansion" with four bedrooms, four baths…galley kitchen, theater room, 25-foot cathedral ceilings, Jacuzzi…and three fireplaces. We called it our own little "Hearst Castle." And we had full run of the house (the East Wing and the West Wing) as the owner was a bachelor and traveled most of the time. We had it made—almost!
Turns out though that, compared to our happy life in Cuenca, the seven months we spent in "Hearst Castle" was the most miserable time of our lives. The gated community was isolated and our neighbors weren't exactly the "Welcome Wagon." They were mostly professionals—doctors and lawyers—who didn't bother to wave as they drove past in their BMW convertibles and turbocharged Jaguars. I missed the daily human contact of Ecuador. Gone were the hugs, kisses and familiar greetings that we were so used to receiving on the streets of Cuenca: Que tenga un buen día (Have a nice day) or Cómo estás? (How are you?)
Although our rent was a steal, everything else was more expensive ($650 a month for catastrophic medical insurance; $450 for groceries; $300 for gas—it was almost $5 a gallon at that time—car insurance $96 a month, and car maintenance $100 monthly). We were living on three times as much as we lived on in Cuenca.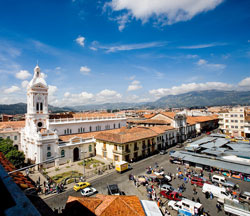 At the time we left Cuenca in 2012, we were paying $200 in rent for a two-bedroom, two-bathroom condo with a balcony next to the wide, clear Tomebamba River; $250 for groceries; $36 for high speed internet, and $70 for medical insurance. We were even able to put $300 into savings a month. Best of all, we didn't need a car—we walked or grabbed a bus. And today—happily back in Cuenca—we live on $1,317 a month (minus rent because we own our condo).
The deal breaker for us in California came when we couldn't make an appointment to see a doctor. Because the Central Coast of California is considered rural, there is a shortage of doctors and no one was taking new patients. The waiting list was a year! A few doctors were experimenting with concierge service, meaning we would have to pay $3,500 per person, per year just to get our foot in the door.
With all the stress, my blood pressure skyrocketed and I was rushed to the Emergency Room by ambulance. The total bill came to $18,000 (including the ambulance) and I was only in the hospital for three hours. Since we had catastrophic medical coverage with a $25,000 deductible, we were responsible for the entire bill, which was more than what we lived on in Cuenca for a year.
A week later, we left the States for good and returned to our home in Cuenca, Ecuador where we bought our first condo for $67,000. It was the right decision for our health, happiness, and pocketbooks.
Get Your Free Ecuador Report Here:
Learn more about Ecuador and other countries in our daily postcard e-letter.
Simply enter your email address below and we'll send you a FREE REPORT – Ecuador: Live Like Royalty on Your Social Security.
This special guide covers real estate, retirement and more in Ecuador and is yours free when you sign up for our postcards below.
Get Your Free Report Here