At first glance, you might assume the bustling European capital city of Madrid is just like Paris, London, or Rome, but I'll let you in on a little secret: it's even better. The underlying authentic Spanish charm Madrid effuses from all angles sets this affordable city, which many locals refer to as "El Gran Pueblo" (the large village), apart.
Madrid is a mix of new and old. Skyscrapers and Starbucks have arrived, but are still overpowered by Madrid's family-owned bars, local restaurants, and one-of-a-kind shops dating back generations. Madrid is anything but small with over 3 million inhabitants, but its distinct neighborhoods and mom-and-pop shops make it feel like small-town living in a big city. In a safe and central neighborhood, you can expect to pay less than $800 a month for a well-appointed two-bedroom apartment.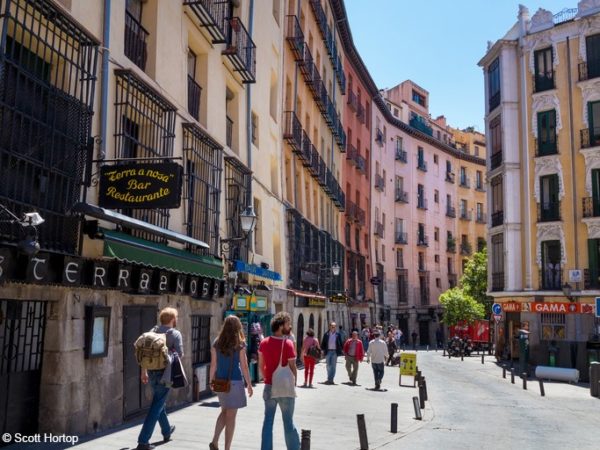 You'll find that large supermarkets and shops no longer close during the siesta hour, but of course you can still make daily rounds each morning at the family-owned bread shops, fruterías, and butcher shops—as many locals still do. I spend well under $250 a month for two on groceries (the Mediterranean diet, of course), including fresh seafood, free-range meat and eggs, and veggies and fruit.
Both locals and visitors love to be out and about in Madrid and the abundance of public parks, squares, and pedestrian-friendly streets makes the city ideal for strolling day or night. I love to lap the Parque de Buen Retiro on weekday mornings. The park, which was once the king's royal gardens, is an incredibly peaceful spot where you can close your eyes and inhale its regal vibes.
Afternoons are for the lively Gran Via street, where Spain's elite come to shop and walk among wandering tourists. When walking won't cut it, you still won't need a car, because Madrid's public transport system is state of the art, with buses, a bike system, and metro.
Evenings are made for bar-hopping and DIY tapas tours in the Chueca, La Latina, or Malasaña neighborhoods. Madrileños tend to socialize outside of their homes, and it's not uncommon to spot entire families (babies and children included) at the bar, as well as groups of friends both young and old enjoying $1 cañas (small beers).
You can't help but adjust to the schedules here: late lunches, late dinners, and late evenings laughing with family and friends. It's possible to have a Michelin-star meal in a trendy restaurant or enjoy a $2 glass of delicious Rioja wine accompanied by a free tapa (a scoop of savory paella or a few slices of sharp Manchego cheese) on the same block. Eight years later, I'm still shocked when the bill arrives after a night of drinks and tapas with friends, realizing I've spent just $8 for an evening out on the town including delicious food and wine.
The cultural scene is also one for the books. An art-lover myself, museums like the Prado, Reina Sofia, and Thyssen are nothing short of epic, but you can also find artistic charm in everything here—the fountains spritzing streams of water in every plaza, striking facades, towering historical monuments, or the autumn scents of street vendors roasting chestnuts on the corner. Even the bright blue sky has a special energy to it. After all, Madrid is the sunniest capital city in Europe, with about 300 days of sunshine per year.
A visitor once remarked to me, "Even the dogs seem happier here. They have a real spring in their step." And it's true. Happiness in Madrid is contagious.
Get Your Free Spain Report Here:
Learn more about Spain and other countries in our free daily postcard e-letter. Simply enter your email address below and we'll also send you a FREE REPORT — Live the Good Life in Sunny, Affordable Spain.
This special guide covers real estate, retirement and more in Spain and is yours free when you sign up for our IL postcards below.
Get Your Free Report Here