Liz Carlson has raced sailboats in Italy, explored the Greek Islands by scooter…floated in the Dead Sea…ridden donkeys in Jordan…road tripped around Iceland…and slept in 15th-century Tuscan farmhouses.
And that's all in the past year alone.
The 26-year-old globe-trotting American, originally from a small town in Virginia, makes her living as a travel blogger.
Liz launched the site four years ago to share her experiences while working in Spain, while secretly hoping she'd one day land a few free trips and tours around Europe.
But after attending a travel blogging conference in 2012, she realized her little blog could become a full-time career. "I was totally hooked when I realized there were all these people that were doing it full-time and getting to travel for free…everything I'd wanted to do," she says.
After returning to the U.S., Liz dedicated almost a year to building her site and audience before quitting her day job to move to New Zealand, where she remains today.
Now she makes between $3,000 and $5,000 a month, mostly via freelancing and social media or brand consulting.
Her blog has become a professional shopfront for her expertise, the window through which potential clients find her and reach out. Regular mentions in major publications such as Buzzfeed, The Huffington Post, and National Geographic have also helped boost her authority.
"I do a little bit of advertising on my site but not very much. Now I'm doing a lot of work with different tour operators and tourism boards. If they're upgrading their website I'll write the copy for it, or if they're launching a blog I'll help write a post," Liz says.
"I've done social media consulting where I'll manage a businesses' Facebook page for them. My big thing now is long-term brand partnership, so representing a brand that I would use and believe in."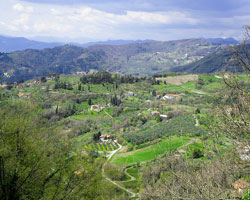 Liz, who always travels armed with an iPhone, laptop, and camera, believes the secret to her success is passion and a willingness to publicly share deeply honest insights about her own life.
"I've always kept my blog very honest and very opinionated about what I believe. For me the whole point of a blog is that it's a person, it's an opinion," she says. Liz feels that's what distinguishes blogs from pretty much any other kind of travel publication you'll find on the news stand—and that's why people stay.
"I'm inspiring people, not just to travel but to step out of their comfort zones or try something that they didn't think that they could do. I write a lot about overcoming personal fears. Travel is the perfect way to become independent, try new things, meet new people, and really change your life."
Free Fund Your Life Overseas Report:
Sign up for IL's Fund Your Life Overseas e-letter today and we'll also send you a FREE report about ways to earn money abroad. Simply enter your email in the box below and we'll send you this Free Report: Fund Your New Life Overseas With These 6 Portable Careers.
Get Your Free Report Here