When I made the decision I was going to retire in Latin America, I decided to learn the language. A brief stint living in Mexico in my early 30s with zero Spanish skills made me realize I was missing out on the full experience…and I didn't want a repeat.
After three years and four scouting trips to Latin American, I am thankful I took the time to learn. Everything becomes easier—taking the bus or a taxi, shopping at the markets, asking for directions, and ordering a restaurant meal.
One recent highlight was being able to tag along with the Spanish-speaking tour guide as I learned more about one of my favorite artists, Fernando Botero, while visiting the Banco de la Republica Art Collection in Bogotá, Colombia.
Another was when I decided to buy a pair of sandals in Puerto Vallarta. The shop was outside of the tourist area and a nervous thrill went through me when I discovered the sales clerk couldn't speak English. Shoe-buying vocabulary was uncharted territory for me (being a shoe lover, in retrospect, I'm not sure how this could be). I walked out of that shop with perfectly fitting sandals that I still wear today. And they are one of those lucky purchases you occasionally make where everybody admires them, so I get constant reminders of that success.
But it's not just these practical benefits. It's also about learning more about the people that live there and making personal connections.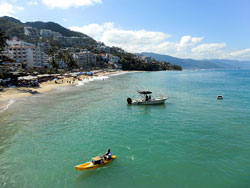 The first country where I tried out my new skills was Costa Rica. I had arranged a taxi ride from the airport to my accommodation, and the driver could not speak English. Without any Spanish, I would have been wondering if I was going to the right place. Instead I used up my new vocabulary and was happy to sit back and listen to the driver's conversation with the other passenger. I even managed to follow some of it.
That was until a question was asked of me: Tiene hambre (Are you hungry)? Well, I thought they asked, Tiene un hombre (Do you have a man)? We all had a good laugh, and the ice was broken. I used that taxi driver's services many times while I was there, and he was happy to share about himself, his family, and his country.
In Nicaragua, I stayed for a month with a family where the wife was the same age as me. Although she couldn't speak English at all, my growing skills helped us share stories of our children, what it's like to be a woman in our respective cultures, and our experience of aging. We were able to form a bond so close that I cried when we said goodbye.
Although I realize it will take me years to achieve fluency, each time I open my mouth and Spanish words come out, I am thankful for my decision to take those first steps to learn the language.
Free Report:
There are still numerous countries around the world where unspoiled natural beauty, secluded beaches, friendly people, and a relaxed way of life are waiting for you. Sign up for IL's free daily postcard e-letter below to find out more. You'll also receive a free report: Find Your Perfect Place to Live Overseas.

Get Your Free Report Here