"Living here made me a much better person, where I'm challenged by those around me to be the person I was meant to be," says Maryland native Linda Sherman of her new home of Boquete, Panama. "It is profoundly inspiring and fulfilling. Happiness is the by-product of a life well lived."
Linda lives in the Jarramillo Arriba area of Boquete, and moved to Panama nearly five years ago when living in Baltimore no longer seemed a viable option. "When I decided to leave the U.S., there were a number of reasons why I wasn't happy there," she explains. "I couldn't get a job even with excellent credentials, it was increasingly dangerous, my prescription costs were skyrocketing, and I couldn't afford insurance. I love my country…but I just can't live there."
All of these factors have been taken care of since Linda began living in Boquete. First, her healthcare costs are no longer an issue. After a recent fall while walking her dog, Linda ended up in the ER in nearby David with a broken wrist. While in the U.S. a problem such as this would need to be paid with insurance, here the cost of treatment, X-rays, and medicine came to less than $300—an amount that Linda was happy to pay out-of-pocket.
And it isn't only through healthcare that she can see the savings. Linda says that her monthly budget comes in at around $1,200, including rent for a three-room apartment with a walk-in closet that only sets her back $340 a month, including utilities and cable. "The beauty of living in Boquete is never needing air conditioning or heat, so my windows are open year-round," says Linda "I came to Boquete after visiting Bocas del Toro and the climate was just extraordinary."
And Linda isn't the only one who feels this way. In fact, along with its breathtaking mountainous scenery, one of the main aspects that draws expats to this small town in the Chirquí province is its perpetual spring-like weather.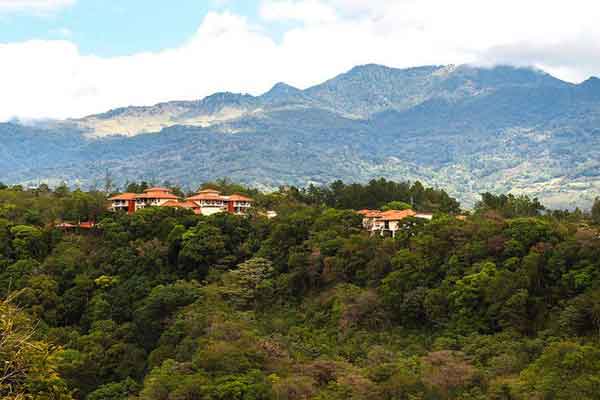 Linda says the incentive to get involved in the community is engrained into expat life in Boquete. "To find your place within a place isn't easy, but what I saw here and not elsewhere was a tremendous sense of community giving. It was startling to see that volunteerism wasn't just encouraged here, it was expected."
She has been able to make use of her background in marketing and radio broadcasting. She sits on the board of the Boquete Community Players theater group, helping out by doing some marketing and communications work. She also volunteers at Radio Chirquí, where she has just begun hosting her own show aimed at expats in the area. "I'm doing a one hour radio show in English which puts me in touch with lots of interesting people and their stories," explains Linda. If that wasn't enough, Linda also teaches English, is part of a single-women's group, and part of a local outreach recovery group.
When she's not volunteering, Linda enjoys dining out at one of Boquete's many eateries. "A few of my favorite spots are George's Fireside Grill, Retro Gusto, the weekly Reuben sandwiches at Morton's Bake Shop, and Olga's for breakfast," explains Linda. She also takes regular Spanish classes; she says that while her Spanish isn't great, she can get along fine with "a little Spanish, and a lot of smile."
And, while Boquete may be her perfect retirement haven, Linda's adventurous spirit means that she will often take the chance to explore the world around her. "Just since living here I have been to Greece, Guatemala, Nicaragua, Costa Rica, Honduras, Turks & Caicos, Mexico, Germany, Switzerland and Colombia," she explains. "Boquetenos are well travelled, especially the expat community."
Related Articles
All You Need to Know About Panama