---
"Since moving to Paris, I haven't been able to participate in my annual ritual of cheering friends in the New York Marathon from the sidelines. But after learning that a friend runs a rather, um, special marathon in Médoc, a wine region just outside Bordeaux, I'm seriously considering starting a new tradition," writes IL France Correspondent Barbara Diggs.
"Known as 'the longest marathon in the world,' the Wine Marathon du Médoc is like no other. The marathoners don crazy costumes to match a theme that changes each year, then run 26.2 winding miles though scenic vineyards, downing wine, oysters, steak, and ice cream at the refreshment points along the way.
Along with doctors, bands line the route playing music. Runners stag-ger over the finish line, dazed and full but jubilant.
"If you'd like to witness—or participate in—this carnival-like atmosphere, circle Saturday, Sep-tember 8, 2018, on your calendar. It's the perfect time to visit Bor-deaux, anyway, as it's right around the time of the grape harvest and the weather is usually fabulous.
And if you want to race? Better start training with a few glasses of Médoc a day." For more, see: Marathondumedoc.com.
Elves in Ecuador
Many cultures have myths of goblins or elves who wreak havoc and mischief on those who encounter them, writes IL Ecuador Highlands Correspondent Wendy DeChambeau. Ireland has its leprechauns, dokkaebi infiltrate Korean legends, and in Latin America you'll find the duende.
In Ecuadorian lore, duendes are known as protectors of the house, and families will purchase handmade duende dolls to deter thieves. These elf-like creatures with pointy ears and large noses are said to become part of the family once you bring one into your home. They require a name, food (ideally chocolate), drink (preferably liquor), and verbal interaction to keep them satisfied. Duendes who are treated well will allegedly ward off intruders and keep the family safe from harm.
Neglected duendes, on the other hand, can purportedly raise a ruckus. You may find broken household items, strange messes, and anxious family pets.
If you'd like a duende of your own, you can purchase finely crafted dolls from local artists at La Casa del Duende, in Baños, Ecuador. See: Lacasadelduende.blogspot.com.
Bernini Blow-Out in Rome
"When Romans throw a party, they do it big; but the Borghese Gallery are really going all out to celebrate the 20th anniversary of their re-opening," writes IL Italy Correspondent Valerie Fortney-Schneider. The opulent palace already holds some of the world's most breathtaking artwork, especially the monumental sculptures by Gian Lorenzo Bernini, the baroque master who breathed dramatic life into simple stone.
But through February 4, the museum has assembled a once-in-a-lifetime collection of Bernini's works, bringing in 60 more pieces from around the world, including many held in private collections that are rarely on display. "It's the most astounding gathering of Bernini's works…ever.
My parents are flying over from the U.S. just to see it," Valerie adds. The grand exhibit includes sculptures, paintings and portraits in addition to the museum's regular collection, and gives fans a rare chance to compare and contrast works that are usually scattered around the globe. It's guaranteed to be worth every centesimo of the €22 ($26) admission charge. Tickets must be reserved in advance. See: Galleriaborghese.it.
Boquete Flower and Coffee Fair
The town of Boquete sits on the continental divide in the highlands of Panama's Chriiqui province. It's famed for its mild and forgiving climate and has attracted thousands of expat retirees. One of them is IL Chiriqui Correspondent, Nanette Witmer who finds there is plenty to do…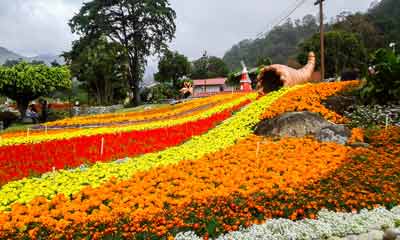 Attending the annual Boquete Flower and Coffee fair is a wonderful way to start off the new year, writes Nanette. "And from January 11 to 21, 2018 the fairgrounds in this highland town will once again be ablaze with colour.
"I usually go in the mornings when the grounds are still damp from the evening rains. I love the smell of the flowers. Each year the organisers paint and arrange new beds with brilliant colours and the attention to detail is amazing.
"Seeds are imported from the United States, France and Canada to grow bold, bright arrangements.
The Caldera river makes a perfect backdrop for the displays where you can leisurely wander the grounds taking photos and enjoying the stalls selling handicrafts, plants, treats and, of course, locally grown coffee.
"In the evening you can enjoy stellar performances by folkloric groups from several countries and listen to the local bands, all while sampling local beer and food. "This annual 10-day event began around 45 years ago and is attended by over 15,000 people each year. Entrance fee is free for children and $2.00 for adults. For more information See: Feriadeboquete.com.
Vacation in Hitler's Hotel
Just off the coast of Germany, in the Baltic Sea, you'll find the country's biggest island. Rugen is home to white-sand beaches and beech forests crowning majestic chalk cliffs. Albert Einstein vacationed here, as did the Iron Chancellor, Bismarck. And now you can, too, all while staying in Hitler's vision of holiday bliss.
Nearly three miles long, the Prora complex was originally designed by the Nazis as a place where ordinary workers could find affordable holidays. However, construction stalled, as war broke out in 1939.
These days you can choose between hotel rooms for a short stay or even buy a luxury apartment, which run between $400,000 and $900,000. Plus, it's home to the longest hostel in the world. Opened in 2011, it has 402 beds and 96 rooms. See: Hihostels.com.
Ancient Ruins in Modern Lima
"Long before work even began on the Inca city of Machu Picchu, the adobe brick pyramid of Huaca Pucllana was built.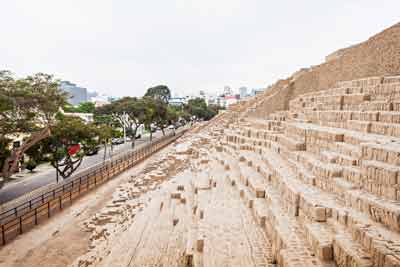 Remarkably, it has survived to the present day, surrounded by the glittering office buildings of Lima's most desirable oceanside neighborhood, Miraflores," writes IL Correspondent Jim Santos.
"The Lima people, a primitive society that lived along the coast of Peru, built this amazing ceremonial center around 600 to 700 AD.
Later, the Wan and Inca Empires may have used the site for burials, but mostly it was abandoned and ignored. It wasn't until 1981 that the Huaca Pucllana Site Museum was established, and Lima began to take steps to reveal and restore the site."
Miraflores is a popular neighborhood with expats, who report monthly living costs for a couple of around $1,600. (For more on living in Lima, go here.)
Guided daytime tours are available every day but Tuesday, from 9 a.m. to 5 p.m., for just 12 soles for adults (about $3.70). See: Huacapucllanamiraflores.pe.
Colombia's Fountain of Youth
Tierra de Agua eco hotel in the small town of Cocorná is made completely from guadua bamboo. A two-hour drive from Medellín, the cabins, restaurant, social center, and all the furniture, are made from this natural material that is considered amongst the strongest, pound for pound, in the world. IL Colombia Correspondent Nancy Kiernan says, "I've stayed here a few times and enjoyed the spring-fed swimming pool, horseback riding, and trails."
Guided hikes will take you to the waterfall basin. The idea is to sit in the basin and let the cold water rush over your body. Legend says that for every minute you spend in the water, you take one year off your age. "I only lasted 5 minutes but I really wanted to be there long enough to be 30 again." From $63 a night, meals included. See: Tierradeagua.org.
DID YOU KNOW: The oldest surviving olive tree in Istria, Croatia dates from the 4th century, and the region's olive oil was prized by ancient Greeks. More recently, Croatian olive oils won 22 medals at the 2017 New York International Olive Oil Competition. Read more about Croatia here.
Editor's Note: This article was taken from a past issue of International Living's monthly magazine. Delivered straight to your door each month, we delve into the details you need to take action. We share our contacts. We lay out the pluses and minuses. And we keep you up-to-date on the latest developments with the best havens abroad, including…7 Great Retirement Towns You've Never Heard of…
In 7 Great Retirement Towns You've Never Heard of Where You Can Live Better for Less we'll pull back the curtain and introduce you to communities where you can embrace the retirement of your dreams…and do it for less than it would cost you to stay home.
Subscribe to International Living today and you'll save 35% and receive this report for FREE.