When artist Cynthia Hass Bishop met her now husband, Fred Bishop, she had an important question for him: "Would you consider living outside the U.S.?"
"When I was 10, I told my parents I wanted to go the University of Mexico City," she says. Exploring has always been in her blood. And Panama was on her list early on. A former beau had mentioned it to her, and she in turn mentioned it to Fred.
"Well ok," he said.
And that was that. Visits to the Boquete Highlands and the crater town of El Valle were booked, and the latter won out. Just a two-hour drive from cosmopolitan Panama City, it's an ideal location for folks who want to be close, but not too close.
"We were supposed to go to a timeshare resort in Colon," says Cynthia, "but we blew it off to stay in El Valle."
A carpenter by trade and self-employed since the 1970s, Fred had an idea he'd been wanting to test—building a home out of discarded shipping containers. He set about doing it, even teaching himself to weld and do metalwork.
For the décor, Cynthia created intricate glass fixtures and adornments. The house is the perfect blend of masculine and feminine aesthetics, with an industrial yet warm, lived in feel.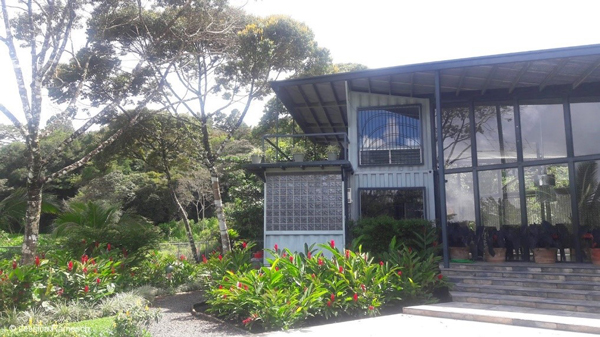 It's sophisticated—not at all what I was expecting when I heard the words "metal containers." And it somehow fits perfectly into the jungle setting.
"It took us five years to build and we love it," says Fred. Around the house are lush landscaped areas that can be appreciated from every window and terrace.
"We love the nature here," says Cynthia. "It's all around us…the jungle…the different types of birds…woodpeckers, oropendolas, flocks of parrots, you name it."
Learning Spanish—at least a little is a must in this rural area—has also been an adventure.
"Two things have been very special to me here," says Fred. "When I had my military aptitude testing, they told me I could never speak another language. But now I can pick up the phone and have a conversation with anybody in Spanish."
It's not grammatically perfect, but he can do it…and both he and Cynthia have enjoyed learning not just a new language, but also a new culture.
Ten years ago, when Fred and Cynthia were new to town, they did what most new arrivals did. They'd ask other expats: where are you from? It's easy to forge connections based on shared experiences…having lived in the same state or love of a sports team, for example. "Now we make connections with our Panamanian neighbors," says Fred.
"One of the things we like the most about living here is that it's not a gated community." As head of his neighborhood watch, Fred has been nicknamed "the sheriff." He is happy to keep an eye on things, particularly houses that are empty during the week. It's a great way to give back and get to know people.
The second special thing: no nanny state. "I would have had a much harder time building this home in the States, where there's more red tape," he adds. "Here I could do all the trades and be more artistic. I didn't have an inspector coming by every 15 minutes."
He did have to get his plans green-lit by a local architect. There were permits and stamps to get aplenty. It took about two months and, once approved, he was able to start building (largely without interference).
"If you think you can get away with something here in Panama, you are generally free to try," Fred jokes, adding that it just meant that they were free to build as they liked. "In our case, that meant high quality and U.S. standards, so we would have a beautiful home that was safe, secure, and fun to live in.""
"We're extremely happy that we've had this experience," Fred and Cynthia say. "The people, the culture, the language, the new natural setting…all of these things have kept us a lot younger. It hasn't always been easy, but it sure beats vegging in front of the TV."
Get Your Free Panama Report Here:
Learn more about Panama and other countries in our daily postcard e-letter. Simply enter your email address below and we'll send you a FREE REPORT — Panama: First World Convenience at Third World Prices.
This special guide covers insider advice on real estate, retirement and more in Panama. It's yours free when you sign up for our IL postcards below.
Get Your Free Report Here