When John and Gay Boggs of Virginia decided to retire to Atenas, Costa Rica, in 2013, they chose to build their dream home. They'd already looked at existing homes in their price range but weren't completely satisfied with the quality and features. Then their agent showed them a house being built in an out-of-town, small residential development, high up on a green mountainside…
"We saw a lot of neighborhoods in Atenas when we were first looking to buy a home. We wanted a large property and we wanted a view. We didn't want to be on top of somebody else, and we didn't want to be in the middle of town," explains Gay.
Many expats who have moved to the popular town of Atenas, on the westernmost end of Costa Rica's Central Valley, choose to buy land and build their own home. They get to have their house exactly as they want—rather than fitting into someone else's design. And local real estate agents say it's usually more cost-effective to start from scratch than to remodel an existing structure depending on the work being done.
John and Gay had both built houses in the U.S. so they knew what to look out for when their agent brought them to view the building site. "We met the builder and were shown the work that had started on this beautiful lot. We were very impressed with the quality of the construction and how strong it was, so it didn't take us very long to know this was a great builder and this was the quality of build we wanted."
Buying at the start of construction allowed the couple to customize the 3,230-square-foot house to their liking. A spacious open floor plan in the living, dining, and kitchen area leads—at each end—to two big bedrooms with their own full bathrooms.
A large covered terrace and beautiful pool with sun deck stretches across the back of the house. There's also a large covered patio at the front door. An office, laundry room, guest bathroom, covered carport, and separate one-bedroom guesthouse round out the construction.
John and Gay added special touches like mosaic tiling, stone walkways, a custom-built hot tub, and handmade ironwork railings.
The cost of building your own home in Costa Rica is a fraction of what you'd pay in the U.S.—depending on which State you're in. For a high-end, custom built house in South Tampa, Florida, you're going to pay anywhere from $275 up to $400 per square foot. In Atenas, you can build one with high-end finishes for $110 up to $150 a square foot—according to a local real estate agent.
The views are spectacular from their two-acre property. The city of San Jose is to the east and to the west is the Pacific Coast. In the middle are the verdant, green mountains and charming neighborhoods of Atenas. Their elevation—at 3,500 feet—puts them up in coffee growing area.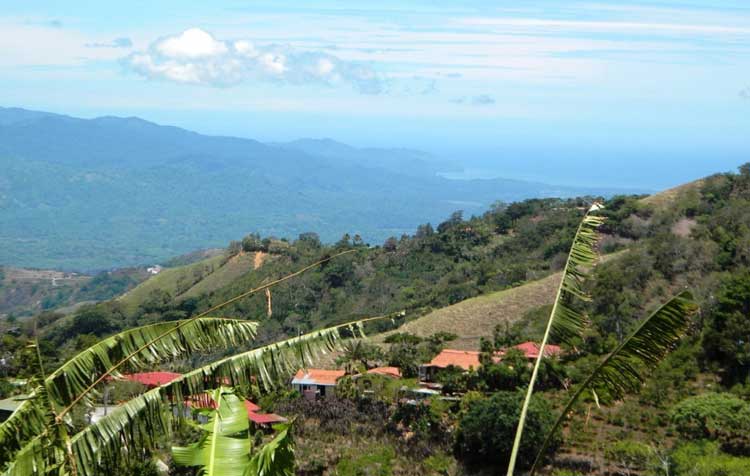 "We love our views. We see volcanoes, the ocean, and the sunsets are just amazing," says Gay. "The elevation allows us to be cool at night and not so hot during the day."
Other homes in the same residential development where the Boggs' built their home, cost between $395,000 and $425,000.
John and Gay were so impressed with their builder that last year they built a 2,150-square-foot, two-bedroom home on another lot in the same residential development as an investment property to sell.
"We're so happy to have been able to custom design our house. We wouldn't have wanted it any other way," says Gay.
Get Your Free Your Overseas Dream Home Report Now

Sign up for the FREE Your Overseas Dream Home e-letter and get a valuable report (free for a limited time) on the The Global Real Estate Boom of 2021: 15 Places Where You Can Profit.
Related Articles
Living Simply and Happily in Costa Rica With Rent of $420 a Month
Rent First, Buy Later (Maybe) in Costa Rica
In Pictures: A Pristine Lakefront Home in Costa Rica For $175,000
---
The Countdown Is On! Discount Ends June 15
Right Now Is the Best Time in History to Start Earning as a Freelancer
If you crave the freedom and flexibility of a side income that allows you to earn when you want and play when you feel like it...we have a solution for you.
"Remote work" is here to stay, and we can show you how to capitalize on this trend and turn what you already know how to do into a side income online that can help fund a retirement that looks the way you want it to. Can you really afford to miss this?
Online Portable Income Masterclass
June 26-27, 2021
---