Claire Ross had a great idea…no experience…and a small investment. It was all she needed to set up a bar in the beach town of Coronado in Panama.
"When I first moved here, there was nowhere to hang out and meet people if you were single or new in town." With new arrivals trickling in, Claire wanted to create a space where everyone would feel comfortable and embraced.
he set about finding a spacious locale and got lucky, finding a place designated for commercial use in Coronado's residential area.
"It really wasn't that difficult," she says, admitting that her bar and restaurant, Picasso, is her first such venture.
It wasn't all that expensive, either. The liquor license cost her approximately $1,000…and commercial spaces were available to rent from $600 to $3,000 a month.
Not having any experience meant that Claire didn't have any preconceived notions about how to run a business in Panama. "Preconceptions and warped conditioning wouldn't have served me, because everything is different here," she explains. "Especially the people."
Panamanians, she found, can be extremely loyal employees. She also found that they tend to value time—to spend with family and friends—more than money earned working extra hours or holiday shifts. She learned to be flexible with scheduling and time off, in keeping with the laid-back local culture.
She also learned to cope with a certain ebb and flow. "The beach areas are very seasonal," she says, explaining that business is better during the Panamanian "summer" months than during the May through November wet season.
Still, on any given Wednesday evening, Picasso is usually packed full. Claire has a visible locale that residents can walk to. She has low prices in addition to happy hour drink specials. All of this has helped her success. "Most importantly, however" she says, "you have to work hard to be part of the community."
Claire has done that by hiring local bands (comprised of Panamanians and foreigners), sponsoring the arts at weekly Artsy Brunch events, and even providing an indoor space for an English language book exchange, a Saturday market, Spanish classes for new expat arrivals, and much more.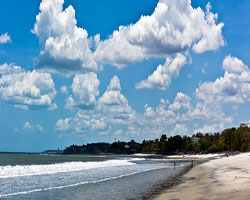 "We have live music every Saturday of the year, and we're the only place I know of outside Panama City that does that." The music varies from salsa to classic rock, but no matter what's playing, locals and expats show up ready to mingle.
She keeps late hours, but it's all worth it. "Coronado gives me sunshine for riding my horse and the beach for walking my dogs. I have friendships here that are equally intimate to family…and all the amenities I could want."
And it all comes with an affordable price tag. "I live on about $1,000 to $1,500 a month," she says. "I live in the house of my dreams, I go to Panama City once a month, and I travel once a year."
She enjoys running her business as much as her downtime. "You have to do it for the right reasons to be happy," she says of owning a beach bar and restaurant. "What fulfills me is creating community—supporting the arts, music, and theater—and providing a nucleus in a town that didn't have an obvious center."
Related Content
By Moving to Panama You Can Move to Paradise
Looking for Beachfront Property? Check out Panama