So you're retired (or at least thinking about it): now's when you finally get to do what you want with your time. And there's no better place to fulfill all of your hobbies, interests, and need for fun activities and events than Chiriqui Province in western Panama.
It's a popular expat destination and, as someone who lives there, I can attest that its popularity is well deserved. We have lush green highlands, tropical rainforests, and unspoiled beaches all within an easy drive, as well as great shopping, arts, and culture. Whatever you want to do, you'll find it here.
Dining out for as Little as $3.50
There's no shortage of places to dine out in Chiriqui, no matter your budget. In Boquete, I love to go out with friends for a sandwich at Sugar & Spice, fish tacos at Big Daddy's, or a burger at Mike's Global Grill. With a beer or a glass of wine, you can expect to spend about $8 for everything.
David, the city where I live, also has a host of options. Two of my favorites are Stylo in the Hotel Ciudad de David and Mosto Bistro in a renovated house off the beaten path. These two, by local standards, are a splurge: costing about $20 for a big meal with a beverage of your choice. Or, check one of the local restaurants where you can buy an "executive lunch:" a full plate of fried fish or chicken, rice, beans, and salad for just $3.50.
Arts and Culture
The highland town of Boquete is renowned the country over for its arts and culture-related events. The de facto art center of the town is the Boquete Public Library, which more often than not has something interesting on. Recently they held a photography exhibit, with a reception for the public to meet the artist. It was a gala affair, with wine and beer served. A couple of weeks previously, you could have enjoyed an evening of classical music performed by a group of string musicians.
Cinema, Shopping, and Local Markets
Chiriqui is well known for its eclectic markets. The biggest, the Boquete Tuesday Morning Market is a must-do. Located at the BCP Theater and Event Center, this eclectic market has grown to become a highlight of the week in the highlands. Locals, tourists, expat retirees and business owners come here in their droves to check out the wares on offer: organic produce, handmade jewelry, exotic wood carving boards, indigenous art, and botanical remedies. I can even get a chiropractic adjustment there. It's a great place to check out the Boquete community and to make new friends.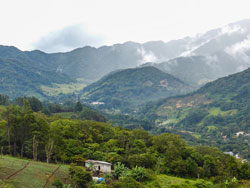 Or, on Friday morning nearby Volcan's market is well worth a visit. It's a weekly community market where you'll be treated to a friendly, intimate gathering of expats and locals selling handmade wares and discussing current events. It takes place at Restaurant Mana; my husband and I meet up with friends for breakfast when we're there. The aroma of the fresh, locally grown coffee draws us inside and we sit down to a hearty meal served with homemade bread and pico de gallo (Costa Rican-style rice and beans). Then we head down to the produce market and choose from bins of colorful, fragrant fruits and vegetables. I can stock up for the week with tomatoes, onions, bananas, pineapple, and all my other favorites for $6.
Additionally, the first Sunday of every month there's a flea market at Chiriqui Storage in Dolega. The gates open to the public at 10 a.m. for this popular open-air swap meet. I always see people I know—locals and expats from all over Chiriqui gather to socialize with friends and to shop—and usually find a bargain or two.
For more "traditional" purchases, head to the regional capital David on a Wednesday.  In the middle of the week the stores are quiet, especially mid-morning and mid-afternoon. There are a lot of places to shop in David, so prices are competitive—I often find good bargains. I shop for cosmetics at the Arrocha department store, look for hardware at Novey's, and find housewares at Conway. Last month I arranged a shopping day with my gal pals and we hit the Ropa Americana ("American clothing") store. For about $120, I left with two pair of slacks and 10 new tops!
After your spree, you might like to visit one of David's two multi-cinemas. New movies are shown every week and at a price of only $2.20 for retirees, it's an affordable evening out.
Golf, Hiking, Horseback Riding, and Relaxing
There are a lot of activities to take part in in Chiriqui. If you golf, you can tee off at the Valle Escondido or Lucero golf courses near Boquete. Equestrians can saddle up with like-minded riders in Boquete or Volcan. Fishermen can head to Boca Chica for some time on the water. Beach lovers can enjoy the sand and sun at Las Lajas or Playa Barqueta.
One of the nicest aspects of Chiriqui is its scenery, so take advantage with a hike. For a real workout, there's an organized hiking group in Boquete for a real workout. If you'd rather go at your own pace, there are plenty of trails around Baru Volcano, some that pass by stunning waterfalls in the midst of the jungle and others that lead to breath-taking panoramic overlooks.
It's a terrific area for bird watching, too. I've seen turquoise-browed mot-mots, blue-gray tanagers, keel-billed toucans, and even the elusive quetzal.
Sometimes you want to be less active and you can do that here, too. Chiriqui boasts a wide assortment of spas, from intimate hide-aways to exotic island get-aways, and from mountain-top retreats to beachside cabanas.
Take your pick from several first-class, full service spas to get the kinks out and be pampered.
One of my favorites is The Haven, tucked away on a side street with a peaceful garden, soft music, and divine massages.
Get Your Free Panama Report Here:
Learn more about Panama and other countries in our daily postcard e-letter. Simply enter your email address below and we'll send you a FREE REPORT — Panama: First World Convenience at Third World Prices. 
This special guide covers insider advice on real estate, retirement and more in Panama. It's yours free when you sign up for our IL postcards below.
Get Your Free Report Here