Three to five years ago was boom time in Panama City for luxury property. Some condos listed at $2,000 to $3,000 a square meter. (That's about $185 to $280 a square foot.)
You can still find plenty of luxury property for sale here…but oversupply and decreased demand have had the expected effect.
The bargain property market, the one aimed more at locals than at expats, has remained pretty stable. In simple terms: from 2007 to the present, I have had no trouble finding bargain property listings for the under-$150,000 budget.
The difference between bargain property and luxury property in Panama often comes down to size and layout. The typical Panamanian apartment is in the $65,000 to $100,000 range and will often be less than 1,000 square feet—you're likely to get roughly 600 to 850 square feet for these prices.
The typical layout may seem strange to you. Panamanians aren't big on "entertaining kitchens." That's because the ideal here is to have a maid—and many families do. It's no surprise that real estate "evolved" accordingly. So even small apartments will often have maid's quarters (a small room and full bathroom near a laundry area) and small kitchens are the norm.
On the plus side, closed kitchens are becoming a thing of the past as open kitchens become more and more popular. These days it's not hard to find an open or semi-open kitchen (a kitchen with a counter overlooking the dining room). This makes it easier to move platters and things back and forth and for a host to chat with his guests.
Another plus: many of these "bargain" properties boast great amenities. So many buildings here have doormen, pools, social areas, and even gyms. It's not hard to get a little luxury for less.
I found some recently listed apartments that are great examples of the variety available here. In a neighborhood called Chanis you'll find lots of young families and a neighborhood feel. It's close to the international airport, which is a big plus for frequent travelers (one of the downsides is heavy traffic in and out of this area during peak hours). It's a great place to live like a local…though definitely not the quietest area you'll find. Outdoor barbecues and small parties and playing children add to the family hubbub.
Here, a two-bedroom, one-bath apartment can be yours for $50,000. I found a 530-square-foot unit which has a lovely balcony. The building has a doorman, pool and social area.
Spend just a bit more and you get a lot more. On Via España in Panama City, an apartment of 860 square feet is on offer for $86,000 (see photo above). It's in a convenient area near the city center and the apartment has three bedrooms, two baths, a breakfast nook and a balcony.
The tenth-floor unit comes with a 17-year property-tax exemption and the building has a pool and social area. Plus, the building has a doorman.
There are a great deal of apartments available in the $100,000 to $150,000 range, too. There's a unit on offer in a beautiful building not far from where I live. It overlooks La Transistmica, the city's main artery. The apartment is over 1,000 square feet and has three bedrooms and two baths, as well as a separate laundry area and balcony.
This building has a doorman, as well as a party room and barbecue area. The unit comes with a 19-year property tax exemption and the building is one of the few in the city that is truly wheelchair accessible. Asking price: $100,000.
In the upscale beach town of Punta Barco, just an hour from the city center, a two-bedroom, two-bath house is for sale for just $115,000. It's in a gated community with an expansive pool area. The home is 1,130 square feet and has a small terrace. Just three minutes from the beach.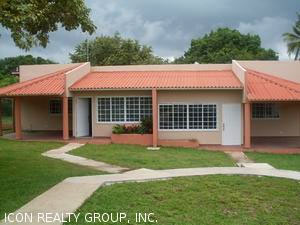 These are just properties in and around Panama City, but you'll find you can buy property at these prices in different areas all over the country.
Editor's note: Learn more about Panama and other countries in our daily postcard e-letter. Simply sign up for IL's free postcards and we'll send you a FREE REPORT — Panama: First World Convenience at Third World Prices.