The view is miles of blue ocean. Sunlight plays across the rippling waves. Below me is a verdant valley stretching all the way to one of the island's most popular beaches. It's calm and tranquil here and this penthouse definitely has the "wow factor."
It has an L-shaped lounge and coastal colors of blue, white, and gold. It's one the best-value rentals I saw on my scouting trip on Koh Samui, Thailand, costing just $746 a month for long-term rental. It comes fully furnished and it's 1,400 square feet, with two bedrooms and one bathroom. You have a shared swimming pool and there's a restaurant in the complex, too.
Plus, you're just a 10-minute drive from Chaweng town.
Koh Samui offers you a happening international dining scene, excellent healthcare, and stunning beaches…
Despite getting around 1 million visitors a year, the island's size means it's relatively easy to escape. You can be in the hustle and bustle of Chaweng town and in a short drive find a quiet, peaceful spot overlooking the neighboring islands of Koh Phangan or Koh Phaluai.
Year-round temperatures average between 77 F and 86 F and a large and active expat community means making friends is easy.
The cost of living is a big draw for many. You can have a comfortable lifestyle involving daily trips to the beach and plenty of inexpensive dining out for around $2,000 a month including rent.
You will find property bargains on Samui, but renting is a sensible first step to try the place out.
The northeastern tip of Samui is popular with expats because it's nestled away, but still only 10 or so minutes' drive to supermarkets, restaurants, and airport. Samui's airport is a lushly landscaped wonderland with direct flights to three countries and daily hops to Bangkok, Phuket, or Chiang Mai that take just over an hour.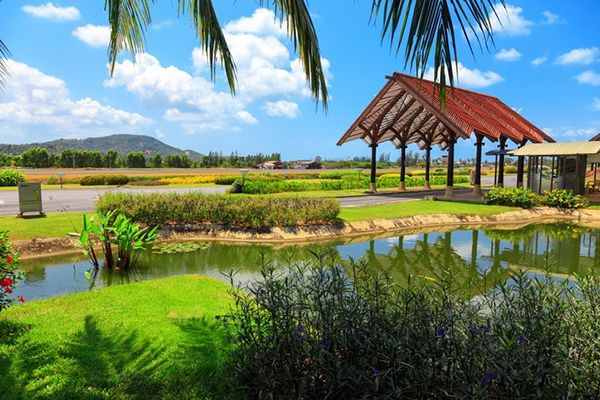 Part of the beauty and appeal of Koh Samui is the lack of high-rise buildings blotting the landscape. Some say buildings are not allowed to exceed the height of a coconut palm. The building regulations are a little more technical than that. However, it certainly helps paint a picture.
As you look around, you see low-rise developments and more villas, townhouses, and houses rather than towers of apartments. In Bangrak, in the top northeast corner of the island, I visited a complex of 17 condos set amongst well-manicured gardens positioned around a communal swimming pool. Each fully-furnished property comprises a large dining and living area and kitchen on the ground floor while the two bedrooms, both with en suite bathrooms, are on the upper level. Rental is $746 a month. I really liked the resort feel of this complex.
Heading west across the top of the island from Bangrak is one of my favorite places on Koh Samui—Bophut. With a picturesque three-mile beach, old teak shophouse-lined streets add traditional Thai character.
The Fisherman's Wharf here offers boutique shops, a broad choice of cafés, bars, and casual restaurants. It's also a "must do" Friday night street market. And don't forget Coco Tam's beachside bar with a multitude of bean bags and low tables lined across the sand directly in front. Fantastic cocktails are served right on the beach and the evening fire show is great entertainment.
The whole feel of this place appeals to me—its laidback character, beautiful uncrowded beach, excellent eating and drinking options, and lack of throbbing tourist crowd makes it a favorite.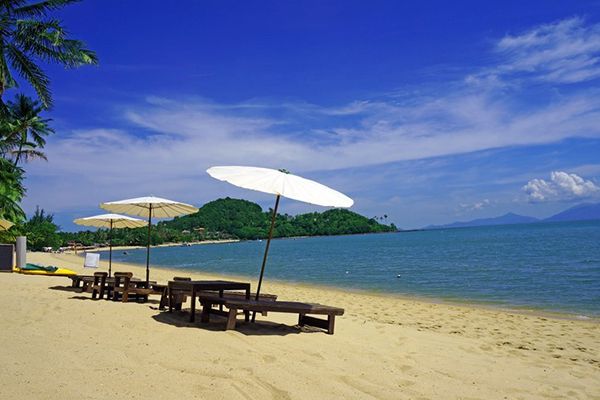 I discovered a fully furnished two-bedroom, two-bathroom villa just a 10-minute walk from the beach in Bophut, close to shops and restaurants. It has a Western-style kitchen and a small terrace and gated garden. It's available for rent at $700 a month. The complex is about 10 years old and has two swimming pools, steam and sauna rooms, parking, and 24-hour security. The property was also listed for sale when I was there, asking price $107,628. With some new furnishings and minor renovation, it would make a comfortable, no-fuss home for a couple.
Buying property in Thailand comes with certain restrictions but many expats have happily bought homes around Samui. You'll find a vast range and a lot of good value, too. I came across a one-bedroom studio apartment in Bangrak that would be a great entry level property for a single expat or couple. It's just a minute's walk to Bangrak beach and a two-minute drive to Big Buddha tourist attraction and the neighboring inter-island ferry terminal. The airport is also only a few minutes' drive. It's 366 square feet, furnished in modern décor, with built-in wardrobes and a terrace with views over the large resort-style communal pool. Priced at $75,916, I see it as excellent value.
As well as the large swimming pool there is a pool bar area, restaurant, tennis court, sauna, fitness center, and basketball court. About five minutes farther northeast of Bangrak in Plai Laem, one of my favorite sale properties is a two-story renovated villa with private pool and outdoor living area. It has three bedrooms, two bathrooms, open-plan living area and each room is bright and airy. The covered outdoor living area is an ideal place to entertain or enjoy a barbecue thanks to its own outdoor kitchen. The complex has 24-hour security and access to the five-star hotel next door and its huge pool and bar area. To top it off, it's a short walk to the beach. Asking price is $251,252.
For what it offers in size, quality living options, including pool and garden, I think this property is a terrific deal.
Get Your Free Your Overseas Dream Home Report Now

Sign up for the FREE Your Overseas Dream Home e-letter and get a valuable report (free for a limited time) on the The Global Real Estate Boom of 2021: 15 Places Where You Can Profit.
Related Articles
Colonial Homes in Colombia from $50,000
You Don't Need Money to Buy Overseas
The 10 Best Places to Invest in Real Estate