You might not be familiar with the little beach town of Las Terrenas on the Caribbean island of the Dominican Republic. That's understandable. For a long time, it stayed off the radar of most North Americans.
If you haven't heard about it, you're missing out on a fun and funky atmosphere, 19 miles of public beaches, and palm trees swaying in the breeze. And you're missing out on some very affordable property. In fact, compared to other Caribbean islands, property here is a roaring bargain.
Outside the U.S., this stunning location is much better known. Europeans have been coming here for decades. Many came for a vacation and couldn't tear themselves away.
The vibe in Las Terrenas could best be described as a cross between a laidback Caribbean beach town with European style. Along with the tang of saltwater in the air and the scent of fresh-cut coconuts, you'll smell French bread and croissants baking. The Italian influence is strong, too, with rich Italian gelato on offer and strong, Italian-style coffee. There's steak, sushi, and grilled seafood, too.
Las Terrenas has everything going for it that a Caribbean island escape should. It's not overdeveloped—there are no mega-resorts here, just boutique hotels. It has great dining, stunning scenery at every point, and a vibrant expat community.
The most incredible thing about it, though, is the real estate prices. In other Caribbean island destinations, you'd pay a premium for a home near the beach. But here in Las Terrenas, you'll get something incredible near the beach for under $200,000. That's if you want a place with multiple bedrooms and plenty of space. In the market for a little condo near the beach for just yourself? You can get a modern, comfortable condo—usually with access to a communal pool—for less than $100,000.
And if you decide to rent your little condo out, it could earn some very nice rental income—as much as 10% a year.
Our real estate contact in Las Terrenas, Toni Green, knows this place like the back of her hand. She should do—she's been here 14 years. And, she knows where all the best deals are.
If you're looking for a home that would suit one person or a couple, then you can stretch a little budget a long way in Las Terrenas. Toni has a one-bedroom condo right across the road from a world-class beach. That beach is a favorite with paddle boarders and kite surfers. It's also just a few minutes' walk from some of the best bars and restaurants in town.
Try Pueblo de los Pescadores, a five-minute walk along the beach. It's in the photo below.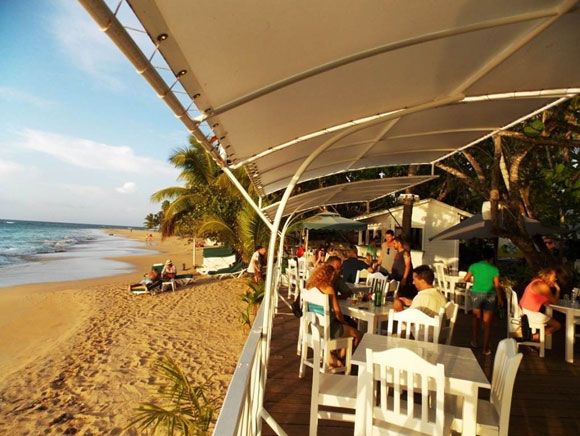 Picture yourself waking to the sounds of the ocean, the morning sunshine already warm, and walking for a few minutes to a little café to pick up a sweet pastry or fresh-squeezed juice…
And this is a little condo that you can lock and leave when you're not there. It's within a community with a large pool and landscaped gardens and there's 24-hour security on site. At 640 square feet, it's comfortable for one person or a couple. It also comes fully furnished so you don't have to worry about buying anything. It's move-in ready.
The condo—including furniture—costs just $85,000. I'm sure you don't need me to tell you what a bargain that is. Try buying a bolt-hole in the sun in any other Caribbean island destination for that price and you'll understand why it's a steal.
Plus, you can rent this little condo out for up to $100 per night when you're away. That's a nice stream of potential income…
If you're looking for something bigger, you'll find a three-bedroom villa, 650 feet to the beach in a high-end community. It's pretty big—2,700 square feet—and comes with most of the furnishings included. Outside, you have a large terrace with a barbecue and seating. And there's a spacious pool with a waterfall in the complex it's located in—perfect for cooling off in the tropical afternoons. Remarkably, this home is priced at just $159,900. That's a killer price. With those extra bedrooms, you'll have plenty of space for all the folks back home who will inevitably want to visit.
Main image: ©Dreams2Realty
Get Your Free Roving Real Estate Investor Report Now

Sign up for the FREE Roving Real Estate Investor e-letter and get a valuable report (free for a limited time) on The Exact Location of Where to Make the Most Real Estate Profits This Year (Plus 4 More Places to Build Your Fortune in Latin America and Europe).
Related Articles
My Real Estate Journey: Creating Our Perfect Paradise in Costa Rica
Our Costa Rica Home Will Help Make Life Easier As We Grow Older