Expat life in Cambodia really does prove that it is the Kingdom of Wonder, and this country never ceases to amaze me in how the quality of my life has improved since moving here. Imagine a place where the cost of living is a quarter of what it is back home, but with all the luxuries available that were simply too expensive to be within your means in your old life. Cambodia is not a country where you have to strictly budget yourself to get by, but is known for its sheer affordability and abundance of opportunities to enjoy a taste of the finer things.
Everything that I do here I can afford to do in style and one of the first areas I noticed this was possible was when it came to clothes. Every single piece of clothing I own is tailor made by hand to my exact measurements and using the finest of materials. My wardrobe has grown to such proportions that I now have more than enough shirts and trousers to last me every single day for three months. Not to mention my Armani style suit that was beautifully made based upon designs taken from the internet by my tailor, who used top notch imported Italian fabrics.
If jewelry is your thing, then the cost of having one of Cambodia's finest silversmiths or goldsmiths create something special for you is as little as $25 for the time spent crafting you a fine necklace, provided you pay the standard rate for the gold or silver used.
Quality of life is often measured by how well you eat and for expats in cities like Phnom Penh and Siem Reap, there is a bounty of options available to you in terms of supermarkets and restaurants. I shop at three regular supermarkets, each with its own specialty—one is a mass market chain store focusing on all kinds of imported and local produce, another is a French owned market with an amazing range of European delights, and my current favorite is an organic store with only the best quality of fruits, vegetables, and breads.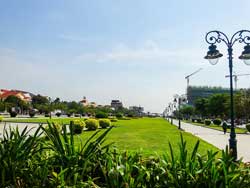 In Phnom Penh it is possible to eat out every night at a different restaurant for a year, such is the range and variety of high quality establishments that exist. There are Italian, French, American, Lebanese, Indian, Australian, Mexican, Vietnamese, Chinese, Thai, and many more nationalities represented, including some great Khmer restaurants, that are all open for your gastronomic pleasure at a snip of the price it would be in the western world.
To take a date out for dinner with wine at a high end restaurant rarely costs more than $40 or $50, while many mid-range places will charge as little as $25 for a selection of their best dishes. And of course, if you do go to somewhere fancy for dinner, then make sure to make use of one of the competitively priced, air-conditioned taxis which charge as little as $1 for a short journey in a brand new vehicle.
For many expats the purpose of moving to Cambodia is to spend their free time traveling and exploring the country's most beautiful tourist spots, which is good news since the cost of four- and five-star hotels and boutique resorts is incredibly reasonable, ranging from $40 to $100 a night for hotels in great locations, with all the amenities you could wish for, whether you are visiting Phnom Penh, Siem Reap, Sihanoukville, Kep, or Kampot.
The key to success as an expat is learning to enjoy your new world, and this is easy in Cambodia, whether you are on a budget or have a sizeable retirement pension. Here, you can enjoy your life with everything you could ever want, at a fraction of the cost that you would pay at home.
Get Your Southeast Asia Report Here:
Learn more about Southeast Asia and other countries in our daily postcard e-letter.
Simply enter your email address below to sign up for IL's free daily postcards and we'll also send you a Free Asia Report –The Best Islands, Beaches and Cities: Southeast Asia's Top 6 Retirement & Vacation Destinations.
Get Your Free Report Here