For many U.S. retirees, being able to walk from A to B comfortably and safely, without depending on public transport or a car, are becoming important considerations when seeking a retirement destination overseas. Aside from the cost benefits, walking lets you explore at your own pace, be more active, and is less stressful than driving.
Increasingly, American Baby Boomers planning for retirement are looking for urban communities where they can easily and safely walk to where they need to go; find groceries, entertainment, restaurants, and such nearby; and access convenient public transportation to venture farther afield. In the right places overseas, the ideal urban retirement environment already exists. And it can cost half—or even less—what it would to stay home.
Below are three top walkable, good-value cities in Portugal, Malaysia, and Ecuador, where you can enjoy a "car-free" retirement in a safe and friendly environment.
George Town, Penang, Malaysia
by Keith Hockton
With its UNESCO World Heritage Site listing, the must-see sights of George Town are best explored by foot.
George Town, the capital of the island of Penang in Malaysia, was designed by the Brits in 1786 as a walking city.
Dubbed the "Pearl of the Orient," George Town's old city, or heritage zone, features a main thoroughfare, Jalan Masjid Kapitan Keling, from which many of the city's sights, including St. George's Church, Acheen Street Mosque, The Goddess of Mercy Temple, and the Sri Mahamariamman Temple are all accessible.
The expats who live here love the fact that they live in a colonial city with a rich history and culture. They also appreciate that they are a stroll away from everything that they need–cafés, restaurants, bakeries, supermarkets, and banks are all within walking distance, no matter where you live.
Warren Rooke lives with his wife Anita in Kampong Malabar, a small street just around the corner from award-winning boutique hotel Campbell House. Warren strolls to his favorite bakery first thing in the morning, and when he and Anita want lunch, some of the best street food in Penang is just around the corner.
The public transport system on the island is first rate. Buses are inexpensive, and you can ride the entire length of the island, from George Town to the national park at Teluk Bahang, for $2.50. All of the buses are air-conditioned and have free public Wi-Fi. Uber and Grab are also great value, and there are quite a few expats who live in George Town who swear they will never buy a car because it just isn't needed.
It's safe to walk around at night too. There isn't a bad part of the city, so you don't have to feel that there isn't anywhere that you can't go. Single women—and there are quite a few older expat women who live in the city—never need to worry about walking late at night by themselves. As with any city, you just need to use the usual precautions. If you see a dark alley that you could take as a short cut—ask yourself if you would take it back home? If the answer is no, then obey the same rules here.
There is a lot that you can do here with the cash that you save by not having a car. Weekend trips away are a good option, as flights within Asia are relatively cheap. Just last month my wife and I flew into Pulau Weh, in Indonesia, from Penang's International Airport, to go scuba diving. Roundtrip tickets were just $110 each. Accommodation on the island was just $28 per night for a fully air-conditioned room overlooking a pristine lagoon.
I see a lot more expats on bicycles these days in George Town, and just last month certain streets were closed to traffic at weekends. I like that you can stroll the city whenever you like and not feel threatened, hemmed in, or claustrophobic.
Cuenca, Ecuador
by Donna Stiteler
I grew up in Louisiana where you could drive at 14 with a learner's permit…so, I became tethered to a car very early in life. When my husband Rowland and I moved to Cuenca, Ecuador, and decided to live without a car, I figured that would last about as long as my last commute to work back in the U.S. (90 minutes). But now, four years later, I can say shedding my car has given me more freedom than the open-road ever did. In fact, going without a car has created a healthier, more frugal, and less stressful way of life. And it's feasible in Cuenca. Here's why…
Cuenca is a UNESCO World Heritage site, nestled in the Andes Mountains. Although Cuenca is a town of 500,000, because it is in a circular valley, both downtown and new town are largely contained within four very walkable miles.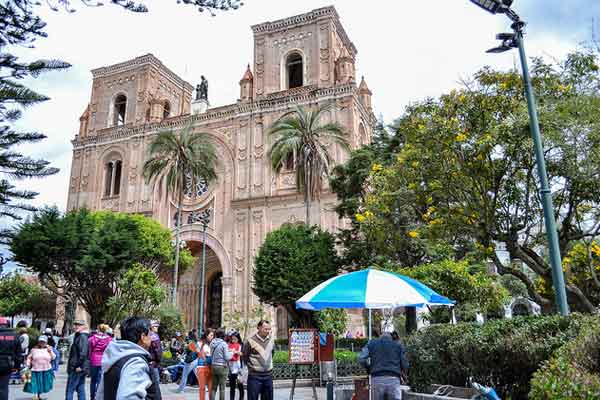 I can window shop for hours downtown meandering the cobblestone streets lined with chic shops, cozy cafés, and astounding Spanish colonial architecture. Or I can pass the time eating ice cream in Parque de Calderon, dining on $3 almuerzos (lunches) or sip fresh fruit smoothies while sitting by the Tomebamba river that runs through town…then walk off the weight as I head home. Cuenca's tourism board has even created several self-guided walking tours through neighborhood districts, including a gristmill and bread tour, French architectural tour, a museum route, and the craft route.
Grocery stores, restaurants, malls, and cultural events can be easily accessed by a foot, a $3.50 taxi ride…or for a quarter you can grab a city bus. Most taxis have an added safety measure–a red panic button that connects to the police–although I've never heard of anyone using one.
It's safe walking around Cuenca, but like just about anywhere these days, walking at night needs to be done with caution and there are neighborhoods to avoid, but crime is not prevalent. I venture out alone all the time.
By not having a car I save $210 a month ($377 for repairs, $1,124 for insurance, and $1,014 for gasoline annually), which pays for two trips home to Florida each year. When you add $400 for a car payment, it's no wonder new car ownership is out of range and really, is it worth it when you can trade this in for $3.50 taxi rides to near about anywhere in town? You also don't need to worry about taxes, rising gas prices, and expensive maintenance … not to mention traffic, road rage, and unexpected flat tires.
After living in Cuenca for six months, I dropped 10 pounds without trying. I attribute this loss to having time to get out and walk. Walking with my friends is our version of joining a gym, with the added benefit that we can run our errands together.
Public transportation is good in Cuenca too It's a great way to meet the locals who like to sit by you and practice their English. When you want to feel the open road, you can rent a car starting at $49 and tour the country. But I prefer the big buses for day trips, which you can catch at the bus terminal and for $2 snag trips to neighboring cities.
Mafra, Portugal
by Tricia Pimental
Five years ago, my husband and I left the U.S. in pursuit of a slower-paced, more affordable lifestyle. We have found it in Portugal.
Some mornings I walk from my home in Mafra, Portugal to the town center. Twenty minutes later I arrive at the tree-lined esplanade, which faces the 722-foot façade of the National Palace. I order a meio de leite, strong coffee with cream, at a favorite bakery and, with the late fall weather cooperative, savor it outdoors.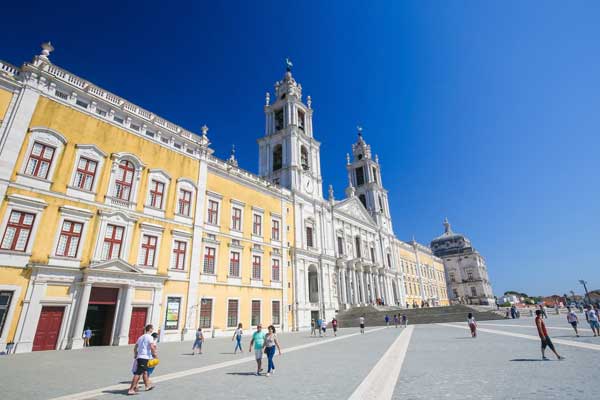 After coffee, I walk to the edge of the plaza and turn left onto Avenida de Liberdade. I continue, passing the post office and the government finance building, and then turn the corner. Several yards down I arrive at my destination. The salon door had been invitingly left propped open for me. Inside, I'm greeted by a friend, a Brazilian woman who is a marvelous reflexologist. One hour and $17.50 later, my happy feet and I head home.
You probably have already figured out you don't need a car here. Yet should you want a lift, taxis wait patiently for customers in front of the lovely park of Jardim de Cerco, formerly the gardens where generations of royals strolled.
Although it's now mid-morning, this is also a walk I would take at night. In fact, I have. Portugal recently was voted the world's third safest country in the world in the Global Peace Index. Should you encounter a difficulty, simply call 112 on your cell phone for immediate response. There's a local para-military police force, Guarda Nacional Republicana, and a volunteer fire department, Bombeiros, with well-trained, professional Emergency Medical Technicians.
Mafra's palace, cultural center, and music school all provide frequent concerts, plays, and other events. But if you want to spread your wings a bit, no problem. A reliable, comfortable bus service operated by Mafrense departs regularly from in front of the palace, to the Campo Grande bus station in Lisbon. Express buses make the trip in approximately 40 minutes. The cost is $5.30 one way, $8.80 roundtrip. In the opposite direction, at the end of the line you'll find yourself at the beach in the world-class surfing reserve of Ericeira.
Welcome to retirement—your way.

Related Articles
The World's Best Places to Retire
The Cheapest Places in the World to Live
5 Places to Retire to With the World's Best Climate