For the first time in its 170-year history, California's population is predicted to fall.
The Census Bureau estimates California lost nearly 70,000 residents in 2020 alone.
Among the evacuees were celebrities like Rob Schneider, Josh Brolin, Joe Rogan, and the richest man in the world, Elon Musk.
What's going on?
According to The Los Angeles Times "The California dream has been fading for a long time, and people have been voting with their feet."
For many millions of people, California has simply become unaffordable. Job growth has slowed to a trickle. The cost of living is sky high. Others are just sick of high taxes and regulation.
One recent survey found that two of every three Bay Area workers would leave the area permanently if they could continue to work from home indefinitely. With many tech firms now committing to permanent remote work, many workers are following through.
The crisis has added fuel to the flames, but this exodus is nothing new. Folks have been moving away from California for some time.
I recently recalled the story of Cindy and Charles, a Californian couple who retired to Playa del Carmen on Mexico's Riviera Maya in 2019.
They moved to live next to the white-sand beaches of the Caribbean, cut their costs, and shape a better life for themselves. They haven't looked back since.
You can read their story below…
Read on to the end where I show you how you can use this trend to pocket gains of $107,200.
***
Caribbean Living for a Third Less Than California
By Jen Phillips April
"Our biggest stress of the day is choosing beach or pool," Cindy James says about her new life in Playa del Carmen, Mexico. Her partner, Charles, agrees, "We don't have to do anything. There's no schedule."
As new retirees, they're making the most of their home in the tropics. Days are spent swimming and snorkeling, nights are spent at home making a meal in their condo or going out on the town.
The couple have held parties at their rooftop pool and with as many as 40 people. "It's so easy to meet people here," says Cindy. "I didn't even know 40 people to invite to a party back in California!"
The pair chose to rent a luxury two-bed, two-bath condo, half-a-block from the beach, for six months to see how they liked life in Playa del Carmen. At $2,000 a month, it falls into the upper end of rental pricing in town, but as Charles says, "You couldn't find anything comparable at this price back home. It's helped make our transition easier."
The condo comes with everything they need for life at the beach, including beach chairs and towels. It's in a newer building with a modern kitchen and elevator to the rooftop pool with a perfect ocean view.
"We never get tired of watching the cruise ships come and go from Cozumel," says Charles.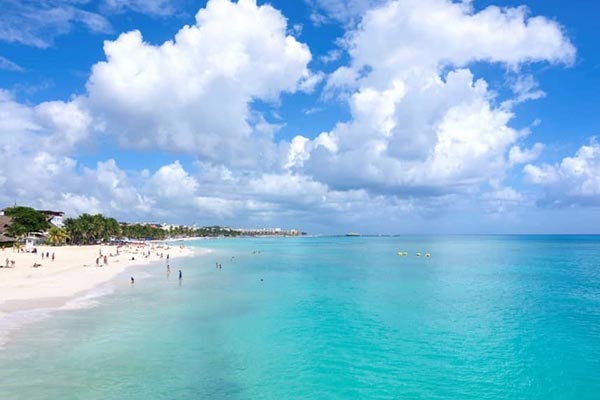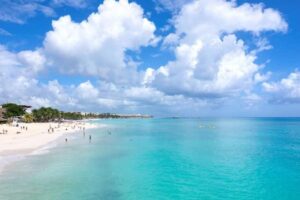 When they're not enjoying the water, Charles likes to cook comfort foods. Fried chicken, barbecue ribs…anything grilled is likely to make the menu.
Cindy's joined a local book club and a Spanish-language group. Not that you have to know Spanish if you live in Playa del Carmen. The city has a large international community and is a tourism mecca, so there's a lot of English spoken. Still, it's nice to learn a little of the local language, even if it's a challenge. As Charles says, "If you put forth an effort, people appreciate it."
Cindy is a retired elementary school principal while Charles had a career as the operations director for a professional sports team. He'd long had his eye on a Caribbean retirement. So much so that he brought it up at the start of their relationship.
"There was no point in getting involved otherwise," he says. "I wanted to be near the Caribbean Sea. I wanted to scuba dive and snorkel on a regular basis."
They took a couple of scouting trips, visiting Ambergris Caye in Belize and Roatán, Honduras. They fell in love with Roatán as a diving paradise but also realized they wanted the conveniences and infrastructure of a larger city.
They found it in Playa del Carmen.
It's close to the U.S., making visits to Cindy's daughter in California easy. Located only eight miles from Cozumel, there's a convenient ferry that runs all day for some of the best diving and snorkeling in the world. "We can hop on the ferry and go to Cozumel or Isla Mujeres for the day," Cindy says.
Plus, Playa del Carmen has all the amenities you need for an easy transition.
As Charles says, "Everything you could want is here. There's Sam's Club and Walmart and new, modern buildings. The way I look at it is, others already paved the road and we can just drive on it."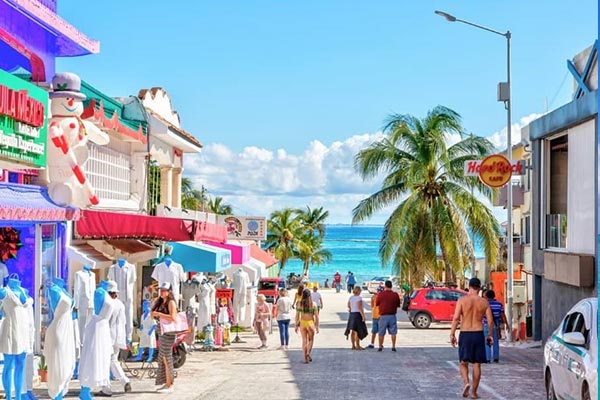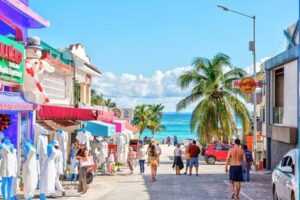 "We never could have retired in Central California and had a life like this," Cindy says. "There's so much to do here, we've met so many wonderful people, and we have more disposable income than we would back in California. We figure our expenses are about one-third less."
The city is full of inexpensive restaurants, places where you can have a delicious lunch for under $5. An "expensive" meal (with wine) is $25 to $30. Fresh fruit and veggies are abundant and inexpensive.
They like Playa del Carmen so much that they bought their own condo after only a month in town.
It's a few blocks farther from the beach than their current rental but centrally located, close to the grocery store and dozens of restaurants. The two-bedroom, two-bathroom condo is scheduled for completion in a couple of months, and they paid $265,000.
After they get settled in their new home, Charles and Cindy plan to travel. Playa del Carmen will be their home base, but they'll visit Europe, return to Roatán for more diving, and, as Cindy says, "I've got a list a mile long of places I want to go."
Until then, though, they'll continue enjoying the sand, surf, and people in Playa del Carmen
***
Ronan says: In the coming days I'll be telling Real Estate Trend Alert members about a special new RETA-only deal in Playa del Carmen.
Our opportunity is next to the best beach in Playa, and our price is completely nuts.
We are getting in at RETA-only ground-floor prices in a top-tier community and a real estate market that is anything but ground floor.
I'm talking about a master-planned community, within a walk of Playa's famed Fifth Avenue where homes list for well over a $1 million. It's packed with amenities, including a world-class, 18-hole, Nick Price golf course.
And we have the opportunity to buy there from just $192,800.
I figure three years after delivery these condos will be worth $300,000. That's gains of $107,200. And I think I am being really conservative, given our exceptional track record of profits in Playa.
We're also tapping a red-hot year-round rental pool in Playa. I reckon you can gross annual rental yields of $24,000. That's based on 120 nights at an average of $200 per night. It's a gross yield of 12.44%.
I'll be sending RETA members my full report in the coming days.
Get Your Free Real Estate Report Now
Sign up for our free daily Postcard e-letter and get a valuable free report on the The 5 Best Places to Buy Real Estate In 2023.
Related Articles
Own a Dream "Fixer Upper" in Europe
A Quick Note From Stunning Chiapas, Mexico
Invest Like An Insider And Unlock Incredible Gains