My husband Mark and I were moving to Costa Rica. We planned it for eight years…we'd visited the country 10 times, and we knew it was for us. It had it all…boundless natural beauty, kind people, it was close to Chicago so my family could visit, and it had plenty of expats living there. It seemed to check all of our boxes.

Then in 2012, we attended an International Living conference in Las Vegas to make some new contacts and soak up all the info we could from like-minded people. After all, we were too young to retire, and we didn't know anyone that had moved abroad to glean any tips or information from. In our minds, this conference was hopefully going to point us in the right direction within Costa Rica and possibly even help to make some new friends who were planning to do the same.
We went along with an open mind, trying to be sponges and soak it all in. There is so much useful information at these conferences. Things we didn't even think about…banking, insurance, and investing. But some of the best advice we got was right at the beginning of the seminar from IL Latin America Editor Suzan Haskins.
She said: "Keep an open mind about where to live. Some people come here thinking they know where they're moving to but often change their minds." Mark and I looked at each other and smiled, knowing we had already found our future home.
But we took her advice and listened to each of the country presentations: Ecuador, Brazil, Panama, Malaysia, and of course Costa Rica. But it was Malaysia that really got our attention, specifically Penang, a little island off the coast. While listening to the presentation by IL Malaysia Correspondent Keith Hockton, and speaking with him in person afterwards, we kept looking at each other and thinking how cool Penang sounded. It piqued our curiosity so much that we decided to plan a vacation there to check it out.
I had absolutely no intention of moving that far away but I'm always up for an adventure. As much as we liked what we heard, it just seemed too far from my family. I figured the culture shock would be major and fitting in might be hard, so I was sure I wasn't going to like it enough to move there. A vacation? Alright. But move there? No way.
We spent 17 days in Penang and every day I fell in love a little more. I kept asking Mark, "What about Costa Rica…our best-laid plans? Could we live here instead?" The answer at the end of every day was an unequivocal YES.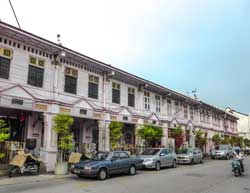 It is far away, but the transition would be easy because everyone in Penang speaks English, the people are warm-hearted and always willing to help, and the expats living there were so welcoming that we instantly made friends. And as much as we adored Costa Rica, we hadn't found that there yet. That's not to say that we wouldn't have found it there, but Penang felt so perfect right away that it seemed like a no-brainer.
So, a year later, we up and moved to Penang. And since then, our lives have been pretty amazing. Our apartment, that we rent for $750 a month, is a 2,200-square-foot, three-bedroom, four-bathroom condo overlooking the Andaman Sea as well as the jungle. We can see the monkeys cascading along the rooftops of the neighboring homes and from our couch we can watch the sea eagles diving into the ocean for a quick catch of the day. Sometimes I feel like I live in a National Geographic magazine.
We knew living in Penang would be cheap compared to living in Chicago. But it's really meant that we can live a high-quality lifestyle. For example, it feels ridiculous not to have a cleaning lady come once a week when it costs $5 an hour. Fifty dollars pays for all of our utilities, including cable TV and all in all, $2,000 to $2,500 affords us a very comfortable lifestyle. This affordability means our money goes much further, allowing us to travel and explore.
Now our days are filled with the sunshine, fantastic food, and forever friendships. Moving to Penang is the best decision we've ever made…well, besides listening to Suzan.
Get Your Free Report on the World's Best Places to Retire:
Learn more about the best places in the world to retire in our daily postcard e-letter.
Simply enter your email address below to sign up for our free daily postcards and we'll also send you a FREE report on The World's Top 10 Retirement Havens.
Get Your Free Report Here