As young people in rural communities head to the cities for jobs and other opportunities, an increasing number of rural homes with character become available across Europe.
You'll find scores of farmhouses in shambles listed for bargain-basement prices. They need complete renovation, including plumbing and electric, not to mention often structural work.
If you haven't read the book A Year in Provence by Peter Mayle, it's a good guide to what that process might look like—in gory detail. It's not for everybody.
But this isn't the only way to find your ideal country home in Europe.
There are also plenty of affordable, good value properties that need no work. You move in and can immediately start enjoying life in the quiet countryside. Often, there is a bit of land, which gives you some space from the neighbors and offers views of the bucolic surroundings.
You might even find land already under cultivation, say with olive grove or fruit orchard. If not, you could plant your own. With your own homestead, you do with it as you please.
Roquetes, Catalonia, Spain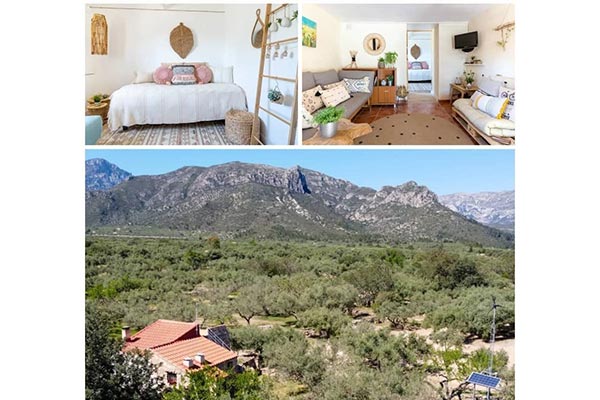 If you like peace and quiet, you'll find it outside the town of Roquetes, in Catalonia's Tarragona province. It's adjacent to a natural park covering 150,000 acres of limestone cliffs and outcroppings and forest, crisscrossed with hiking trails, and home to the endangered Iberian ibex, among other species.
This one-bedroom farmhouse nearby has been fully restored. It's sits on 4.5 acres of land, much of which is forested. Your electricity comes from solar panels and a windmill, the water from a well. There's a wood fireplace for heat. In other words, you're off-grid.
But the modern world and other amenities are close by in Roquetes, as well as the larger town of Tortosa. Barcelona is two hours' drive north; the beach just 30 minutes—perfect for a day trip or simply a seafood lunch.
Pressigny, France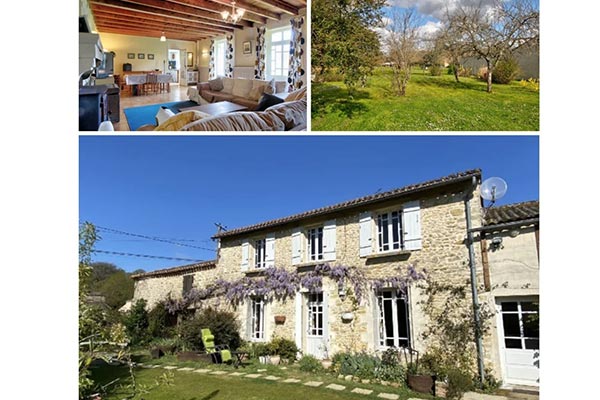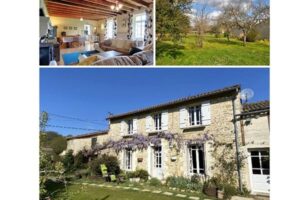 On just over a half-acre, this restored stone house has all the mod-cons, yet has plenty of the old farmhouse spirit still on display in its finishes, like window shutters and timber ceilings.
There are three bedrooms on the second floor. An extra room on the ground floor—now used for storage and as a laundry area—could be converted to an artist studio, den, or home office. There is also a separate garage/workshop on the property, as well as a shed.
The land itself is essentially an undeveloped stretch of lawn. You could add a pool, landscaping…a kitchen garden.
The home, surrounded by little villages, is in the commune of Pressigny, in the region of Nouvelle-Aquitaine in the west-central part of the country. The riverside medieval walled town of Parthenay is 20 minutes' drive. The larger city of Poitiers is less than hour away.
Monte Castello di Vibio, Italy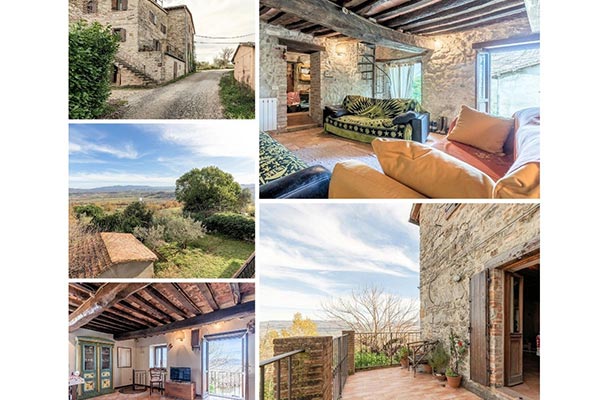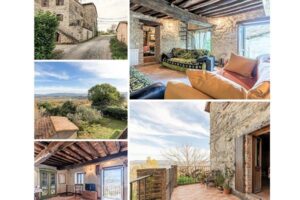 As the name suggest, there is a castle on a hill in the historic village of Monte Castello di Vibio, which was founded in the 15th century. The landscape in this region is a patchwork of olive groves, sunflowers, and vineyards—local wineries produce several well-regarded vintages.
In the forests, truffle hunters keep busy finding both black and white varieties. It's in the geographic center of the country, in the province of Perugia, in Umbria, an area known as the green heart of Italy.
This renovated three-bedroom stone house a couple of miles away from Monte Castello is just off a quiet country lane. There's not much land, but thanks to the hillside location, you do have panoramic views of the surrounding fields and distant hills.
You have a terrace and balcony, as well as a 375-square-foot annex building currently used a warehouse that you could bring up to date and use as a workshop…maybe even a guest apartment.
Get Your Free Real Estate Report Now
Sign up for our free daily Postcard e-letter and get a valuable free report on the The 5 Best Places to Buy Real Estate In 2023.
Related Articles
You Need to Pay Attention to This Algarve Beach Town
VIDEO: My Algarve Condo Renovation
French Properties With Profit Potential