A tour of Chiriquí Province will take you from Panama's highest point, 11,440 feet at the peak of Baru Volcano, to sea level and sandy beaches along the Gulf of Chiriquí. You'll find 20,000-plus expats living throughout the province. Whether you prefer the beach or the mountains, living in town or out in the country, bright sunshine or cool cloud cover, Chiriquí offers you a choice…
For instance, the near-perfect climate is one of the main reasons as many as 12,000 expats now call the town and district of Boquete home. Its elevation of 3,940 feet on the eastern slope of Baru Volcano means normally cool temperatures around 80 F in the daytime and 60 F at night, with frequent misty rain called bajareque.
The village sits in a bowl-like depression, split by the rushing Caldera River. The surrounding hillsides are dotted with homes. Several loop roads head from town up into these communities and back down, so the area is interconnected and accessible.
Boquete is known for its natural beauty and has an unexpected alpine quality. Also tucked into the hillsides among the exotic flowering plants are coffee plantations and orange groves.
What really sets Boquete apart is the people of the community: a relaxed mix of Panamanians and indigenous, foreign expats from North America and Europe, and tourists and visitors from around the world. All this combined energy means there's always something to do here.
Then there's Volcan, which shares the fresh highland climate of Boquete.
I never get tired of the drive to Volcan. The highway that winds uphill is lined with dairy farms, plant nurseries, poultry barns, and spectacular vistas across the landscape.
The town is in open country, spreading out toward the looming volcano in one direction, and the border with Costa Rica in the other. Beyond town the road climbs upward, past horse stables and mountain streams, to the village of Cerro Punta. Along the way vendors sell bags of their fresh produce and the local favorite, fresh strawberries with cream.
Between the highlands surrounding the volcano and the lowlands along the coast lies a region I'm calling the midlands. This largely undeveloped and overlooked area stretches from west to east in the foothills below the volcano and consists of numerous small towns with a far-flung expat population. With a climate warmer and drier than the highlands and cooler and fresher than the lowlands, for some this is the perfect location.
"We have the best of Chiriquí here," says Jerry Knezic, who rents a townhouse in this part of the province. "Our view is awesome, it is so private and quiet here, and we can get to Boquete or David in about half an hour. We have great neighbors and lots of parties. What more would you want?"
As for me, I live just north of the capital of Chiriquí province, David.
My husband, Al, and I pay just $220 a month for rent here. David is Panama's third largest city and it sprawls out west to east along the Pan-American Highway and south to the mangrove estuaries along the coast.
David is a hive of activity. As the seat of government it is where official business takes place.
This is also the health care hub of the region, with two private and two public hospitals offering a full range of medical services. The hospital I use, Hospital Chiriquí, is in the process of building a major addition that will house 72 new physicians' offices. One of the public hospitals specializes in maternity and infant care and the other is in the midst of an expansion. Numerous clinics and specialty services round out the facilities in David, offering affordable and accessible primary care. (A typical doctor's visit will cost between $10 and $40, no appointment necessary.)
Lying in the lowlands David is truly tropical and always hot, still, many of us manage with fans and no air conditioning.
What draws expats to David is the convenience of having all you need just a few minutes away. I live five minutes from one of the nicest supermarkets in town, which sits in a large shopping center with a hardware store, department stores, electronics stores, a wine and liquor store, and more.
"I could live on $1,000 a month and live pretty well," says Mary Ellen Watts. "I own my home and car. I usually spend a bit more than that, but I travel back to the States twice a year, and go out to eat too often. For $2,000 a month you would be living high on the hog as they say."
For my own part, my husband Al and I spend around $1,400 a month and that includes our rent and medical expenses.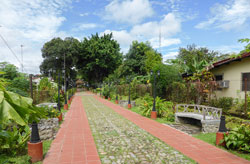 Our tour of Chiriquí Province ends at the shoreline and the Gulf of Chiriquí, which opens onto the Pacific Ocean. This coast is known for its fantastic offshore fishing, with tuna, marlin, mahimahi, sea bass, snapper, and more running in the local waters. The water is always warm so you can swim year-round. Numerous small islands and coral reefs are included in the Gulf of Chiriquí National Marine Park, most of them easily reached from Boca Chica where boats are for hire.
You won't see any high-rises, condo developments, theme parks, or water sports vendors. You will see a sandy beach with a wide tidal range, typically small waves, and very few people.

Get Your Free Panama Report Here:

Learn more about Panama and other countries in our daily postcard e-letter. Simply enter your email address below and we'll send you a FREE REPORT — Panama: First World Convenience at Third World Prices. 
This special guide covers insider advice on real estate, retirement and more in Panama. It's yours free when you sign up for our IL postcards below.
Get Your Free Report Here