Costa Rica can feel like a dream at times…especially the mornings that I wake up to the deep aroma of fresh-roasted coffee, harvested just a few miles from my house…or the days when my weekly errands are put on hold for a stroll on a white-sand beach.
Finding adventure is easy here. My boyfriend, Pablo, and I have climbed a volcano in the morning only to be at the beach by afternoon. We've dined on world-class seafood prepared by European-trained chefs, but our favorite are meals with the locals where the stars are black beans broiled over an open fire and ripe plantains fried until they're caramelized.
We've lived all over this beautiful country and have come to one definite conclusion…choosing what part of Costa Rica to live makes all the difference in creating your personal paradise.
We head towards the capital for that familiar pace of life—the executive offices in the hills of Santa Ana and Ezcazu surround modern malls and movie theaters that feel more like my home city of Lexington, than Central America. Not to mention the amazing seafood, succulent hamburgers, and boutique coffee shops offering up Costa Rica's finest in cappuccino and frappuccino form.
We've met a lot of people who have come here just for that—for country clubs and North American-style homes that feel familiar, beaches within two hours' drive, and low-cost healthcare all close by.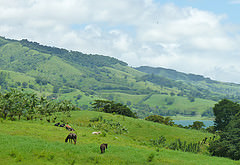 While I was working as the marketing manager of an adventure company here, we lived in Tres Rios. The lower cost of living and proximity to the conveniences of the city were the main attractions—along with sweeping views of the Central Valley and a constant cool breeze from the mountains.
Now, we live in San Pedro, San Jose where constant WiFi signal and a great bus system to other parts of the country help me with assignments for my life as a freelance copywriter. We love being close to universities for social events…and that the neighborhoods are dotted by public parks and weekend ferias (fairs) highlighting the incredible produce of the region. We get giddy when we can grab a head of broccoli for 20 cents, or all of the ingredients for a tropical fruit salad for $1.50.
Though we haven't lived there, I dream of renting a small cabin in the hills of Arenal, Monteverde, or even the mountains bordering the Caribbean and Pacific. The climates there are cool enough to be productive in a home office and the beaches are close enough that I can enjoy the sun and surf.
Beach bums like Pablo rejoice at the options on both coasts, and I have made it a mission to explore every pace of life that exists as we beach-hop our way through Costa Rica. When he's looking to surf, and I want some beachside yoga practice, the sleepy beach towns of Santa Theresa and Playa Guillones offer the perfect vibe without being pretentious.
For a two-month stint we rented a simple house across the street from the iconic Los Suenos Marriott resort in Herradura. I would take my beach cruiser bike for a ride through the immaculate grounds, and watch as the fishing yachts pulled up, dive schools trained people, and iguanas scuttled across the beachfront golf course.
We agree that no matter where you choose to go, it's a place worth knowing. It's the kind of place where relationships, health, and living well take priority over making it to a meeting exactly on time…and where living with less can actually feel right.
It's a place that we're happy to call home, from the jungle to the ocean and everything in between.
Get Your Free Fund Your Life Overseas Report Here:
Sign up for IL's Fund Your Life Overseas e-letter today and we'll also send you a FREE report about ways to earn money abroad. Simply enter your email in the box below and we'll send you this free report: Fund Your New Life Overseas With These 6 Portable Careers.
Get Your Free Report Here