People used to ask me what I was going to do with myself all day when I didn't have to work.
Believe me, I haven't had a problem finding things to do since moving from Florida to the city of David in Panama.
I spend many hours biking around the city and exploring the surrounding countryside. I work on my blog, I have more time for my photography and I recently started painting classes. I also like to garden so I spend time in my yard. Plus, I have more time for friends and socializing, and learning more about how life is lived in Panama.
There is a happiness and tranquility here that is hard to explain but easy to feel. The people are open and welcoming. Family and friends are most important, as is enjoying life. Life is more relaxed and lived at a slower pace, and there is a greater sense of freedom to live your life as you choose.
We chose David because we knew we wanted to be in a city but felt Panama City was just too big for us. We like the countryside too, and David offers both. It's a low-rise city with a country feel. Downtown is full of street vendors selling everything from sunglasses to tamales. And you'll find a large selection of supermarkets, stores, repair shops, clinics and hospitals, and anything else you might need in your daily life. People are cheerful, friendly, and helpful. It's a very Panamanian city.
We rent a comfortable three-bedroom, two-bathroom house in an upper middle class neighborhood for $385 a month. It's on the edge side of town so feels like we are almost in the country, but we are only minutes from a big shopping area. Sitting on my terrace there's a gentle breeze and birds are chirping in the fruit tree. And I often keep an eye out for the toucans that visit my neighbor's papaya tree.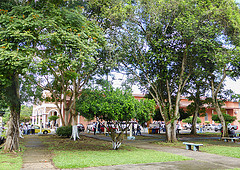 It's nice to live in a neighborhood where I know most of the neighbors and am on very friendly terms with a lot of them. It is common for a neighbor to call to tell me they found a new bird nesting in the shrubs, or they have plants or food to share.
Back in the States, I had such a busy life where every moment was scheduled. Now it's a pleasure to fill my days with things I want to do, rather than things I have to do.
Money…or not enough of it…was the main reason myself and my husband Joel moved to Panama. But we had a list of other requirements for our new home and Panama kept rising to the top. It's close enough to the U.S. to get back to see family, has a stable government, decent infrastructure, a warm climate, and affordable living.
The lower cost of living here has been a huge help to us. Our monthly budget for basics is between $900 and $1,000 a month, and our total expenditures are usually between $1,100 and $1,250.
We don't eat out much, but you can get dinner for probably anywhere between $7 and $40 a person, depending on how fancy you want to get. We buy produce from the local markets and for $20 I get more than I can carry. Chicken is around $1.50 a pound and eggs are less than $2 for a dozen.
Fortunately, we have not needed much healthcare but our experiences have been very positive. I got a new crown on my tooth for $250, and it was excellent work. A doctor visit will be $25 to $50 depending on specialty and you will get all the time you need, and probably the doctor's cell phone number too. A friend had hernia surgery in David and it cost less than his deductible would have been in the U.S., and he said he got excellent care.
I feel so much more accepted here in this foreign country than I ever did in the U.S. It's a good life and I'm very happy that we had a restricted retirement budget…or else we would have missed out on Panama and this whole enriching experience.
Get Your Free Panama Report Here:
Learn more about Panama and other countries in our daily postcard e-letter. Simply enter your email address below and we'll send you a FREE REPORT — Panama: First World Convenience at Third World Prices. 
This special guide covers insider advice on real estate, retirement and more in Panama. It's yours free when you sign up for our IL postcards below.
Get Your Free Report Here