Army on the streets… the world "closed for business"…stock market bouncing up and down…currency markets in flux…
It's the only thing in the newsfeeds.
I can't fix the stock market or stop a virus…but what I can do is show you the best way to profit from the boom that's coming.
In case you missed it, on Tuesday I explained how this crisis is about to unleash a torrent of deals in places on a downtrend… In Spain and Italy, where the economies have been faltering for years, this fresh crisis will see 30% drops in best-in-class real estate and more free home giveaways than ever.
On Wednesday, I explained why we'll see a short, sharp interruption in countries on an uptrend, like Panama—with the emphasis on short. This will open up special situations deals in the short-term.
And on Thursday, I pointed out how to take advantage of strong currency plays in destinations benefiting from big multi-decade transformations.
Another bailout for the ultra-rich? The federal government's planned $2 trillion economic rescue package is meant to provide aid to struggling individuals and businesses. But once again, some of the biggest benefactors will be the people who need it least.
A small provision buried deep in the 880-page bill will allow America's richest real estate investors to write off an estimated $170 billion in taxes over a 10-year period.
The bill will permit them to use real estate "losses" to minimize their taxes on profits from other investments, like stocks.
But here's the thing…
Even when their real estate is making huge profits, they can enjoy this tax break. That's because they can legally use the cost of the real estate itself as a technical "loss," in a process known as depreciation.
This tax break already existed in a limited form, but now the cap has been lifted and the only people set to benefit are the top 1% of taxpayers.
This isn't any big shock. The rich and powerful will always come out on top in crisis situations like this. They did it in 2008. They're doing it now. It happens the world over.
The difference this time is that we have an opportunity of our own…
A little-known change to tax codes in Panama has created a major profit opportunity for RETA members. It was a change that was easy to miss. It was really just something of a secret to a small group of insiders. But thanks to a RETA insider, we can get our own slice of the pie.
This tax-code change means we're now set to be handed an upfront $65,700 bailout and primed for possible six-figure plus gains on a spectacular beachfront deal…
I'll be telling RETA members all about this opportunity in the coming week.
Is your Airbnb "COVID-19 Friendly"? Planes are grounded…hotels are closed…global tourism has hit the pause button…but that doesn't mean your Airbnb needs to sit empty.
Industrious Airbnb hosts around the world are getting creative in how they market their rentals during this international travel hiatus. Rather than relying on tourists, they're finding a new type of customer. And it turns out, there are more than a few.
In cities around the world, diplomats, healthcare workers, and travelers are turning to Airbnb for a place to self-isolate. Hosts are offering special "self-isolation packages" promising sanitized rooms, unlimited WiFi, Netflix, and food delivery right to the door.
Some hotels are getting in on this new market too, with one luxury hotel chain in Switzerland offering "quarantine packages" that range from $490 to $4,900 a night.
Another option is to target remote workers. Right now, the world is experiencing a silent telecommuting revolution. Millions of workers around the world have switched from working in offices to working from home. Many of them don't have an appropriate workspace. And consider all the young professionals who can no longer go to their co-working office. An Airbnb with a desk and good WiFi is the perfect solution. WeWork charge $50 a day for a desk. For a private space, you could charge more.
While there are options available, it's important to be prepared for black swan events like the current crisis when you're considering buying a rental property, as my senior researcher, Margaret Summerfield advises:
"We can all dream about owning a turreted castle, an expansive beach house or a lavish villa. It's tempting to think your budget can just about stretch to it when there's finance on the table and it looks like rental income will cover all the bills. But you should always consider the worst-case scenario—something like the current coronavirus scare, or plummeting stock values—and make sure you're not left in a tight corner if things go south."
Coronavirus-FREE: Next week I'm declaring your RREI a Covid-FREE zone…instead we'll focus on opportunities for fun and profit in one of the hottest places on my Real Estate Trend Alert beat… It's an opportunity we have in part because of this crisis (but that's for another time).
Stay tuned…
Get Your Free Real Estate Report Now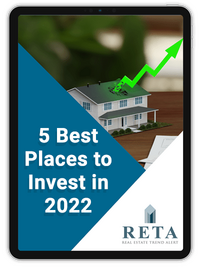 Sign up for our free daily Postcard e-letter and get a valuable free report on the The 5 Best Places to Buy Real Estate In 2022.
Related Articles
The 10 Best Places to Invest in Real Estate
Your Dollar Just Got 20% More Valuable
Upcoming Conferences
Live Better, Spend Less, Retire Sooner
IL's Retire Overseas Bootcamp
October 21-23, 2022 in Atlanta, GA

In safe, warm, welcoming communities abroad, as little as $1,700 a month can bankroll a good life... this fall, our experts will show you where—and how.
Early Bird DISCOUNT—Save $100 When You Register by Sep. 29
Details Here IL's Retire Overseas Bootcamp
---
Registration Now Open for the Best of Europe Private Screening

In the Right Spots in Europe, You Can Retire in Style—in an Historic, Sun-Drenched Locale—for as Little as $2,300 a Month or Less—Especially Now With the Dollar and Euro at Parity for the First Time in Two Decades.
And We'll Show You How, October 1-2, During the Special All-Online Best of Europe Private Screening.
---
The Income Revolution Forum
What if You Had the Freedom to Enjoy the Good Life Anywhere in the World You Wanted to Be...and Get Paid While You're There?
We'll show you how—with hands-on guidance—you could beat inflation...secure your retirement...ditch your commute...and turn a skill you already have into a portable side income of $300, $600, even $3,000 or more a month.